The New 2023 Porsche 911 Dakar Isn't Built For Roads
Porsche is no stranger to the Dakar Rally. It built a four-wheel drive (and heavily modified) 911 Carrera in the 1980s to campaign the 7,000-plus-mile race through Europe and Africa, using tech from Audi and its quattro system. Porsche won outright in 1984 and again in 1986 with an all-wheel drive, purpose-built 959. That's why this new, 2-inch lifted, all-wheel-drive, all-terrain Porsche 911 Dakar isn't heresy.
Porsche has broken with tradition plenty of times in its history. The front-engine 924 was blasphemous, as was the 944 and 968 after decades of the rear-engine 911 and its predecessors.
Porsche fans audibly gasped when Porsche introduced the Cayenne SUV in 2003. It went on to be its best-selling vehicle for years, until it was supplanted by the smaller Macan SUV.
The 2023 Porsche 911 Dakar was revealed before the Los Angeles Auto Show on Wednesday, but the company has been preparing for months. Porsche first used its off-road proving grounds in Wiessach, Germany near one of its factories. It then added 300,000 more miles on the odometer.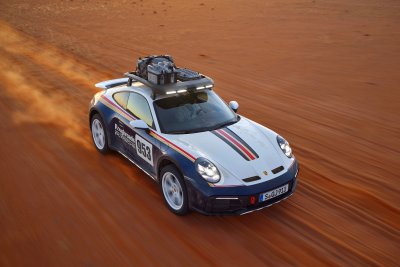 First, the Château de Lastours test track in southern France was used to test the car's handling on rally courses and to fine-tune the suspension.
"All Dakar teams come here to test their cars in Europe before the rally," said Porsche works driver Romain Dumas in a press release. "I knew what a 911 could do on the road but I was absolutely stunned by how well the car performed here on loose surfaces."
Two-time world rally champion Walter Röhrl tested the 911 Dakar at Porsche's testing grounds in Arjeplog, Sweden. The frozen lakes are covered with compacted snow, which also represents rallying conditions. Porsche says the focus there was on traction and steering precision.
In Dubai and Morocco the 911 Dakar took on 160-foot sand dunes in 113-degree Fahrenheit heat. Porsche brand ambassador Jörg Bergmeister tested the 911 Dakar noting that somehow it still felt like a 911 on pavement.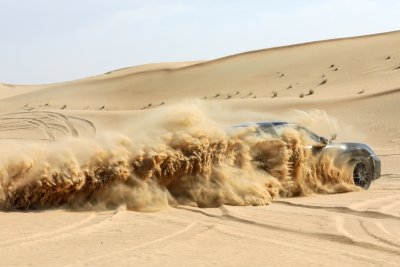 Motivating the off-road Porsche 911 Dakar is a 3.0-liter twin-turbocharged six-cylinder engine (rear-mounted) making 473 horsepower and 420 pound-feet of torque. An eight-speed dual-clutch transmission sends power to all four wheels, good for a zero-to-sixty sprint time of 3.2 seconds. It has a top speed of 150 miles per hour due to the all-terrain tires.
Those Scorpion All Terrain Plus tires were specially developed by Pirelli for this 911, which has 19-inch wheels in front and 20-inch wheels in back. In addition to the standard 2-inch lift, the 911 Dakar can raise another 1.2 inches in High Level mode. It's made to clear low speed obstacles but is effective up to 105 mph. Above that speed the 911 returns to its standard height.
It has two new drive modes, Rallye and Off-Road. Rallye Mode is programmed for loose, uneven surfaces and sends more power to the rear axle. Off-Road Mode maximizes traction on sand and extra rough roads, High Level automatically engages. A new Rallye Launch Control mode is made for acceleration on loose surfaces, Porsche says, allowing some wheel spin.
A roof basket and roof tent are both available, and the 911 Dakar comes with an extra 12-volt powerpoint for roof basket headlights. A Rallye Design Package is also available, inspired by the 1984 winner in white and blue. Customers can also opt for a race number on the side.
The Porsche 911 Dakar will be limited to just 2,500 examples, arriving at U.S. dealers in Spring 2023. They start at $223,450, including destination and delivery.