2022 Porsche 911 Carrera GTS Review: Sports Car Perfection
The sports car market is thick with more choices and at more price points than ever before. The first level is the low-powered Mazda Miata, Subaru BRZ and Toyota GR 86 in the $25-$30K range. The next level is the ponycar V8s including but not limited to the Ford Mustang, Chevrolet Camaro and Dodge Charger in the $35-$45K range. Above those prices there are still dozens of choices from the luxury realm and beyond.
But sports cars are about more than numbers like power and price, especially as electric vehicles demolish all notions of speed and acceleration with sickeningly fast zero-to-60 miles per hour times. That's when something like the 2022 Porsche 911 Carerra GTS starts to make sense.
Porsche's GTS models, though traditionally expensive, package many enthusiast-type options in a single vehicle. For this 992-generation of 911 (generations are numbered starting in the '60s with 911, then 930, 964, etc.) the GTS trim is offered in either rear- or all-wheel drive, with a manual or dual-clutch transmission, in coupe, convertible or Targa form, and with several lightweight upgrades to eek out that last bit of speed.
All 2022 Porsche 911 GTS vehicles come with reduced sound deadening material and the coupes offer the option of lightweight glass and rear seat delete. Setting it apart visually from the basic 911, the GTS has center locking wheels, black exterior accents including badges, front and rear lights and engine grille slats. Targa versions get a black Targa bar. The GTS also comes with bigger brakes from the 911 Turbo, a lower ride height than the standard 911 and a sports exhaust system.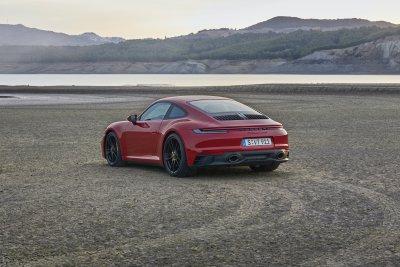 They come standard with the company's four-way adjustable Sport Seat Plus trimmed in Race-Tex, but for the first time the GTS can be optioned with carbon fiber race seats. The Sport Chrono Package is standard on the 2022 911 GTS too. It adds drive modes, launch control when paired with the dual-clutch transmission, gearshifts timed for maximum acceleration, the Sport Response button that turns everything to maximum sportiness for 20 seconds, a dash-mounted lap timer and dynamic transmission mounts that smooth out those high-speed shifts.
The new generation of the Porsche Communication Management features a 12.3-inch infotainment touchscreen with wireless Apple CarPlay and wired Android Auto. It also comes with a voice assistant and Apple Music built in, though it only features USB-c ports so buyers may need an adapter. A partially digital instrument cluster is standard with an analog tachometer in the middle.
Inside, the seats, transmission and steering column adjustments are done manually to save weight. That analog feel makes the most sense with the GTS. Only the 911 GT3 is harder core with less creature comforts. The seats are snug and hold the driver in place, but they're a little stiff from the factory and don't have a bottom angle adjustment. However, the GTS comes standard with ventilated, cooling seats, which works quickly on a hot Michigan day.
The Bluetooth takes a long time to connect and boot up, but once connected everything works well. The touchscreen is easily within reach, though sometimes hard to see with the sun's reflection, and the menus are easy to navigate. Surround sound from Bose is also standard and sounded excellent at high volumes.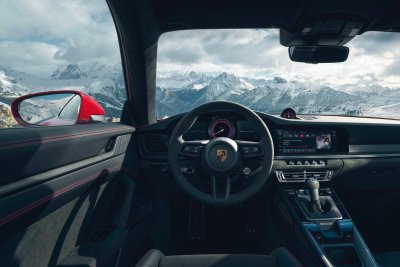 Two car seats fit in the back, barely, but the 911 will deliver two adults and two children to a destination in relative comfort. This only applies to front-facing child seats, rear-facing ones wouldn't fit behind the driver.
The 2022 911 GTS comes with a 3.0-liter twin-turbocharged six-cylinder engine making 473 horsepower (hp) and 420 pound-feet (lb-ft) of torque. That's 23 hp and 15 lb-ft up from the standard 911. This tester featured a no-cost seven-speed manual transmission but an eight-speed dual-clutch transmission is standard. It can be purchased in either rear- or all-wheel drive layouts.
The only letdown in the driving experience is the shifter, which feels flimsy and plastic. But the action is smooth and the throws between the gears are short. The clutch catches in the middle of the pedal stroke for easy and quick shifts.
The flat-six engine doesn't hit peak power until 6,500 rpm, but peak torque comes early at 2,300 rpm. That means once a driver gets going, there are no lulls in acceleration, which makes cresting triple digits easy, though this 911 does "feel" fast and almost raw.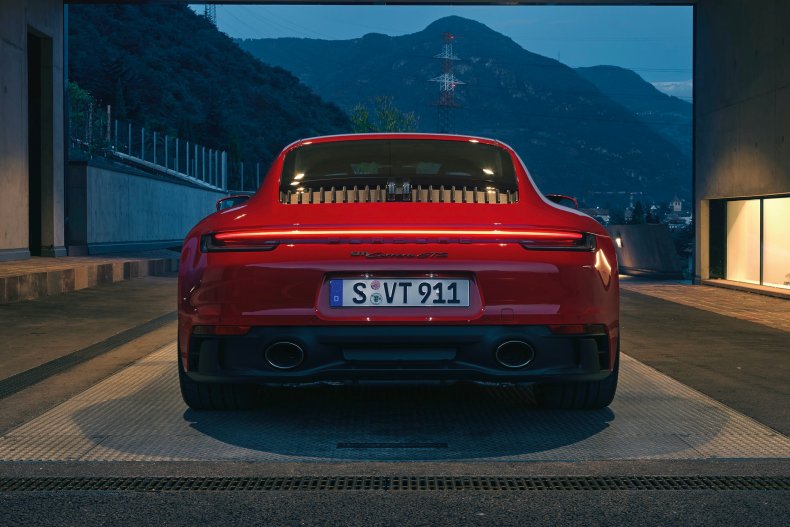 The steering is tight and accurate. Getting onto the expressway drivers will need both hands on the wheel when changing lanes. The 911 GTS comes with 20-inch front wheels and 21-inch rears with sticky Pirelli tires meaning it has more grip than almost anything on the road. The only easy way to make the back tires spin is to pop the clutch from a stop with the traction control off.
The suspension is adaptive with the drive modes, which also quickens the throttle application and adds weight to the steering. It's bouncier than average in all modes, but when moving quickly on smooth pavement, the solidity is appreciated.
Standard safety features include lane keeping with traffic sign assist, adaptive cruise control, surround view monitor, automatic distance control, Porsche Dynamic Light System Plus and Wet Mode. That last bit is important because if one is driving in Sport mode in the rain, the dashboard will light up, advising the pilot to switch to a safer, less-aggressive mode.
At one time, the Porsche 911 was a little cheaper than its supercar rivals. But now a base model is near six figures and the best 911s are more than double that. Hence, this 911 GTS ($142,600) has a large competitive set.
On the less expensive coupe end there are the Ford Mustang GT500 ($79,420), Nissan GT-R ($113,540), Chevrolet Corvette ($60,900) and Jaguar F-Type R ($73,400). Going higher there are the Aston Martin Vantage at $143,900, the Lamborghini Huracan with a base price of $206,295 and the McLaren GT ($200,000).
Any of those vehicles will make a car enthusiast swoon with unparalleled power and control. But only the 911 GTS offers the right combination of ride quality, agility, thrust and sound that will never go out of style, no matter how many EVs beat it in a sprint race.