An American dog breed is expected to be banned in the United Kingdom following a drastic increase in attacks on humans, but one coalition told Newsweek that it finds the new policy "deeply concerning."
U.K. Prime Minister Rishi Sunak announced the decision on Friday, calling the American bully XL breed "a danger to our communities" and especially children. The breed can weigh between 44 and 130 pounds and is responsible for over 50 percent of UK dog attacks between 2021 and 2023.
Sunak's intent to ban the breed follows a reported uptick in attacks of more than a third within the past five years, including 10 within the past year that have been fatal—four of the victims being children. Another fatality reportedly occurred Thursday that has been attributed to the breed.
"It's clear this is not about a handful of badly trained dogs," Sunak said in a video message. "It's a pattern of behavior and it can't go on."
Sunak said that he has tasked police and experts to verify which breed is causing the crux of these attacks, which will ultimately lead to the breed being banned under the UK's Dangerous Dogs Act by the end of this year.
The Act currently bans dogs "bred to fight" and includes pit bull terriers, Japanese tosa, dogo Argentino, and fila Brasileiro. It also stipulates that it is illegal to breed, sell or swap a banned dog breed.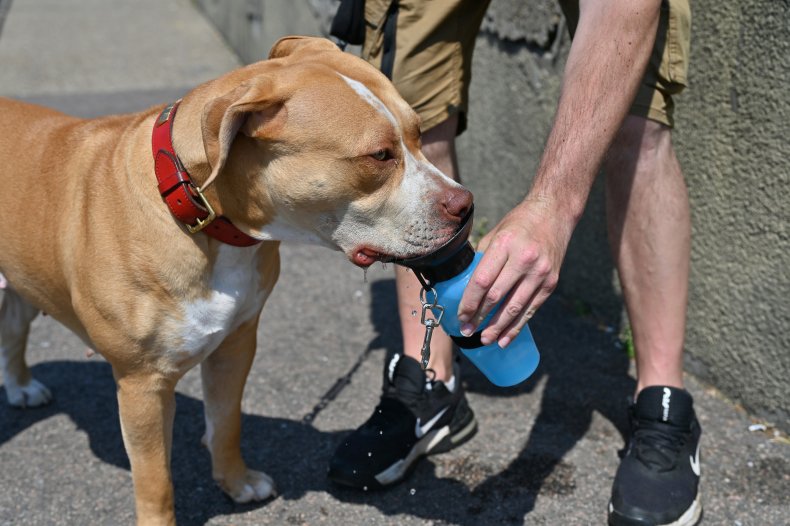 What Will Happen to American Bully XL Dogs in the U.K.?
Under the law, the police or local dog warden can take a banned dog away from its owner even if the dog has not been acting dangerously. A formal complaint is also not required for removal.
Dogs that are taken from their owners will be kept in kennels while the case is overseen by the police and local court, and owners are unable to visit their dogs while awaiting the court decision.
A spokesperson from the Dog Control Coalition, composed of the Royal Society for the Prevention of Cruelty to Animals, Blue Cross, Battersea, Dogs Trust, Hope Rescue, Scottish SPCA, The Kennel Club and BVA, told Newsweek via email that the recent incidents are "deeply distressing" and that "the biggest priority for everyone involved is to protect the public."
However, the coalition says that banning the breed will not stop these types of attacks from recurring.
"For 32 years, the Dangerous Dogs Act has focused on banning types of dog and yet has coincided with an increase in dog bites, and the recent deaths show that this approach isn't working," the spokesperson said. "The UK government must tackle the root issue by dealing with the unscrupulous breeders who are putting profit before welfare, and the irresponsible owners whose dogs are dangerously out of control."
The coalition urges Sunak to explore a dialogue that "fully understands" a ban's ramifications, including significant impacts on owners, the animal welfare sector, veterinarians, law enforcement and the public.
"It is also critical that any policy designed to protect public safety is based on robust evidence," they added. "We are deeply concerned about the lack of data behind this decision and its potential to prevent dog bites."
To Newsweek, a spokesperson for Sunak said via email, "We recognize that there is a range of views on the issue, but the prime minister believes that it is right to first define this breed, then ban it."
He said the next step in the process involves the Department for Environment, Farming and Rural Affairs convening a group of experts prior to a likely consultation before secondary legislation is passed before the end of the year.
"The full detail on how this will work, including looking at those with existing dogs, still needs to be worked out through policy discussions," the spokesperson added.
What is an American Bully XL?
The dog breed was developed as a natural extension of the American pit bull terrier, according to the United Kennel Club, and is recognized by its characteristic compact, strong, thick-set structure and build. The height range for mature males ranges between 17 to 20 inches at the withers (the tallest point on a dog's body aside from the head and neck, while) mature females range between 16 to 19 inches.
An American Bully's bite strength is 305 pounds per square inch (PSI), rivaled only by larger dogs such as the cane corso and the mastiff. For reference, the bite force of a crocodile is 3,700 PSI; a polar bear's bite force is 1,200 PSI; a horse has a 500 PSI bite force; a mountain lion has 400 PSI. But what does that mean for the human body? The Palermo Law Group says that the femur, one of the strongest bones, can break with 160 pounds of pressure.
For comparison to other dogs, AZ Animals says that these breeds also have similar bite force: German shepherd (238-291 PSI), rottweiler (328), akita (350-400), wolfdog (406), English mastiff (552), Tosa inu (556), dog de Bordeaux (556), cane corso (700), and kangal (743).
Dog Attacks in the U.K.
Reports indicate that prior to 2022, a typical year includes records of three fatal dog attacks. A hardened focus on dog attacks has also been due to an 88 percent increase in English hospital visits for dog-related injuries, from 4,699 in 2007 to 8,819 in 2021-22.
About 3.2 million UK households welcomed a new dog during the COVID pandemic, according to pet research blog Hepper, bringing the total number of dogs to approximately 12 million.
Last year, there were nearly 22,000 cases of out-of-control dogs causing injury, the BBC reported in March, or an increase from just over 16,000 in 2018.