New Drone Footage Shows How Ohio Train Derailment Site Currently Looks
New drone footage shows how the crash site appeared 10 days after a train derailment led to hazardous material being released in East Palestine, Ohio.
The footage, taken by Zachary Riter of Rubber City Drones LLC (RCDLLC), showed the clean-up effort on Tuesday. In the clip, numerous workers and vehicles could be seen working close to the tracks picking up and taking away several objects.
Riter was at the site for several hours and said that no workers were observed wearing PPE (personal protective equipment).
"I seen only one photographer with PPE. And once she noticed the workers weren't wearing anything she removed her PPE," Riter told Newsweek.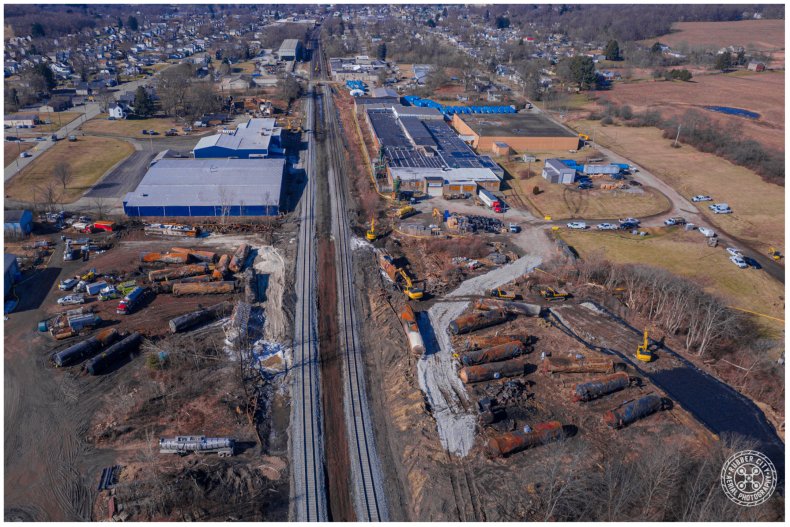 Riter added that residents in the area needed help with drinking water and claimed they had been threatened to stay away from the location.
"The residents have been threatened and are afraid to come near [the] scene and that's not right," Riter said.
On February 3, some 50 cars of a Norfolk Southern train derailed in East Palestine, resulting in a massive blaze and plumes of smoke that forced residents to evacuate the village close to the Ohio-Pennsylvania border.
While there were no injuries as a result of the derailment, the train had cars containing vinyl chloride, a hazardous material. Rescue workers blew holes in five railway cars on February 6 to allow for a controlled burn of the substance, which released toxic chemicals into the air. The total ecological impact on the village, which has a population of about 4,715 people, according to the U.S. Census Bureau, will not be known for some time.
Residents were told on February 8 that they could safely return home and officials said air quality in the area has shown readings "at points below safety screening levels for contaminants of concern."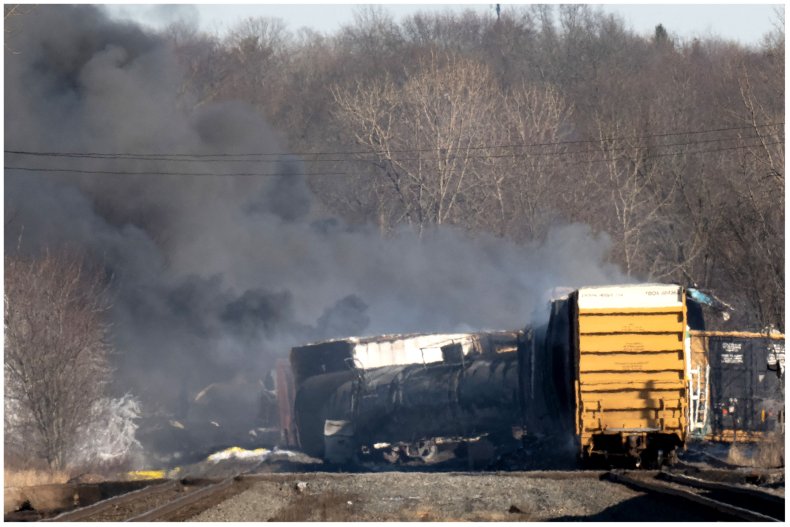 Ohio Governor Mike DeWine, a Republican, said during a Tuesday news conference that he would be comfortable returning home, although he would not drink the water.
When responding to a question about whether he would return home if he lived in the area, DeWine said: "I think that I would be drinking the bottled water. And I would be continuing to find out what the tests were showing as far as the air."
According to CNBC, the Ohio Department of Natural Resources (ODNR) said the spill from the derailment had killed about 3,500 small fish in the area as of February 8.
Newsweek reached out to the office of DeWine, ODNR and Norfolk Southern for comment.