New England Patriots Free Agency Spending Spree Sparks Flurry of Memes, Jokes
Over the last two decades the New England Patriots have notoriously been reluctant to spend big in free agency. While other NFL teams threw dollar bills around with abandon in the early days of free agency, Bill Belichick has often preferred taking a back seat in the hope of picking up some bargains later in the offseason.
Belichick, however, has veered sharply off course this year, spending money with all the glee of a Wall Street executive that has just been handed a major bonus.
New England arrived into the offseason with $69 million available in salary cap space, the second-highest in the league behind only the Jacksonville Jaguars, and wasted no time reshaping a roster that had displayed some gaping holes last season.
On the first day of the legal tampering period—a two-day window which precedes the official start of free agency during which teams are allowed to enter contract negotiations with players who are due to become free agents—the Patriots signed tight end Jonnu Smith and outside linebacker Matt Judon to four-year deals worth $50 million and $56 million respectively.
The wide receiver cupboard, which looked so bare last season, was partially restocked with the arrivals of Nelson Agholor on a two-year deal worth $26 million and Kendrick Bourne to a three-year, $22.5 million contract.
On top of that, they signed defensive tackles Davon Godchaux and Henry Anderson to two-year deals worth $16 million and $11 million respectively and snapped up safety Jalen Mills on a four-year deal worth $24 million.
Belichick swung for the fences again on Tuesday, as the Patriots secured the services of tight end Hunter Henry on a three-year deal worth $37.5 million, with $25 million guaranteed.
Henry's $12.3 million average salary makes him the third-highest paid tight end in the league, behind George Kittle and Travis Kelce, and immediately conjured memories of Belichick pairing the former Los Angeles Charger star and Smith together, as he did when he drafted Rob Gronkowski and Aaron Hernandez in the 2010 NFL Draft.
New England has handed out contract worth an approximately $137.5 million in guaranteed money over the first 24 hours of the legal tampering period—free agency officially only begins on March 17.
Coupled with Belichick's notorious adversity to chase big free agency signings, the Patriots' unusual largess has raised several eyebrows and football Twitter reacted accordingly.
Perhaps not surprisingly, there was also room for a meme featuring Belichick's dog, Nike, who became an internet sensation when he appeared in front of a laptop during the NFL Draft last April.
Twelve months ago, free agency had an altogether different flavor for the Patriots as Tom Brady brought down the curtain on his two-decade spell in New England.
While the 43-year-old added a seventh Super Bowl ring at the first time of asking with the Tampa Bay Buccaneers, the Patriots limped to a 7-9 record, missing the playoffs for the first time since 2008.
The Patriots replaced Brady with Cam Newton, but while the former MVP showed brief flashes of brilliance he was ultimately disappointing and far from the typical shrewd signing Belichick has pulled off over the years. Newton struggled in his first year in Foxborough and the Patriots ended the season ranked 30th in passing yards and interception percentage and only 27th in points scored and total yards.
Newton was among the players the Patriots brought back for another season on Monday, signing a one-year incentive-heavy contract worth up to $14 million, but with only $3.5 million guaranteed.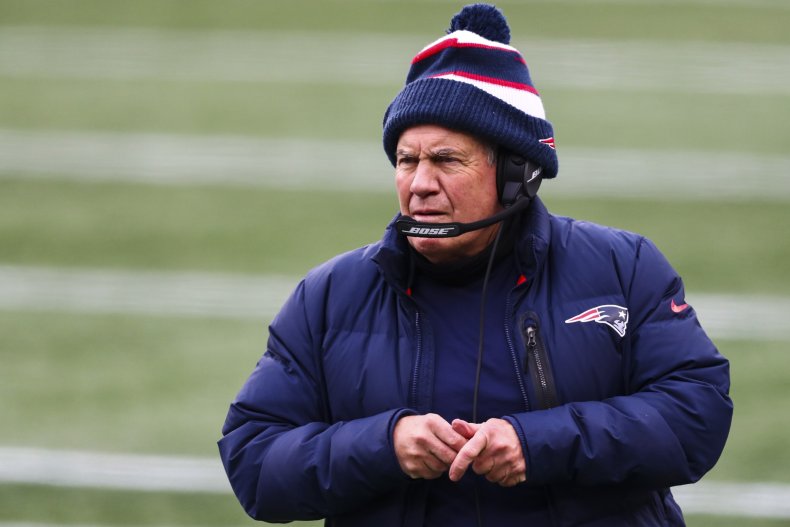 The 31-year-old will likely remain a temporary stop-gap solution until the Patriots either trade for another quarterback or trade up to secure one of the highly-rated prospects in the upcoming NFL Draft.
The Athletic and ESPN have both reported the Patriots heavily scouted several quarterbacks ahead of the draft, including presumptive first overall pick Trevor Lawrence, Justin Fields, Zach Wilson, Trey Lance and Mac Jones.
If Newton is the starter next season, he will have a much improved receiving corps to play with.
Smith finished with 41 catches, 448 yards and eight touchdowns for the Tennessee Titans last season, while Henry had 60 receptions, 613 yards and four touchdowns. By comparison, the Patriots most productive tight end last season was Ryan Izzo, who finished 199 yards, 13 receptions and no touchdowns.
Agholor, meanwhile, had 18.4 yards per catch last season, more than any of the wide receivers used by New England.
Whether it will be enough to restore the Patriots as the dominant force in the AFC East, however, remains to be seen.