Why Did Tom Brady Move to the Buccaneers? What QB Said About Leaving New England Patriots
Back in April last year, as he announced he was signing with the Tampa Bay Buccaneers, Tom Brady spoke of his desire to prove himself in a new environment and of becoming a mentor to younger players.
"A lot of veteran players were mentors to me during my years as a Patriot. They were there for me when I signed a second contract," Brady wrote in The Players' Tribune.
"Along with the opportunity to win championships, the support of older teammates is an amazing part of playing for a team. Doing whatever I can to help younger players evolve as people and players matters a lot to me. I've learned so much during my 20 years in New England—and I want to bring those things to a new team. Right now, though, I have things to prove to myself."
Fast forward ten months and while Brady's thirst for success remains unquenchable, he has again proved the doubters wrong by leading the Bucs to the Super Bowl at the first time of asking.
Super Bowl LV on February 7 in Tampa will be Brady's fourth Super Bowl in five seasons and his 10th career appearance in the NFL championship game, a jaw-dropping figure.
The second-best quarterback in terms of Super Bowl appearances is John Elway, who played for the Vince Lombardi Trophy five times in his career.
To put it another way, by the time Brady faces the Kansas City Chiefs next month he will have played in the Super Bowl more times than Aaron Rodgers, Drew Brees, Peyton Manning and Ben Roethlisberger combined.
Come February 7, Brady could win the seventh Super Bowl of his career—more than any other NFL team in history.
On Sunday, Brady notched up his 33rd career postseason win—Joe Montana, the second player on the list, has 16—as the Bucs defeated the Packers 31-26 in Green Bay in the NFC Championship Game, knocking off the NFC's No. 1 seed and securing a franchise record eighth consecutive road win.
It is easy to get swept up in the excitement surrounding Brady's 10th run to the Super Bowl and forget there were legitimate doubts over his decision to swap the New England Patriots for the Bucs in free agency.
Under Bill Belichick, Brady had been the cornerstone of arguably the greatest NFL dynasty of the modern era, winning six of the nine Super Bowls he reached along with three MVP crowns and four Super Bowl MVP awards.
Swapping a team that had won the AFC East for 11 consecutive seasons for one that had not made the playoffs in 13 years and had last reached the Super Bowl in 2003 seemed a major gamble.
Similarly, after decades of bending games to his will, Brady had looked distinctly human in his final campaign with the Patriots.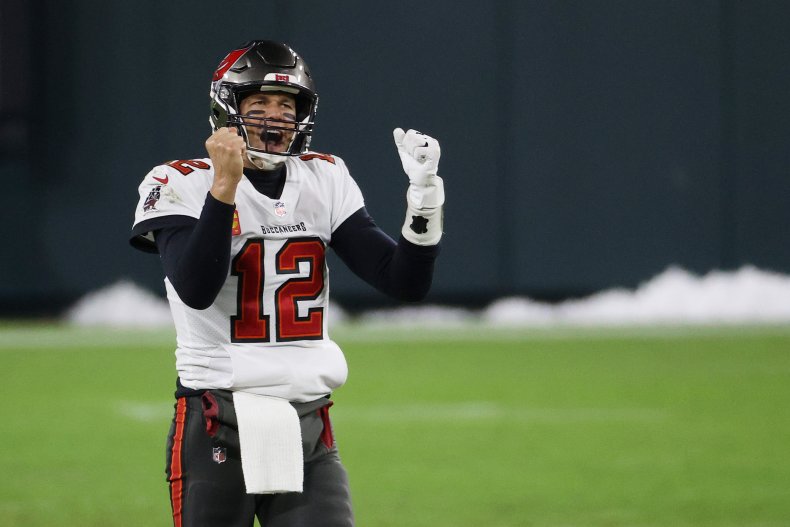 His passing yards and touchdown totals were the lowest since the 2010 season, while both his passer rating and completion percentage fell to their lowest level in seven years.
Even more strikingly, his average yards gained per pass attempt slumped a level last seen in 2002, his second campaign as a starter in New England.
For most of the outside world, the biggest doubt surrounding Brady's departure from New England was whether he had enough left in the tank to thrive even without Belichick.
For all their success, the pair did not always see eye-to-eye and grumblings of discontent between them grew louder in the quarterback's final seasons in New England.
The suggestion Brady had grown tired of Belichick's strict methods and of the lack of attacking weapons at his disposal was often cited as his main source of annoyance.
Brady seemed to confirm as much as he reflected on his decision to leave the Patriots as a free agent in March.
"Playing for one team for 20 years has been an amazing ride and experience," he said. "But doing the same thing year after year brings its own challenges. A familiar rhythm can be comforting and great. But it can also make you lose sight of other rhythms, newer ones that remind you of everything that hasn't been done yet."
Appearing on The Howard Stern Show on Sirius XM later in April, Brady admitted he felt the 2019 campaign would prove to be his final year in New England, even though the Patriots were the defending champions after defeating the Los Angeles Rams in Super Bowl LIII.
"I probably knew before the start of last season that it was my last year, and I knew that it was just—our time was coming to an end," he explained. "I knew that at the end of the year I was gonna become a free agent for the first time in my career."
However, he pushed back on rumors of a fracture in the relationship with Belichick.
"He and I have had a lot of conversations that nobody has ever been privy to, and nor should they be," he said. "So many wrong assumptions were made about our relationship and how he felt about me. I know genuinely how he feels about me."