A new poll looking at the January Senate run-offs in Georgia shows the two Republican incumbents narrowly leading their Democratic challengers.
The survey, which was conducted by the conservative-leaning Remington Research Group, shows both Republican Senators David Perdue and Kelly Loeffler ahead of Democrats Jon Ossoff and Raphael Warnock, respectively. The Atlanta Journal-Constitution first reported the poll results.
Perdue leads Ossoff by 4 points—50 percent to 46 percent. But 4 percent of Georgians were undecided. The race between Loeffler and Warnock appears to be even closer, with the Republican backed by 49 percent of the southern state's voters compared to 48 percent who support the Democrat. An additional 3 percent were undecided.
The poll's margin of error is plus or minus is 2.6 percent, and both races are within that margin. Some 1,450 likely Georgian voters were polled for the survey, which was conducted from November 8 to 9. The Senate run-offs, which will determine whether Democrats or Republicans control the upper chamber of Congress, will be held on January 5.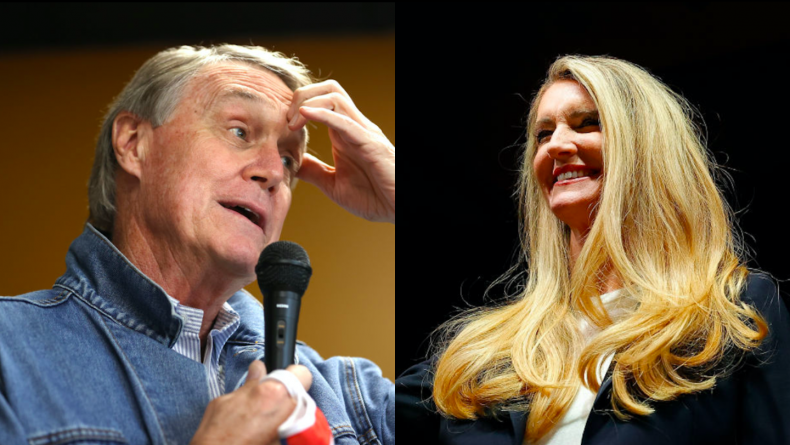 "This is going to be 100 percent start to finish a base turnout election," Titus Bond, Remington Research Group's president, told the AJC. "It's going to be intensified. It's going to be ideology from beginning to end. It's all about getting the base motivated to vote again."
Based on the election results, Republicans are set to control at least 50 seats in the next Senate while Democrats will have 46 seats, along with two independents who caucus with their Democratic colleagues. If Democrats manage to win both Senate races, they will split the Senate and Vice President-elect Kamala Harris will have the final decision on evenly divided votes.
Although Georgia's results have not been finalized, President-elect Joe Biden leads in the southern state by more than 14,000 votes. The state is expected to carry out a recount due to the close margin, but analysts do not expect the overall result to change.
Although Biden surpassed the 270 electoral votes required to declare victory on Saturday, after the Associated Press, Fox News and other television networks called Pennsylvania and Nevada for the president-elect, President Donald Trump has not conceded defeat. The president has baselessly claimed that Biden and Harris won through widespread voter fraud, without providing evidence. Loeffler and Perdue have echoed those allegations.
Some Republicans have attempted to argue that Georgia's Republican Governor Brian Kemp and Secretary of State Brad Raffensperger, both of whom were endorsed by Trump in 2018, allowed fraud to flourish in the election. But they have not provided evidence to support these allegations. Loeffler and Perdue jointly released a letter on Monday calling on Raffensperger to resign.
"The voters of Georgia hired me, and the voters will be the one to fire me," Raffensperger said in response to Perdue and Loeffler. "As Secretary of State, I'll continue to fight every day to ensure fair elections in Georgia, that every legal vote counts, and that illegal votes don't count." The Republican said it was "unlikely" that any of the allegations of fraud would change the outcome of the presidential race.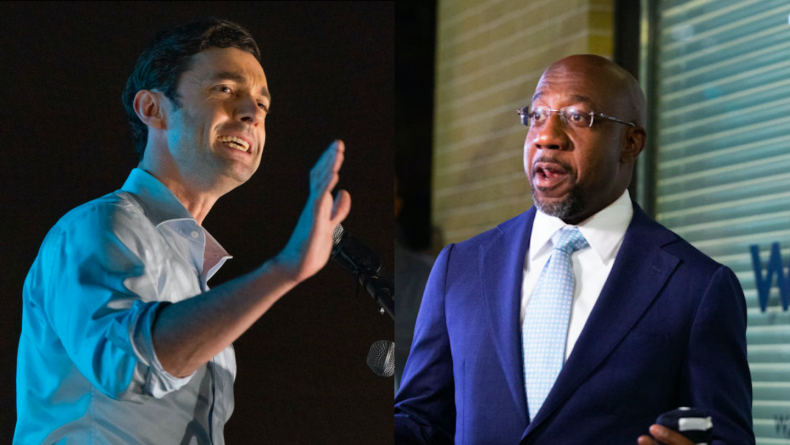 Loeffler's race had been expected to go to a run-off, as there were multiple Republicans and Democrats, as well as third party candidates, in the special election to serve out the final two years of former GOP Senator Johnny Isakson's term. But Republicans had hoped Perdue would come out above the 50 percent threshold required to declare victory in Georgia Senate races.
As the results currently stand, Perdue was backed by 49.7 percent of Georgia voters while Ossoff was supported by 48 percent. In the special election, Warnock has received 32.9 percent of the vote compared to Loeffler's 25.9 percent. The rest of the votes went to other Democrats, Republicans and third-party candidates who will not be on the ballot in the runoff.
Stacey Abrams, a Democratic organizer and politician from Georgia who has been widely credited for helping flip Georgia for Biden, told CNN this week that she has "no doubt" her party can also win both Senate contests. She described Warnock and Ossoff as "the two men who are going to make certain that Joe Biden has the leadership, the support, and the congressional mandate he needs to move this country forward."