Five New K-Dramas Coming to Netflix, Disney+ and More in July 2022
It's been another strong month for K-dramas, with Money Heist: Korea - Joint Economic Area, the enthralling Korean remake of the hit Spanish crime series, topping Netflix's global ranking for TV shows not in English in the first week of its release.
But there's plenty more drama to unfold next month. Here we look at some of the intriguing new K-dramas coming to Netflix and other streaming services in July 2022.
Remarriage & Desires
Release date: July 15
The upcoming Netflix series is a satire of Korean society that sees people attempt to upgrade their status by marrying into "the top echelons of society" via an exclusive matchmaking agency, according to the streamer.
Ruthless competition ensues among various "ambitious souls" hoping to bag a marriage to someone from the "Black" tier, the agency's highest ranking of available marriage candidates.
"Let me show you what hell is really like," Yoo-hui, a hotshot corporate lawyer played by Jung Eugene (from Something in the Rain and Romance is a Bonus Book on Netflix), tells Hye-seung (played by veteran Korean actress Kim Hee-seon currently starring in Tomorrow on Netflix) in the teaser trailer for the series.
Hye-seung is a middle class housewife from the upmarket Gangnam district of Seoul, the South Korean capital, whose life was turned upside down by Yoo-hui.
"I'm going to destroy her at her happiest moment," marks the chilling final words of the teaser.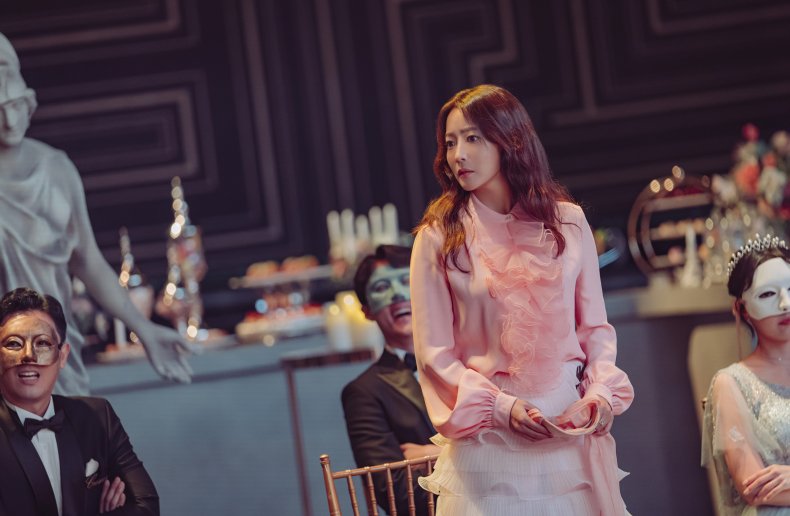 Adamas
Release date: July 27
This mystery thriller follows a man on a quest to find the real culprit behind the death of his stepfather to clear the name of his birth father, who was framed for the murder. Meanwhile, his younger brother attempts to track down "Adamas," which forms the "evidence of the murder," according to tvN, the South Korean television channel where the show will be released.
Its cryptic teaser trailer sees a man with blood-drenched hands and splashes of blood on his face sitting in a dark room saying: "Blood-stained diamonds," before a female character played by Seo Ji-hye (known from Crash Landing on You and more recently Kiss Sixth Sense and Dr. Brain) asks: "Adamas?"
Another character then says: "It's definitely Adamas," before the scene cuts to a shot of Squid Game actor Heo Sung-tae who says: "Are you sure?"
The video concludes with a man declaring: "I'm going to steal the Adamas."
So what or who exactly is the Adamas? You'll have to tune in to find out.
Today's Webtoon
Release date: July 29
Based on a Japanese manga series, Today's Webtoon follows the story of a former judo athlete who gives up her dreams to reach the Olympics following a career-ending injury. She makes a fresh start in life as a webtoon editor, played by Kim Se-jeong.
The upcoming series marks the latest work from Kim, who saw global fame recently in the hit Netflix series Business Proposal, the laugh-out-loud romantic comedy that ranked second among the streamer's top television shows worldwide, topped only by Bridgerton back in April.
According to South Korea's ChosunBiz, Kim's character is "an icon of positivity with a bright and lively, vitamin-like energy," similar to the perceived image of the actress herself in real life.
Today's Webtoon, which will air on South Korea's SBS television channel, will also be available on the Rakuten Viki streaming service.
Big Mouth
Release date: July 29
The new K-drama sees a third-rate lawyer with a 10 percent success rate, played by Lee Jong-suk (from Romance is a Bonus Book and The Hymn of Death on Netflix), find himself embroiled in a murder case.
For the sake of his own survival and to protect his family, the lawyer goes on a dig to uncover the true face of the privileged classes, according to MBC, the South Korean channel where the show will air.
The series' star-studded cast also includes Im Yoon-ah, the actress also known from major K-pop group Girls' Generation, as the wife of Lee's character as well as Kim Joo-hun (the actor from It's Okay to Not Be Okay and other K-dramas on Netflix), Yang Kyung-won (the actor from Vincenzo and Crash Landing on You) and Kwak Dong-yeon (also from Vincenzo and It's Okay to Not Be Okay).
Big Mouth will be available to stream on Disney+.
The Good Detective
Release date: July 30
The Good Detective, the investigative K-drama on Netflix, returns for a second season, as two teams of model police detectives battle greed and ugly desires with truth as their only weapon, according to South Korea's XSportsNews and other Korean media.
The show, also airing on South Korea's JTBC channel, centers around a detective of 18 years, played by Son Hyun-Joo (the veteran Korean actor from the cult K-drama Itaewon Class on Netflix and various other shows) and another senior detective played by Jang Seung-Jo (from Snowdrop on Disney+ and Encounter on Netflix).