New Lincoln Project Ad Urges Georgia to Vote Out Trump Allies in Senate Runoff Elections
The Lincoln Project, a political action committee of Republicans who oppose President Donald Trump, released an advertisement on Monday criticizing Republican senators Kelly Loeffler and David Perdue, both running in Georgia runoff elections that will determine which party controls the U.S. Senate.
Georgia voted against Trump in favor of President-elect Joe Biden during the presidential election.
"We still believe that hope is far more powerful than hate," say two women narrating in the ad.
Then as Trump is shown exiting a plane while wearing a Make America Great Again hat, they say, "Georgia just voted out the politics of hate, bigotry and anger, and chose the clear path for better lives for all Georgians, not just the filthy rich, not just the privileged few."
Loeffler and Perdue, both strong allies of Trump, are shown as the words "not just the filthy rich, not just the privileged few" are spoken.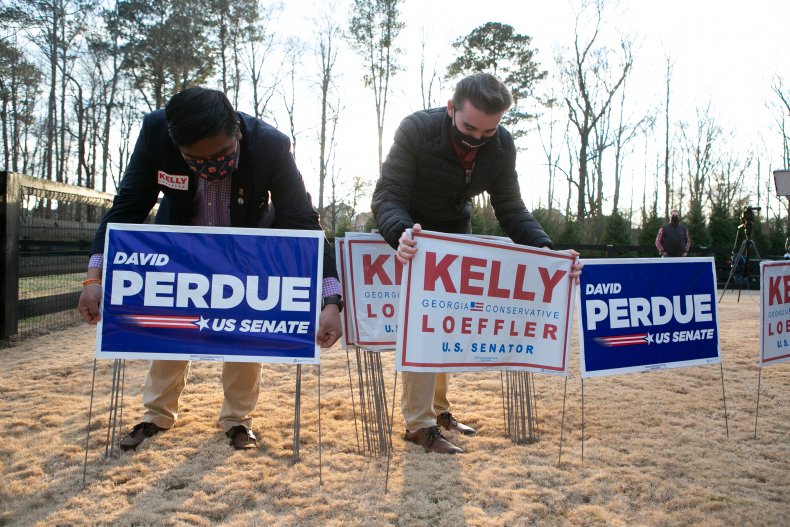 Loeffler, who has been named the nation's richest senator by a number of outlets, has drawn criticism from opponents in regards to her financial records, including claims of stock dumping ahead of the coronavirus pandemic. Perdue has faced similar criticism.
The advertisement concludes with the narrators saying "believe in the dream" while images of Democratic candidates Jon Ossoff (Perdue's opponent) and Raphael Warnock (Loeffler's) are shown greeting and talking to Georgians.
The candidates have less than a month to campaign before polls close on January 5.
As of Friday, the state had already cast over 1.1 million early votes, according to data from GeorgiaVotes, a website that tracks early voting data, with mail-in ballots and early in-person voting well underway.
According to a recent poll conducted by Emerson College, Loeffler—appointed by Governor Brian Kemp to fill a vacancy created by the resignation of Johnny Isakson—is slightly leading Warnock. Of the 605 voters polled, 51 percent said they supported Loeffler and 48 percent favored Warnock.
Another Emerson College poll also favored Republicans in the second race. Of the 600 people polled, 51 percent said they would vote for incumbent Perdue, while 48 percent supported Ossoff.
Newsweek reached out to the Lincoln Project Monday but didn't hear back in time for publication.