Netflix's 5 Binge-Worthy K-Dramas Climbing the Top Global TV Rankings
The recent phenomenal K-drama successes—from Squid Game (which bagged three historic wins at the Screen Actors Guild Awards 2022) to All of Us Are Dead and beyond—have seen an explosion of interest in Korean shows across the globe.
The growing appetite for Korean content has also broken past the typical sci-fi and horror genres, with Korean romantic comedies and even reality television series (such as Single's Inferno) attracting international audiences.
Here we unpack the captivating new K-dramas on Netflix that have been climbing the streamer's global rankings in recent weeks.
Juvenile Justice
The courtroom drama starring Kim Hye-soo (the veteran Korean actress seen recently in Netflix's 2020 K-drama Hyena) was in the streamer's global top 10 television show ranking across nine countries just days after its premiere on February 25. As of March 4, it ranks third in the listing, according to Netflix, at the time of reporting.
The series follows various intriguing juvenile court cases presided by Eun-seok, a seemingly soulless judge played by Kim, who is known for her strict sentencing and distaste for young offenders.
Eun-seok is a law unto herself in her attempts to serve justice within a juvenile court system that technically allows those under the age of 14 to get away with murder, with the maximum sentence for all under 14 being just two years in a juvenile reformatory regardless of the offense.
Featuring chilling characters, disturbing crimes (such as a 13-year-old schizophrenic who claimed to have choked an 8-year-old boy to death before mutilating his body and disposing the remains in a plastic bag) and unexpected twists, the new series will keep viewers at the edge of their seats.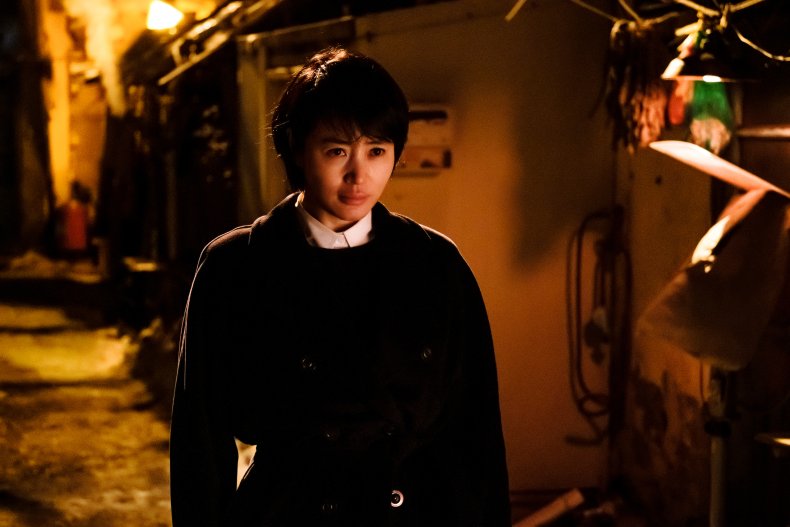 Thirty-Nine
This stylish drama following the story of three long-time best friends broke into Netflix's top 10 global ranking on February 26, according to FlixPatrol, the analytics company.
Tracing the lives of a tight-knit, fiercely loyal female squad of 39-year-old singletons in the bustling, cosmopolitan South Korean capital of Seoul, Thirty-Nine feels like a Korean spin on the beloved Sex and the City series.
The show's three leading women draw several parallels with Sex and the City's Carrie (the equivalent in Thirty-Nine appearing to be Chan-young, an acting coach played by Jeon Mi-do, who struggles with a "Mr. Big" equivalent), Miranda (the equivalent being Mi-jo, a successful doctor running her own dermatology clinic, played by Son Ye-jin—the major Korean actress who recently announced her engagement to the Korean heartthrob actor Hyun Bin) and Charlotte (the equivalent being Joo-hee, a cosmetics manager at a department store, played by Kim Ji-hyun).
At the disapproval of Mi-jo, Chan-young continues an ambiguous relationship with Jin-seok, a married man who is the "Mr. Big" in her life (played by Lee Moo-saeng from Netflix's The Silent Sea).
Meanwhile, Mi-jo is pursued by her one-night stand Seon-woo (played by Yeon Woo-jin), who—similar to Sex and the City's Steve character—wants more with Mi-jo than a one night encounter after falling hard for her.
Joo-hee, a bit of a bumbling but adorable romantic at heart who wants to get married, stumbles upon a handsome young chef at a new restaurant in her neighborhood (Hyun-joon, played by Lee Tae-hwan).
As in the Sex and City reboot And Just Like That, merely two episodes in, Thirty-Nine features the shocking death of a main character. The rest of the show unfolds what happens in the lead up to the tragedy.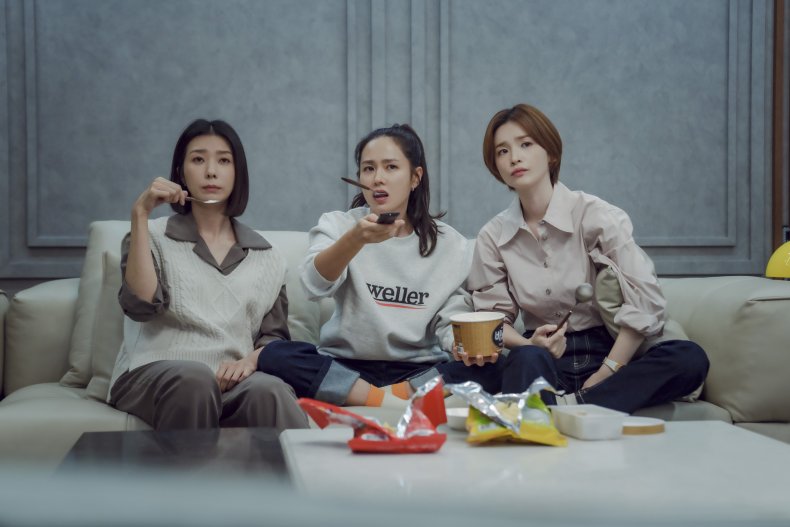 Twenty Five Twenty One
This coming-of-age story set in late 1990s South Korea also jumped into the top 10 ranking of Netflix's global chart in 14 countries since its premiere in February.
The series sees Hee-do, an upbeat and determined high school fencing student played by Kim Tae-ri (internationally known from the BAFTA-winning film The Handmaiden), cross paths with Yi-jin, an enigmatic 22-year-old man (played Nam Joo-hyuk) who delivers newspapers to her home.
The story is told through the eyes of Hee-do's daughter who discovers her mother's diary, which chronicles the interactions between Hee-do and Yi-jin. The pair find each other while navigating their shattered hopes and dreams following the impact of the Asian financial crisis of the late 1990s, with the fencing team cut at Hee-do's high school, while Yi-jin's family is devastated by bankruptcy.
The heartwarming drama features plenty of 1990s nostalgia (from retro fashion to box style computers, cassette tapes and pagers) as well as sweet—at times comical—encounters.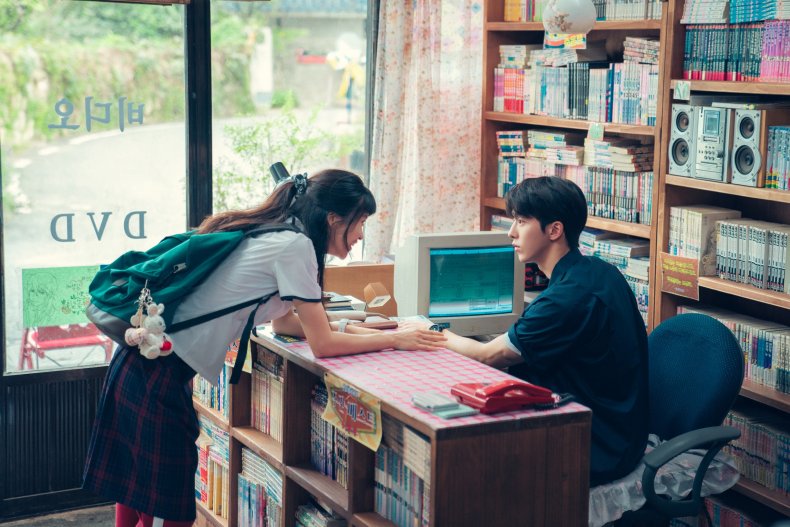 Forecasting Love & Weather
Things get stormy in this romantic comedy about an office romance set at a national weather station in South Korea, which also ranked in Netflix's top 10 global TV show list in 14 countries in the last week of February.
The show sees the lives of Ha-kyung (a forecaster of at the Korea Meteorological Administration, played by Korean actress Park Min-young) and Shi-woo (the head of the weather station's special reporting division, played by Song Kang from Netflix's Sweet Home and Nevertheless) flipped upside down after their respective partners are found to be cheating.
Adding salt to wounds, Ha-kyung's former fiance/current colleague at the weather station later marries Shi-woo's ex-girlfriend, who is a weather reporter.
After bumping into each other at a restaurant and drinking together all night, Ha-kyung and Shi-woo find themselves waking up in a hotel room bed. The pair face several more awkward but also sweet encounters as Shi-woo is transferred to work at Ha-kyung's office.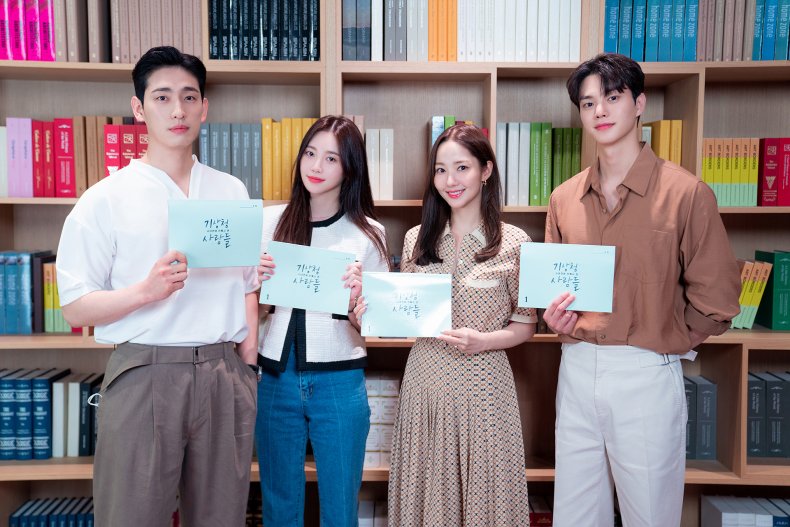 Business Proposal
This brand new rom-com, which only premiered this week on February 28, has already joined the top 10 global TV listing, ranking ninth, as of March 3, according to FlixPatrol.
The show sees a blind date scam go wrong after Ha-ri (played by Kim Se-jeong from the Netflix hit The Uncanny Counter) agrees to help her friend Young-seo (played by Seol In-ah from Netflix's Record of Youth) avoid a blind date set up by her family.
Pretending to be her friend, Ha-ri attends the date and tries to deter the suitor (Tae-mu, played by Ahn Hyo-seop) by pulling some laugh-out-loud comical stunts.
But things get hairy as Ha-ri later realizes that her surprisingly handsome blind date is actually the CEO of the company at which she works, who later makes her an offer she may be unable to refuse.