New 'Nosferatu' Won't Star Anya Taylor-Joy and Fans Are Going Through It
Anya Taylor-Joy has captivated audiences through her work with director Robert Eggers, first in the 2015 folk-horror flick The Witch and then in Viking epic The Northman, released this April. Fans were devastated to learn on Friday that the actor reportedly won't be starring in Eggers' upcoming remake of Nosferatu.
Taylor-Joy has carved a niche in Hollywood thanks to her arresting features and beyond-her-years acting chops, which earned her critical acclaim for a starring role in the Netflix miniseries The Queen's Gambit. While she won't be in Eggers' upcoming vampire adaptation, she will be starring in the buzzworthy horror-comedy The Menu with Ralph Fiennes and Nicholas Hoult, set for a November release.
Eggers' fresh take on Nosferatu has been in the works for some time now. It was initially developed with Taylor-Joy and Harry Styles, according to Deadline, but scheduling conflicts have since prompted the actress to bow out. Bill Skarsgård, known for being consumed by roles like Pennywise the Dancing Clown in the 2017 reboot of Stephen King's It, was cast to play the vampiric lead, with Lily-Rose Depp as the film's heroine.
In the new Nosferatu, viewers will watch Skarsgård transform into a centuries-old Transylvanian vampire who stalks Depp, a woman living in Germany in the 1800s.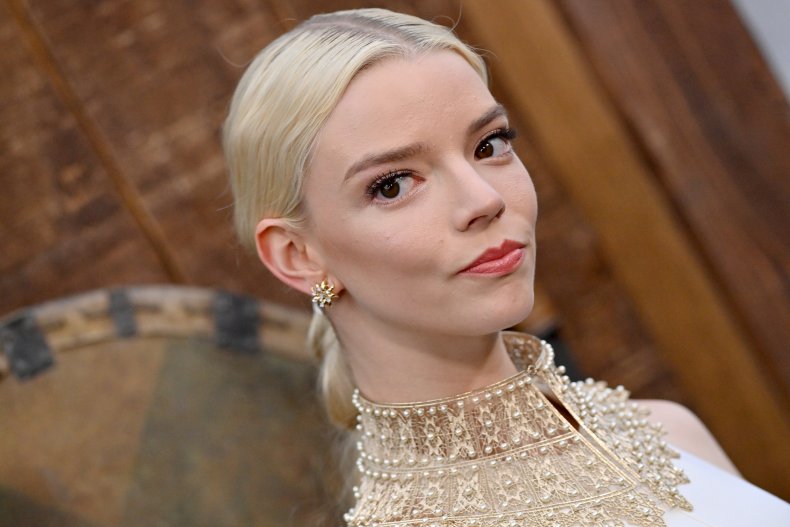 Lily-Rose Depp, following in the footsteps of father Johnny Depp, has seen her film career rapidly gain momentum. However, Taylor-Joy's dedicated supporters aren't too pleased with the apparent casting switch.
Twitter erupted on Friday as fans learned the actor wouldn't be starring in Nosferatu. User Carlos Alonzo Morales posted a video clip from Better Call Saul in which Bob Odenkirk says, "At times like this, we ask ourselves deep questions: Is there a God? How could He let this happen? Who did this to me? Who can I sue?"
Another user posted a clip of actress Meryl Streep delivering a bloodcurdling scream in the HBO drama Big Little Lies.
"me when i remember nosferatu could've starred anya taylor joy and robert pattinson," user Danielle wrote. Pattinson, who starred as a vampire in the Twilight films, was once rumored to be in talks to play Nosferatu's lead role.
Others mourned the loss of a potential Taylor-Joy/Skarsgård pairing.
"We almost got Bill Skarsgard and Anya Taylor Joy in one movie," tweeted user @lfcarif_. The tweet featured a meme from Rogue One: A Star Wars Story that included the caption, "We were on the verge of greatness, we were this close."
Meanwhile, user Spice simply wrote, "we lost anya ...," along with a video of Dune star Timothée Chalamet speaking at a press event.
"I think it's tough to be alive now," Chalamet says in the clip. "I think societal collapse is in the air. It smells like it."
Newsweek reached out to Focus Features and a representative of Taylor-Joy for comment.