Review: 'Rogue One: A Star Wars Story'
Star Wars finally returned to theaters last December with J.J. Abrams's The Force Awakens. That film had all pop culture nostalgia fans could want, reuniting Han Solo, Princess Leia and Luke Skywalker. But instead of immediately pushing out an eighth film (that'll be released next year), Disney-owned Lucasfilm has created a spinoff with Rogue One: A Star Wars Story. It is an inherently smaller film than those of its parent series, yet that doesn't stop it from being wildly entertaining.
Rogue One's role within the Star Wars galaxy might be a bit confusing to casual fans. It comes a year after The Force Awakens, a sequel to the original trilogy released between 1977 and 1983, but it is in fact a prequel set before Star Wars Episode IV: A New Hope, the film that first introduced us to Darth Vader, Luke and company.
Oscar nominee Felicity Jones plays Jyn Erso, a tough fugitive who leads a band of rebels to steal the plans for a new weapon dubbed a "planet killer"—aka the Death Star. True to Star Wars lore, there is a familial tie here that brings Jyn into the fray between the Rebel Alliance and the evil Galactic Empire led by Darth Vader: Jyn's father Galan Erso—played by Mads Mikkelsen—happens to be the lead scientist behind the weapon. Together with her ragtag crew, including a roguishly debonair Cassian Andor (Diego Luna), Jyn embarks on a heart-stopping mission to retrieve the schematics so the rebels can defeat the Death Star.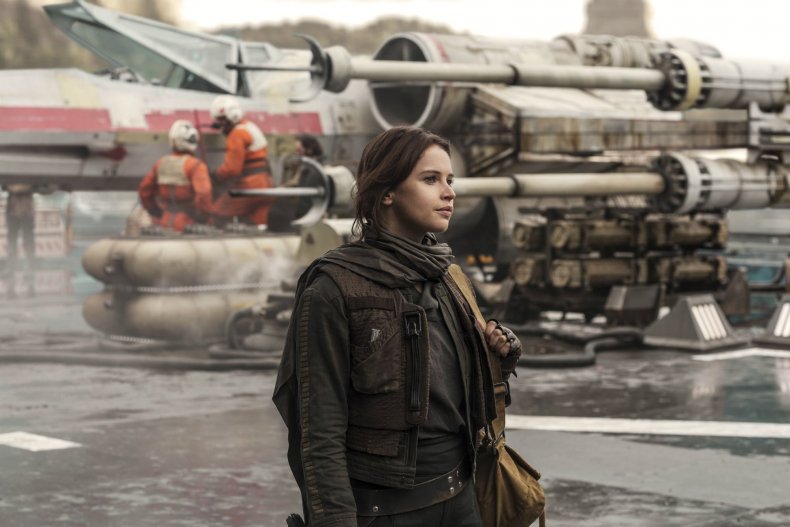 Jones seems to be made of the same mettle as Carrie Fisher and Daisy Ridley before her: She brings to Jyn a gutsy confidence that erupts when it needs to, while remaining unwaveringly demure and likable. Rounding out the cast, director Gareth Edwards has assembled around Jones an impressively diverse crew of actors, including Diego Luna, Riz Ahmed, Donnie Yen and Jiang Wen. The film proves that blockbusters can exist without casting predominantly famous white faces. Rogue One doesn't, however, beat the viewer over the head with its diversity initiative—the characters are not defined by their otherness, a testament to Chris Weitz's and Tony Gilroy's script.
Related: Riz Ahmed talks HBO's 'The Night Of' and the meaning of 'Englistan'
Weitz's and Gilroy's tightly-packed screenplay leaves little room for subplots or the zany minor characters (we're looking at you, Jar Jar…) that hampered Star Wars creator George Lucas' earlier prequel franchise (1999's Star Wars Episode I: The Phantom through Episode III: The Revenge of the Sith). Here, the exposition is unpacked within the first 15 minutes and, like Jyn's rebel ship Rogue One, we are speedily hurtling through action sequence after action sequence, which are shot with breathtaking detail by Edwards.
Rogue One works best because its story is so narrowly focused. Not to spoil a 40-year-old spoiler but Star Wars fans know the Death Star plays an integral role in Episodes IV through VI. The beauty of knowing exactly what comes next is that neither the writers, nor Edwards, nor the viewer is beholden to the idea that the story needs to be open-ended for a potential follow-up. (Lucasfilm president Kathleen Kennedy has already confirmed there definitely won't be a sequel.) Rogue One allows for two hours of fun escapism without trying to sucker you in for a decade of sequels. It doesn't even require knowledge of previous Star Wars movies (although there are plenty of Easter eggs for fans). For that, it is the most commendable popcorn flick of the year.
Read more from Newsweek.com:
- Carpenter to Han Solo—'Star Wars' impacts on Harrison Ford's career
- Will a woman ever direct a 'Star Wars' film?
- #DumpStarWars—'Rogue One' faces right-wing boycott
Review: 'Rogue One: A Star Wars Story' | Culture