Venice Film Fest's Chalamet Cannibal Film Debuts Day of Armie Hammer Doc
Call Me by Your Name co-stars Timothée Chalamet and Armie Hammer both have big days coming on Friday, September 2, but for very different—albeit weirdly symbiotic and completely coincidental—reasons.
Friday is release day for both House of Hammer, a Discovery+ docuseries about the beleaguered actor's complicated family legacy, and Bones and All, the latest collaboration between Hammer's Call Me by Your Name director Luca Guadagnino and co-star Chalamet. Bones and All, which also stars Call Me by Your Name standout Michael Stuhlbarg, will premiere at the 79th Venice International Film Festival.
Bones and All is a dramatic love story about two young cannibals. Hammer has most recently made headlines for allegedly identifying as—or at least fantasizing about being—a cannibal.
The three-part docuseries about Hammer's family—the actor's great-grandfather was entrepreneur Armand Hammer—will feature several of his accusers, including Courtney Vucekovich, who told news sources in January 2021 that during their several-months-long relationship in 2020, Hammer told her he wanted to break her "rib and barbecue and eat it." She also alleged that he texted her, "I am 100% a cannibal."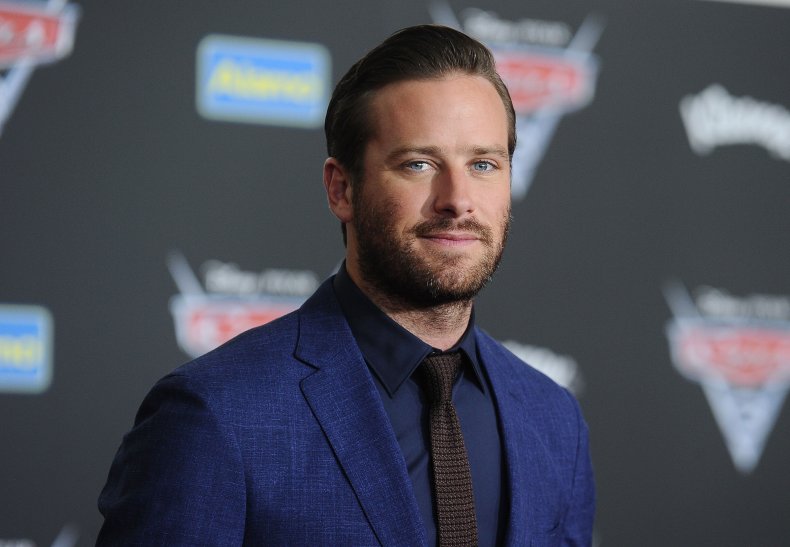 Several other women have accused Hammer of abuse and sexual assault, but the scandal first began in 2020 after a woman with an anonymous Instagram who claimed to be in a relationship with Hammer for several years showed text messages and screenshots that the star had allegedly sent to her, as well as to other former lovers. Within the texts were violent descriptions of cannibalism and rape fantasies, though they have not been verified.
Hammer stated in 2021 that the controversy was nothing but "vicious and spurious online attacks" against him, saying, "I'm not responding to these bulls*** claims" before announcing he was dropping out of Shotgun Wedding, a Lionsgate film that was set to shoot in the Dominican Republic.
He has also strongly denied all allegations of sexual abuse. In March 2021, a woman who identified herself as Effie came forward in a virtual news conference and accused Hammer of violently raping her in 2017, which sparked an investigation led by the Los Angeles Police Department.
At the time, Hammer's attorney, Andrew Brettler, said in a statement to Variety, "From day one, Mr. Hammer has maintained that all of his interactions [with his partners] have been completely consensual, discussed and agreed upon in advance, and mutually participatory."
Despite his denials, Hammer's career crashed, as he was dropped from his agency, WME, and lost several of his upcoming projects, including the thriller Billion Dollar Spy, a Broadway play titled The Minutes and the Paramount Plus series The Offer about the making of The Godfather.
"It didn't dawn on me," Guadagnino told Deadline last week about the thematic connection between his new movie and his previous collaborator. "I realized this afterward when I started to be told of some of these innuendos on social media."
The director said he wanted to swiftly shut down the comparisons, saying that the movie, which is based on a novel of the same name by Camille DeAngelis, was long in the works before the allegations against Hammer began to surface.
"Any link with anything else exists only in the realm of social media, with which I do not engage," Guadagnino said. "The relationship between this kind of digital muckraking and our wish to make this movie is nonexistent, and it should be met with a shrug. I would prefer to talk about what the film has to say, rather than things that have nothing to do with it."
Chalamet was also asked to address the allegations against Hammer in an interview with Time magazine last October, to which the actor replied, "I totally get why you're asking that, but it's a question worthy of a larger conversation, and I don't want to give you a partial response."
Newsweek has reached out to representatives for Guadagnino and Hammer for comment.
Correction 8/31/22, 10:40 a.m. ET: A previous version of this article stated that the "House of Hammer" docuseries was on the Roku Channel. It has been updated to reflect that the series will be streaming on Discovery+.