New Polls Show Democratic Candidates Flagging in W.Va., Wis., N.Y.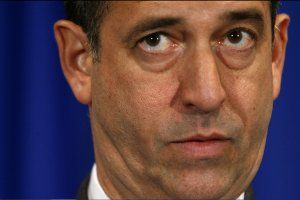 In a terrible election year, there are some things Democrats ought to be able to count on. For example: three-term senators seeking reelection, statewide candidates with massive approval ratings, and really any New York gubernatorial candidate. Or can they?
This week brings some potentially unsettling numbers for Democratic National Committee chair Tim Kaine & Co.:
1. Wisconsin Senate: Russ Feingold is a high-profile Democrat with a long record of service and a good deal of seniority in a heartland state that went for Barack Obama by a comfortable margin—all traits that are golden in the average election year, and god-awful in 2010. His race against Republican Ron Johnson has been close for months, but Democrats have mostly shrugged that off, saying they still feel good about the race. Here is Time's Joe Klein last week: "[Feingold]'s confident he'll win, in large part because his maverick, populist record has [kept] him outside both Democratic and Republican orthodoxy on some of the most important issues this year: He's opposed free trade deals, which he says is the primary cause of lost jobs in Wisconsin. He opposed the bank bailouts, but favored the auto industry plan. He even voted against the Financial Reform bill."
But what Klein described as a dead heat no longer looks like one. A Public Policy Polling survey released yesterday shows the senator trailing by a whopping 11 points. That's well outside the 3.8 percent margin of error and way outside PPP's usual slight rightward skew. Rasmussen has been polling the race consistently and also shows Feingold down, although not by nearly that much. Feingold's got muscle behind him and the advantage of incumbency, but take a look at his favorability rankings, which have slipped a good way into the red, while Johnson is still viewed quite favorably.
2. West Virginia Senate: The special election to replace Sen. Robert Byrd has been Gov. Joe Manchin's to lose all along. He's a wildly popular governor (his favorability is still above 70 percent), and he's a conservative, pro-coal Democrat in West Virginia. PPP is again the bearer of bad news for Dems, reporting that Republican John Raese now leads Manchin by 3 percentage points. Admittedly, that result is within the margin of error, but it's still a scarily close number for Democrats, even if a Rasmussen poll puts Manchin up by 7.
Dave Weigel wonders why state Democrats agreed to hold an election this year, when they could have held off until 2011. But there was quite a clamor for an election in 2010, including among some Democrats, and besides, the clouds of possible defeat were still only on the horizon in July, when the election was announced. It was never going to be a rout, but this still looks like Manchin's advantage—as long as he doesn't let up now.
3. New York Governor: According to Quinnipiac University, Republican candidate Carl Paladino—he of the racist e-mails and forwarded porn—is behind Democrat and current state attorney general Andrew Cuomo by only 6 points. That's especially worrisome for Dems because the whole thing has been treated as a bit of a joke for months: the conventional wisdom was that Paladino and vanquished rival Rick Lazio were just lining up to get mowed down by Cuomo, not to mount a serious run. So far, this poll is an outlier; poll aggregators show Cuomo with a 17- to 18-point advantage. But the Village Voice's Tom Robbins says Paladino's crazy-like-a-fox act is working well. Perhaps it's time for Empire State Democrats to quit snickering.
At least Democrats can take heart in California, where Jerry Brown has regained a 1-point lead over Meg Whitman, according to Rasmussen. Maybe every struggling Democrat should make a point of bashing Bill Clinton.