Jada Pinkett Smith's Red Table Talk regularly creates viral moments and the series' return is no doubt a highlight on the pop culture calendar this year—especially after the infamous Oscars slap.
The trailer for the brand new season is here and though it features a stellar lineup of guests and hard-hitting topics, the preview does not feature any mention of Will Smith and him slapping Chris Rock at the Oscars last month.
The acclaimed Facebook Watch talk show is hosted by Pinkett Smith, her daughter Willow Smith and her mother Adrienne Banfield Norris and is famous for hosting candid and often uncomfortable discussions.
So it's no surprise that fans are disappointed to see that the family will not be discussing the Oscars slap in the new series—at least according to this preview anyway.
"You all know what episode people want to see," reads one comment on the trailer on Facebook.
While another person added: "Perhaps an interview with her husband might be a start?"
Another responded: "Your Dad/Husband/Son in law needs to sit at the Red Table."
The world watched in shock as Smith walked on stage at the Oscars last month and slapped comedian Rock across the face over a joke made about his wife, Pinkett Smith's shaved head.
The jarring incident sent shockwaves throughout Hollywood and continues to dominate pop culture. The Academy of Motion Picture Arts and Sciences has banned Best Actor winner Smith from the Oscars for 10 years following the assault.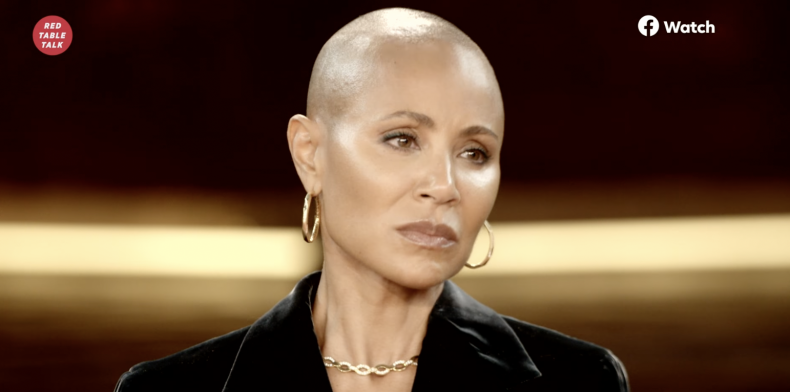 Smith issued an apology for his actions on social media the next day stating that his behavior was "unacceptable and inexcusable."
Meanwhile, Rock himself is currently on a U.S. tour and has yet to fully address the situation.
"I'm okay, I have a whole show and I'm not talking about that until I get paid. Life is good. I got my hearing back," the comedian said during his show at Fantasy Springs on Friday night, according to California-based Desert Sun newspaper.
Red Table Talk is set to return with "powerful & healing conversations" with a number of celebrity guests including musician, author and LGBTQIA+ champion Janelle Monáe, Kim Basinger and her daughter Ireland Baldwin and the heartbroken parents of Miss USA Cheslie Kryst who tragically died by suicide earlier this year.
Elsewhere, the preview features Willow, Jaden and Trey Smith taking over the Table for the first time and "victims of notorious con artists the Tinder Swindler and Anna Delvey tell their sides of the story... plus much, much more."
Red Table Talk is returning for its fifth season on Wednesday, with new episodes streaming on Facebook Watch weekly.