New York Bar Tries to Defy Lockdown Rules by Giving Away Free Drinks, Declaring Itself 'Autonomous Zone'
A New York bar that declared itself an "autonomous zone" has tried to defy lockdown restrictions by giving out drinks for free while asking for donations instead.
Mac's Public House in Staten Island has refused to abide by new lockdown restrictions that have been brought in as cases in spike in the area.
Last week, New York Governor Andrew Cuomo announced new lockdown restrictions on Monday for Staten Island as well as Upper Manhattan.
After weeks of rising cases, southern areas of Staten Island were put under the more severe medium-risk "orange zone", which includes the closure of many non-essential businesses.
But the owners of Mac's Public House in Grant City, which is inside the orange zone, tried to defy the new rules by putting signs up in their windows saying: "!ATTENTION! We hereby declare this establishment an !!!AUTONOMOUS ZONE!!!"
The bar has taken a page from the anti-cop radicals in Seattle who established a monthlong "autonomous zone" on Capital Hill in protest of COVID regulations.
Mac's had been defiantly trying to keep its doors open, posting a series of YouTube videos in which they make their position clear.
But co-owner Keith McAlarney said they had been issued with a $15,000 fine in the first video shared on Thursday.
His partner Danny Presti said in another clip posted the next day that this fine had later been declared void by officials but the bar was then slapped with another $1,000 fine.
He said: "At this point, we're OK with it, because we're not paying it. [The Sheriff's Department] is issuing us $1,000 fines, so they keep coming back. We're still here. We're not letting them in."
Mr Presti also revealed that the State Liquor Authority revoked their licence on Friday and they have received a shutdown order from the Health Department.
But he added that Mac's Public House would still stay open and rather than sell alcohol, all drinks will be free and donations welcome.
In the video, McAlarney also weighed in after his partner's declaration of COVID independence.
He said: "We're not backing down. You think you scared me by . . . saying I don't have a license now to serve liquor now? Well guess what? That liquor license is on the wall. If that liquor license is gonna come off the wall, it's gonna be done by Cuomo. You wanna come down here and pull that license off the wall?"
"De Bozo," he said, presumably referring to Mayor Bill de Blasio, "you want to come down here and pull the license off the wall? Feel free to end up comin' down, and we'll end up having a conversation before you even think about stepping foot on my property. I will not back down."
On Sunday, the bar shared a third YouTube video, where McAlarney and Presti were seen standing outside in front of the bar wearing face coverings while police officers approach the premises.
As they huddle around, a law enforcement officer can be heard speaking to the co-owners before trying to hand them a cease and desist letter as well as a public health notice.
Both McAlarney and Presti refuse to take the letter so the officer instead tapes it to the bar window.
The owners have now launched a GoFundMe page with a target to raise $500,000 to support the bar through the lockdown, with anything in excess of what they need to go to other small businesses. As of Monday morning, it has raised just over $7,000.
They wrote: "Mac's Public House is a small bar and restaurant in Staten Island, NY that has been decimated by the closing of the Corona Virus.
"With more closures on the way, we decided something must be done and to stand up to the very ones that are supposed to be supporting and helping us.
"Small businesses have received zero support from our local government, and they have been sending agencies from all over to fine us for any and all new violations, even when we're all being safe," they added.
"None of this is right and our Constitutional rights have been stripped away. We've all been shuttered and struggling since the first shutdowns.
They said: "With your help and donations, we will continue the fight to stay open, and anything we receive in excess of what we need will go towards assisting other small businesses fighting fines and getting reopened."
Newsweek has contacted Mac's Public House, NYPD, the Mayor's office and the Governor's office for comment.
How people have reacted
On Saturday night, the bar was reportedly busy with a small group of customers drinking cocktails on the house, the New York Post reported.
The publication said that about five people, most wearing wearing face masks, came in for a drink over the space of two hours while two other couples hung out for about an hour and a half.
One customer—Keith Atherhold, 45, told the Post: "I totally support what he is doing. I don't support the tyrannical nonsense they have in place. I gave them $100 for this water. They didn't charge me. I gave it to support them."
One customer said: "He's alright, he's doing the right thing," but declined to say if he and his wife paid for the pints of brew and finger food.
Others took to the bar's social media and GoFundMe pages to express their support from across the U.S., calling the owners "heroes."
One wrote on Facebook: "Good for you and I wish you the best in the fight! All small businesses should stand up and say ENOUGH!"
Another said: "So so proud of you guys for doing this, and cheering you on from Buffalo NY! I'm a server in a restaurant, and we are shut down, but I wish more business owners would step up and say enough is enough!!"
While most of the reactions were in support of the bar, there was some pushback from other Facebook users who severely criticised the "dangerous" decision.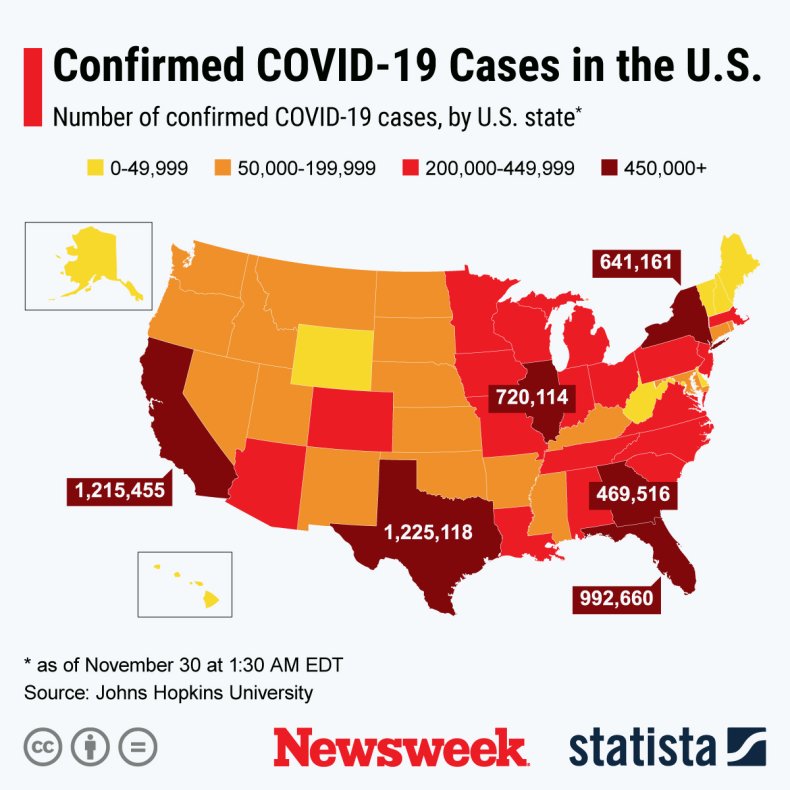 One said: "Shame on you for encouraging potentially dangerous activities! You should be more concerned about your patron's safety than making money. I hope nobody you care about gets sick since you'll never know if you brought it home from a customer. (Since I haven't seen any other negative comments like this, I'll assume you're going to delete mine.) So sad!
Another said: "The video posted the other day had the owners in close contact with someone who had tested positive for COVID. Nobody wore masks. Please stay away from this business for at least 2 weeks. The odds are high that most people who work here are infected."