Two People Drown Inside New York Basement After Flash Flooding Submerges City
Three people died during flooding in their homes in Queens and a man was found dead in Brooklyn on Wednesday night, after Storm Ida hit New York City with heavy rainfall.
The remnants of Hurricane Ida, now a tropical storm, hit New York City on Wednesday evening, bringing high winds, heavy rains, flooding and a tornado warning, prompting people to stay indoors as Subway stations and roads were flooded.
Following reports on Twitter of people being trapped in basements in New York City during heavy rainfall, the city's police department confirmed to NBC New York that three people died in Queens during the flooding.
They confirmed that a man, 22, and woman, 45, were found dead in the basement of their home in Jamaica, Queens on Wednesday evening, while another woman, 48, was discovered deceased at her apartment at Grand Central Parkway near Horace Harding Expressway.
Another man was also found dead in his basement in Brooklyn on Thursday morning, as videos shared to Twitter by several users showed homes becoming flooded during the heavy rain brought by Storm Ida.
One clip, shared by Raws Alerts and captioned "shocking video shows flood waters ripping through apartments in New York City," showed a large body of water coming through the door of an apartment completely flooding the resident's hallway.
Another user shared footage of the bathroom in her basement based in Brooklyn being flooded by the storm, as large amounts of water came into the residence through the toilet in her home.
In reaction to the severe weather, New York City Mayor Bill de Blasio, who had already urged residents to remain indoors during the storm, issued a state of emergency for the region at just before midnight.
"I'm declaring a state of emergency in New York City tonight," de Blasio tweeted nearly a half-hour before midnight. "We're enduring a historic weather event tonight with record-breaking rain across the city, brutal flooding and dangerous conditions on our roads."
In a later tweet, de Blasio urged New Yorkers to " stay off the streets tonight and let our first responders and emergency services get their work done. If you're thinking of going outside, don't. Stay off the subways. Stay off the roads. Don't drive into these heavy waters. ... Stay inside."
Extreme weather conditions have become more common in recent years, and a graph below provided on Thursday by Statista shows the cost of damage caused by weather related disasters in the U.S. since 2001, with the period between 2001 to 2010 costing $1.67 trillion and the years of 2011-2020 costing $2.483 trillion.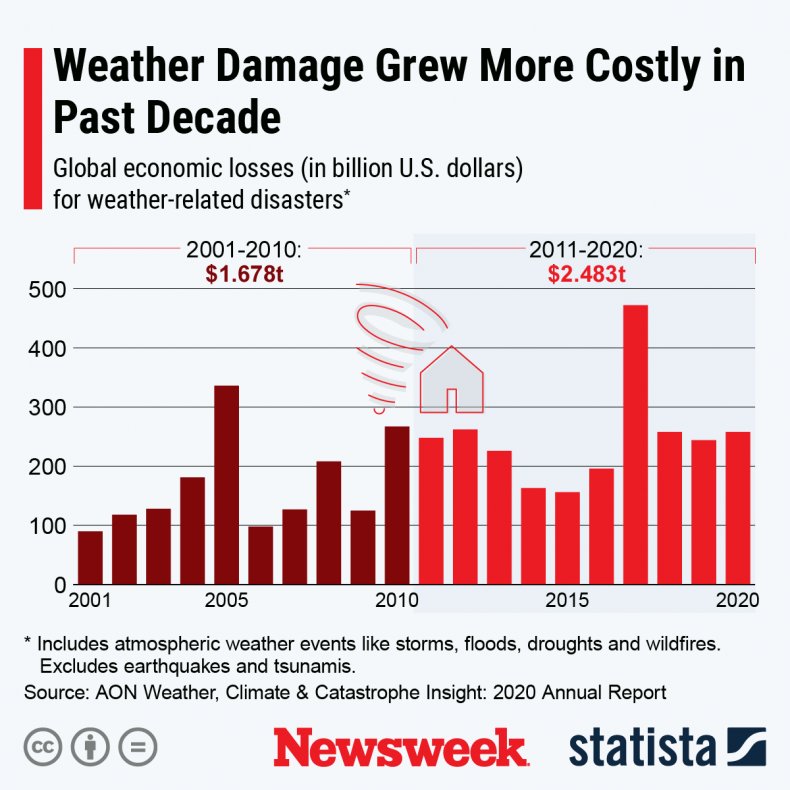 Storm Ida made landfall in the U.S. at Port Fourchon in Louisiana at around noon CT on Sunday with powerful 150 mph winds, causing more than 1 million people to be without power in the region.
The storm caused a bridge in Lucedale, Mississippi to collapse, resulting in the death of two people, and flooded several states as it made its way north on Tuesday and Wednesday.
The storm is expected to move into New England on Thursday, with areas in Connecticut, Rhode Island and Massachusetts already under tornado watches until 7 a.m. and flash flood warnings beyond that.