New York Governor Andrew Cuomo Retains 56% Approval Rating Despite Nursing Home Controversy: Poll
New York Governor Andrew Cuomo's approval rating has remained consistently high despite a controversial report last month that found his administration undercounted the number of COVID-19 deaths in nursing homes, according to a new poll.
The survey, released Tuesday by the Siena College Research Institute, found that Cuomo has a 56 percent approval rating. This follows the January report by New York Attorney General Letitia James that found his administration undercounted nursing home deaths by the thousands.
That approval rating is just one point off the 57 percent rating he received in January and is the same as the rating he received in November, according to the institute.
The survey was conducted from February 7 through 11 among 804 registered New York state voters. The margin of sampling error is plus or minus 4.3 percentage points.
"Voters—especially Democrats—continue to give Cuomo strong marks for his overall handling of the pandemic. He gets a positive rating from 83 percent of Democrats and 52 percent of independents. However, 72 percent of Republicans give him a negative grade," Siena College pollster Steven Greenberg said in a statement.
Overall, 61 percent of voters said they believed the governor is handling the pandemic well. However, only 39 percent said they believe Cuomo has done an "excellent" or "good" job at releasing all available coronavirus data about nursing home patients.
Greenberg said this was "the issue on which voters most harshly grade Cuomo," adding that "New York City voters are closely divided but downstate suburbanites and upstaters give Cuomo negative grades."
Though the survey was conducted in the aftermath of James' initial report, it did not survey respondents after more controversy about nursing home deaths emerged in the past week.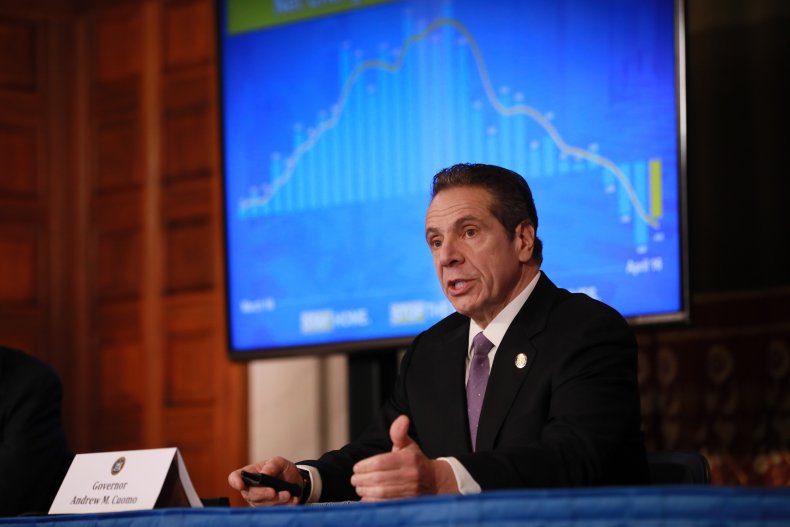 On February 12, the New York Post reported that one of Cuomo's top aides acknowledged withholding nursing home data on COVID-19 death tolls to prevent Trump administration prosecutors from going after the Cuomo administration.
In a leaked phone call to Democratic state lawmakers, the aide said the governor's office "basically froze" after being asked for nursing home deaths data last summer by the Trump administration's Department of Justice (DOJ). The office feared that reporting the correct numbers could be used against the Cuomo administration in an investigation.
"We were in a position where we weren't sure if what we were going to give to the Department of Justice—or what we give to you guys and what we start saying—was going to be used against us, and we weren't sure if there was going to be an investigation," the aide, Melissa DeRosa, said.
In response to those new allegations, 14 Democratic state senators joined a Republican-led effort calling "for a repeal of the governor's authority to issue unilateral directives" related to the pandemic. Others have since called for Cuomo to be removed from office altogether.
On Monday, the governor received more backlash after state senators questioned his claim that his administration informed the state Legislature about the DOJ probe.
During a news conference that day, Cuomo apologized for creating a "void" regarding accurate information on nursing home deaths. "I have said repeatedly: We made a mistake in creating the void," Cuomo said.
"The void allowed misinformation and conspiracy, and now people are left with the thought of 'Did my loved one have to die?' And that is a brutal, brutal question to pose to a person. And I want everyone to know everything was done—everything was done—by the best minds in the best interest, and the last thing that we wanted to do, the last thing that I wanted to do, was to aggravate a terrible situation," the governor added.
The New York State Health Department has defended Cuomo by saying that his administration has always reported the total number of COVID-19 deaths, although it failed to accurately say where those deaths took place.
"New York State Department of Health has always publicly reported the number of fatalities within hospitals irrespective of the residence of the patient, and separately reported the number of fatalities within nursing home facilities and has been clear about the nature of that reporting," New York State Health Commissioner Howard Zucker said last month.
According to the Sienna poll, 46 percent of voters said they would vote to reelect Cuomo next year, while 45 percent said they would prefer "someone else."