Democrats at Risk of Losing House Seats After Failed New York Redistricting
A redistricting map proposed by Democrats in the state of New York has been ruled illegal, and the decision is likely to hurt the party in November.
On Wednesday, the state's Court of Appeals deemed the map proposing new congressional and state Senate districts unconstitutional. The court's ruling is expected to make Democrats' attempts to hold onto control of the U.S. House of Representatives more difficult, as recent moves in other states such as Florida and Kansas have also diminished Democratic chances of retaining a House majority.
The New York court ruled by a 4-3 margin that the proposed congressional map was "drawn with impermissible partisan purpose" and was "procedurally unconstitutional" due to it bypassing a requirement passed in 2014 mandating the creation of electoral maps via an independent commission.
Henry Olsen, a senior fellow at the Ethics and Public Policy Center, said in a statement to Newsweek that, given the court's ruling, it will be "nearly impossible" for Democrats to keep control of the U.S. House.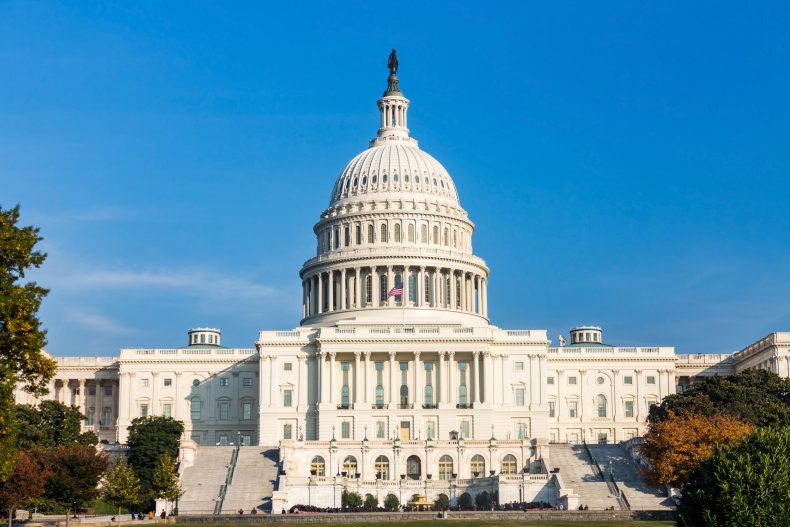 "The overturned New York Congressional map was widely viewed as an aggressive Democratic gerrymander that likely would cost Republicans 4 seats. At the very least, a marginally fair map would likely return at least to GOP control," Olsen wrote. "In the current political environment, a partisanly neutral map could give Republicans as many as ten of The Empire State's 26 seats. If that happens, it will be nearly impossible for Democrats to hold the House unless the political environment improves in their favor in historic fashion."
Republicans need to pick up five seats nationwide in November in order to regain control of the House, according to The Hill.
On Twitter, Dave Wasserman, the U.S. House editor of The Cook Political Report, referred to the court's ruling as "potentially horrific" for Democrats in 2022.
"In a 4-3 ruling, NY's top court has turned Dems' 2022 House outlook from terrible to potentially horrific. A court-appointed special master will draw a remedial map, perhaps costing Dems three NY seats they otherwise would have gained & making Rs clear redistricting winners," Wasserman wrote.
The court ruled that a neutral redistricting expert, or "special master," should prepare and draw the state's new congressional district map instead of the state Legislature.
Wednesday's ruling will also have another impact on upcoming elections in the state.
Party primaries will likely have to be pushed back, according to The New York Times. Originally, voters were set to select candidates for the November elections on June 28. Now that a new map of congressional and state Senate districts will have to be drawn, primary elections probably will not happen until August.
Newsweek reached out to the New York Democratic Party for comment.