New Yorker's Bowl of $50 Mini-Croissant Cereal Divides Opinion
A New Yorker shared a clip of themselves eating a "cute breakfast" of mini-croissant cereal, but it's proving controversial after its cost of $50 a box was revealed.
The iconic pastry, already a staple of breakfast and brunch, has been given a miniature makeover by bakery L'appartement 4F.
Ella Kahan and Emma Matarasso, who post under Chew York City, uploaded a clip to their TikTok account simply captioned "croissant cereal." The clip shows Kahan tucking into a bowl of the crunchy croissants, after splashing them with milk.
They added: "Croissant cereal from @lappartement4f. They make the best pastries and baked goods."
Kahan told Newsweek: "I had regular milk with it (despite being lactose intolerant) in order to fully experience it. The texture is unlike what you would expect they aren't soft and buttery but crunchy and sweet."
The video, shared on Wednesday, has amassed more than 2 million views, and can be seen here, as they gave their verdict on the dish.
"Trying croissant cereal. 10/10 stays crunchy and doesn't get soggy too fast. Such a cute breakfast," they said in the on-screen captions. While they raved about it, people were shocked to discover a packet costs a whopping $50.
"I really wanted this, but $50 for a cereal," Cass9234 wrote
Cloudsofcalm thought: "They look amazing and I fully appreciate the work and skill that bakers have making this by hand but $50?! Come on."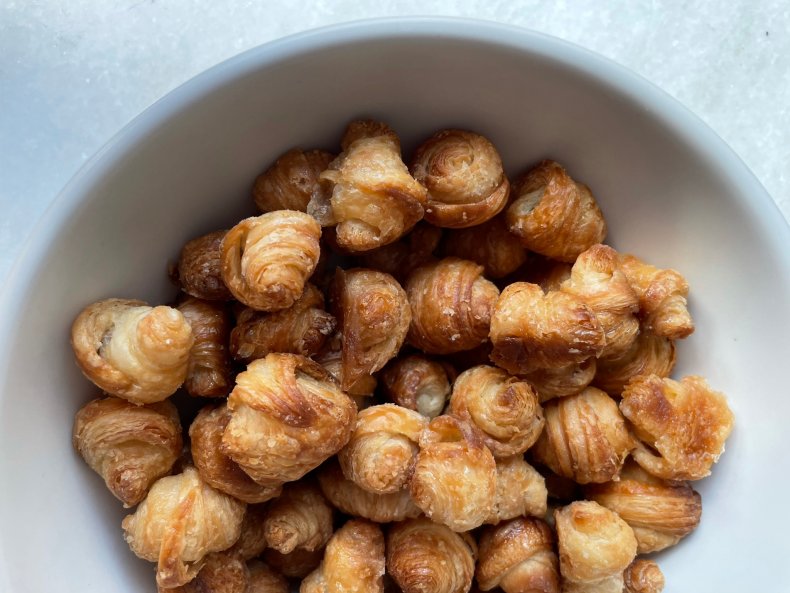 Warzone Clips: "Cool but for $50 you can keep your cereal."
Stephanie L commented: "$50?! Cut up croissant from Costco, butter and sugar, cinnamon, air fried low head $4.99."
Despite the hefty cost, people were desperate to try it out for themselves, and already started trading recipe twists.
Sharon Jacobs suggested: "Umm imagine Nutella inside."
ATfrenchies said: "I wanna try this."
Bananie recommended: "Yes but with chocolate milk."
"I'm so game for this but instead of regular milk, an iced latte poured in," T reckoned.
While Sully added: "Imagine cinnamon toast crunch flavor."
Sully's in luck, as the flavor advertised for pre-order on the website is close enough to his request.
The online description says: "Petite croissant cereal. Each tiny croissant is hand rolled, baked, dipped in our original simple syrup, tossed with cinnamon sugar and then dehydrated."
L'appartement 4F is run by Gautier, originally from France, and Ashley, in Brooklyn. Anyone desperate to part with a wad of cash for the cereal will need to head down to Brooklyn Heights to pick it up—in December. The website doesn't make clear exactly how much $50 gets you.
Their social media pages, which indicate they used Kickstarter to get the cereal off the ground, shared snaps of the miniature pastries getting ready to go into the oven.
"Oui, those are bébé croissants you see," they captioned a snap of the tiny dough shapes.
Newsweek reached out to L'appartement 4F and Chew York City for comment.
Update 8/27/21 10:50 a.m. ET: This article was updated to include additional video and photos.
Update 9/8/21, 4.46 a.m. ET: This article was updated with comment from Kahan.