Newsmax Cuts Away From Trump's Impeachment Lawyer During Rambling Speech
Newsmax cut away from one of Donald Trump's attorneys on air during his rambling opening statement in the former president's impeachment trial.
Bruce Castor, who is defending Trump in his second Senate impeachment hearing, was cut off by the conservative network, which has traditionally been supportive of the former president, during a Tuesday night program.
The network cut away for commentary from Alan Dershowitz, a Harvard Law School professor emeritus who represented Trump at his first impeachment trial in 2020.
"Where is he heading with this?" asked anchor Heather Childers.
"There is no argument. I have no idea what he's doing. I have no idea why he's saying what he's saying," Dershowitz said. "Come on. The American people are entitled to an argument, a constitutional argument."
Dershowitz continued: "This, just—after all kinds of very strong presentations on the part of the House [impeachment] managers ... you know, you get up there and you respond. We know that hard cases make bad law. I probably would've started with that. This is a hard case, an emotional case.
"I just don't understand it," Dershowitz added. "Maybe he'll bring it home. But right now, it does not appear to me to be effective advocacy."
The former president stands accused of inciting an insurrection at the U.S. Capitol on January 6, after a violent siege that led to the deaths of five people, including a police officer.
The cutting-off of Castor comes days after a Newsmax anchor was forced to apologize to MyPillow CEO Mike Lindell for storming off in the middle of an interview.
A clip of anchor Bob Sellers went viral after he left the live interview with the fervent Trump supporter, who was insisting on talking about election voter fraud during a segment that was meant to be about cancel culture.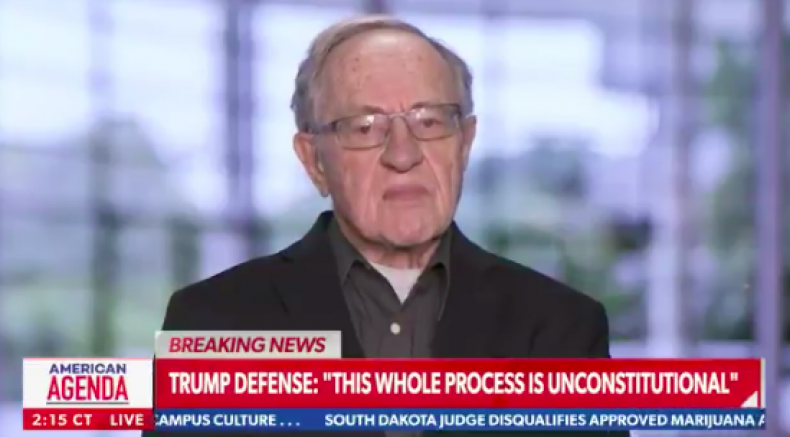 As Sellers became increasingly frustrated with Lindell, he appealed to the show's producers, asking: "Can we get out of here please?"
After the clip went viral, Sellers issued an apology to Lindell, saying: "If you watched American Agenda yesterday, you may have seen something out of the ordinary happen during an interview with Mike Lindell, the CEO of MyPillow.
"Mike is a friend of this network, and we were supposed to discuss Twitter's decision to ban him and the impacts of cancel culture on his business."
Sellers blamed the incident on confusion over the topic of discussion, adding: "Mike thought that we were to talk about vote fraud in the recent election. It's a topic we have covered extensively on Newsmax."