Smartmatic on Wednesday said it filed defamation lawsuits against Newsmax Media and One America News Network (OAN) for allegedly running "disinformation campaigns" after the 2020 election that negatively affected the voting machine company.
The lawsuits were filed on Wednesday, a year to the day after last year's election. The suit against Newsmax was filed in the Superior Court of Delaware and the suit against OAN was filed in the U.S. District Court for the District of Columbia, according to court documents Smartmatic provided to Newsweek.
In a Wednesday press release, Smartmatic alleged that the conservative platforms "knowingly and deliberately" shared "a continuous stream of falsehoods" in the wake of the 2020 election.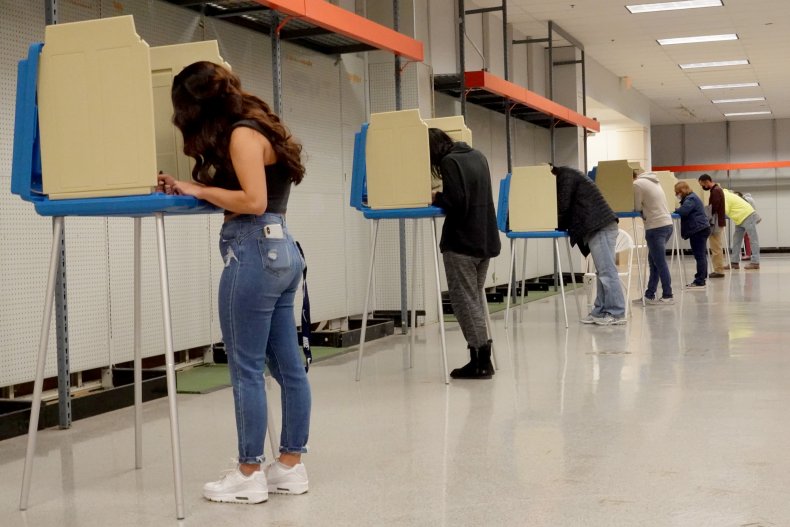 Among the "falsehoods" Smartmatic said Newsmax and OAN spread was that Smartmatic changed votes to sway the election results in President Joe Biden's favor "despite knowing it was not true," the company said. Those alleged actions "harmed Smartmatic and negatively impacted the company's business," Smartmatic said.
"Despite claims to provide viewers with honest, unbiased reporting, these outlets victimized Smartmatic by spreading false information about the company following last year's election, all in their efforts to increase viewership and revenue," Smartmatic attorney J. Erik Connolly said in the release.
Smartmatic said that while it only supplied voting technology to one county in California during the 2020 election, Newsmax and OAN's alleged actions had global impacts for the company, which Smartmatic CEO Antonio Mugica said in the release "cannot be overstated."
When reached for comment, Newsmax said in a statement shared with Newsweek that Newsmax Media has not yet reviewed Smartmatic's lawsuit.
"While Newsmax has yet to receive or review the Smartmatic filing, Newsmax reported accurately on allegations made by well-known public figures, including the President, his advisors and members of Congress, as well as reporting on Smartmatic's claims in its defense," the statement said. "Smartmatic's action against Newsmax today is a clear attempt to squelch the rights of a free press."
The Newsmax spokesperson added the company may have further comment once the lawsuit has been thoroughly reviewed.
Newsweek reached out to OAN for comment and will update this article with any response.
Smartmatic's lawsuits against Newsmax Media and OAN follow a similar suit the company filed earlier this year against Fox Corporation, Fox News Network LLC and three hosts with Fox News and Fox Business. That earlier lawsuit, one of the largest of its kind in the U.S. at $2.7 billion, also listed Rudy Giuliani and Sidney Powell, both attorneys to former President Donald Trump during the last election cycle, as co-defendants.
Fox News Media and hosts Maria Bartiromo, Judge Jeanine Pirro and Lou Dobbs filed motions to dismiss Smartmatic's earlier defamation lawsuit shortly after it was filed in February.
Similar defamation lawsuits tied to coverage of the 2020 election were also filed against Newsmax and OAN in August by Dominion Voting Systems. Dominion alleged at the time that the "barrage of lies" from Newsmax and OAN "caused—and continue to cause—severe damage to our company, customers, and employees."
Updated 11/03 at 5:30 p.m. ET: This article has been updated to include Fox News Media's motion to dismiss a Smartmatic lawsuit earlier this year.