Newsom Faults Lawmakers' School Reopening Plan for Not Being 'Far or Fast Enough'
California Governor Gavin Newsom responded to the Legislature's proposal to reopen elementary schools by April by saying it doesn't do enough, potentially opening up delays in passing the measure.
"While the Legislature's proposal represents a step in the right direction, it doesn't go far enough or fast enough," Newsom said in a press release Thursday. "I look forward to building on the growing momentum to get our schools open and continuing discussions with the Legislature to get our kids back in school as safely and quickly as possible."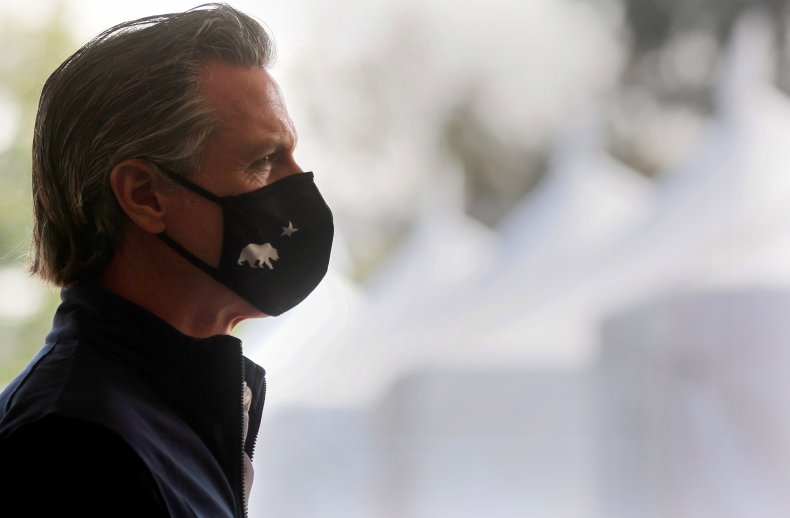 The Legislature filed the $6.6 billion proposal in the state Senate and Assembly on Thursday. The plan will provide $2 billion to elementary schools that open by April 15, but all schools would be mandated to file coronavirus safety plans by April 1. Schools must offer the option of in-person instruction for kindergarten through sixth grade by April 15 if they are located in a county considered "red tier," the state's second-strictest level.
The plan would also require school districts to determine safety protocols and administer testing plans to be considered for the funding. An additional $4.6 billion is included to help schools address the pandemic's impact on students' learning. The deadline for filing for the funds is April 1, months later than Newsom initially called for.
According to the governor, the plan doesn't take enough action to reopen schools by the end of the academic year.
"My fear about what was put out yesterday, it's actually going to slow down our ability to reopen schools safely," Newsom said at a press conference Friday. "We are continuing dialogue with the Legislature, but the proposal that was put out actually sets back the cause of safely reopening the schools on a timeline that I think advantages the most vulnerable Californians in this state."
Newsom also announced on Friday a new standard that accelerates counties' ability to prioritize the "ecosystem" of people required to safely reopen schools.
He said the state would begin reserving coronavirus vaccines in all of California's 35 counties for school personnel. Effective March 1, he said, the state would be setting aside 10 percent of all first doses, beginning with 75,000 doses every week, for counties to administer to teachers and other school support staff. He said this applies to personnel across all grades, not only elementary-level staff.
Lawmakers could vote on the proposal as early as Monday, according to the Los Angeles Times. Asked if he would veto the Legislature's proposal, Newsom said, "I've made it crystal clear I can't support something that's going to delay the safe reopening of schools for our youngest kids."
Newsom's announcement addresses a sticking point with teachers' advocates that could delay the proposal's approval: when teachers should actually receive their vaccines.
The lawmakers' bill says that county-level health departments "shall make COVID-19 vaccines available to school site personnel who are working at a school site where pupils are attending in person."
The proposal doesn't clarify whether counties would give teachers shots before the start of in-person classes or after in-person learning resumes.
Newsom has argued that vaccinating all school personnel before commencing classes would take too long. CapRadio, the public radio service of California State University, Sacramento, reported that last month the governor said in conversation with the executive director of the Association of California School Administrators, "If everybody has to be vaccinated, we might as well just tell people the truth: There will be no in-person instruction in the state of California."
Newsom's own reopening plan argues for getting teachers in classrooms as soon as possible. It cites Centers for Disease Control and Prevention evidence that vaccines are not mandatory for teachers to safely instruct students in person.
The debate over when schools should reopened has put the governor increasingly at odds with the California Teachers Association, according to the Times. The union supports the Legislature's April 1 filing deadline, a spokesperson for CTA told the nonprofit EdSource, because it gives schools enough time to determine the necessary safety measures. It also would legislate options for families who would prefer to keep their children in remote classes.
On Friday, Newsom said he had "great respect" for the union but was concerned about "connecting the dots" among all relevant school personnel and not only CTA members. Newsom added that Friday's announcement showed the state was prioritizing the unions' concerns.
On Thursday, a joint statement from school districts in Los Angeles, San Diego and Sacramento, among other cities with large urban school districts, lauded the Legislature's plan.
"These clear guidelines from the state will help reopen schools in the safest way possible," the statement said. "In addition to ensuring appropriate health measures at schools and underscoring the need to control community spread of the virus, the proposed action recognizes the critical role vaccinations for all school staff play in creating the safest possible school environment."
Newsom's office responded to Newsweek's request for comment with a copy of the governor's statement from Thursday. Newsweek reached out to the California Teachers Association for comment but did not hear back before publication.