Newsom Recall Election Increasingly Likely as Campaign Pre-Verifies 1.8 Million Signatures
The campaign seeking to oust Democratic California Governor Gavin Newsom said Wednesday it has verified more than 1.8 million of the more than 2 million signatures gathered in its effort to trigger a recall election.
The news came as part of the campaign's announcement that it reached the 2 million signature mark, far surpassing the number it must collect ahead of its March 17 deadline.
Orrin Heatlie, the lead proponent of Recall Gavin Newsom, celebrated the petition breaking the 2 million signature threshold in a Wednesday news release.
"The People of California are speaking loud and clear," Heatlie said. "We have cleared another milestone. Politics as usual in California are over as we know it to be."
The campaign still has until March 17 to continue gathering signatures, which officials throughout California's 58 counties have already begun to verify. By Monday, California Secretary of State Shirley Weber's office reported it had verified 668,168 signatures thus far, though the process remains ongoing. Data from Weber's office showed that officials were able to verify just shy of 84 percent of the signatures they received.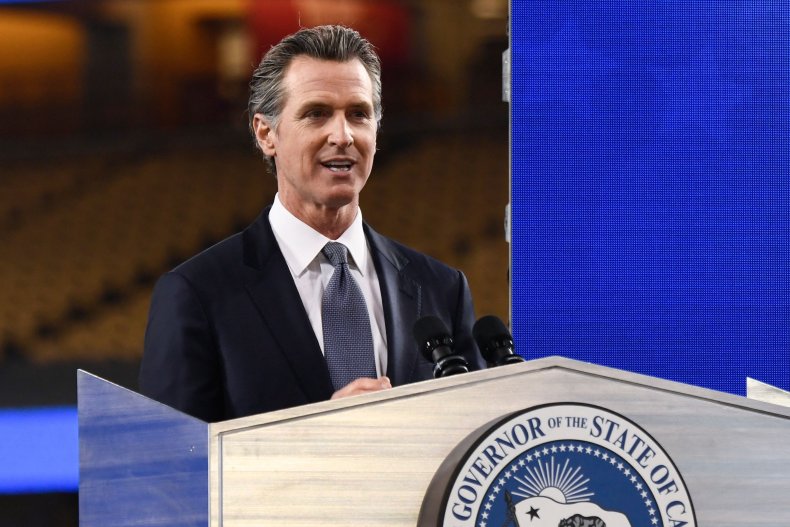 The campaign's efforts to verify the signatures it gathers are independent of the state's official verification process. According to the campaign, its "outside third-party vendor" verified 1,871,573 by Wednesday evening.
State officials must verify at least 1,495,709 signatures—equivalent to 12 percent of the votes cast in the 2018 gubernatorial election Newsom won—in order for the recall to move forward.
If the state's current verification percentage holds for the more than 2,060,000 signatures Recall Gavin Newsom has collected thus far, the campaign will have no trouble surpassing the minimum number of valid signatures needed to trigger an election.
Gray Davis, a Democrat, is the only former California governor who was successfully recalled, in 2003. Though Democratic strategists recently told Newsweek they believe Newsom has a good chance of surviving a recall election, Republican strategists are less convinced and have said that the recall effort extends beyond Californians' frustrations with pandemic-inspired lockdowns and restrictions.
At the top of Recall Gavin Newsom's list of reasons to recall the governor are temporary business closures and references to a controversial decision Newsom made last fall to dine out in spite of his recommendation that Californians congregate only with members of their households. However, the campaign also lists Newsom's positions on gun rights and immigration policy among its reasons for a recall, showing the political divide that exists in one of the nation's most left-leaning states.
If a recall election is scheduled, there will be no limits on how many candidates can qualify for the ballot. But two Republicans have already emerged as likely Newsom challengers in a potential race.
Kevin Faulconer, the former mayor of San Diego, announced his 2022 gubernatorial campaign earlier this year and has repeatedly celebrated the recall campaign's efforts on social media.
"Over 2 million people have signed the recall petition. We can't stop now, let's keep those signatures coming!" Faulconer tweeted in response to Recall Gavin Newsom's Wednesday announcement. "Millions of Californians are standing up and demanding change. We're going to make history."
On Thursday, John Cox, a businessman who ran against Newsom in 2018 and plans to do so again next year, also tweeted about the recall campaign collecting 2 million signatures.
"2 million signatures and growing! We are one step closer to holding Governor Newsom accountable for his policy failures, special interest deals, and political excuses," Cox tweeted. "Californians want solutions, not excuses, and the people must have that opportunity."
If enough signatures are verified to trigger a recall, experts have predicted the election would take place in the late summer or fall of this year.
Newsweek reached out to the recall campaign and Newsom's office for comment and will update this story with any response.