Newsom Threatens to Rollback California's Reopening Amid Rising COVID-19 Cases
Democratic California Governor Gavin Newsom has said he is evaluating which counties might have to reinstate stay-at-home orders and business shutdowns amid the state's spike in COVID-19 case numbers.
At a Monday press briefing, Newsom said that on Sunday he had ordered the limited closure of bars that don't serve food in seven Californian counties: Fresno, Imperial, Kern, Kings, Los Angeles, San Joaquin and Tulare. He also suggested bars in eight other counties consider similar closures, according to The Los Angeles Times.
He said the state might impose a stay-at-home order for Imperial County if county leaders do not implement one first. Imperial County's rate of positive COVID-19 cases has been as high as 23 percent, Newsom said. If the state imposes a stay-at-home order, it would mark the first time that California has re-issued a stay-at-home order for any of its counties.
Per Newsom's orders, bars in the aforementioned counties can only stay open if they maintain the state's safety guidelines for restaurants and also sell alcohol and dine-in food within the same transaction. Bars without food service can remain open by working with outside vendors to provide food.
On Thursday, Newsom ordered state residents to wear face coverings while in public, on public transportation, or in crowded or medical settings. He commented that state COVID-19 cases might be increasing due to residents failing to wear masks.
Newsom also said agents from the California Department of Alcohol Beverage Control and other local health authorities have been conducting compliance checks to ensure that open bars and restaurants have been following the state's safety requirements for slowing the spread of COVID-19.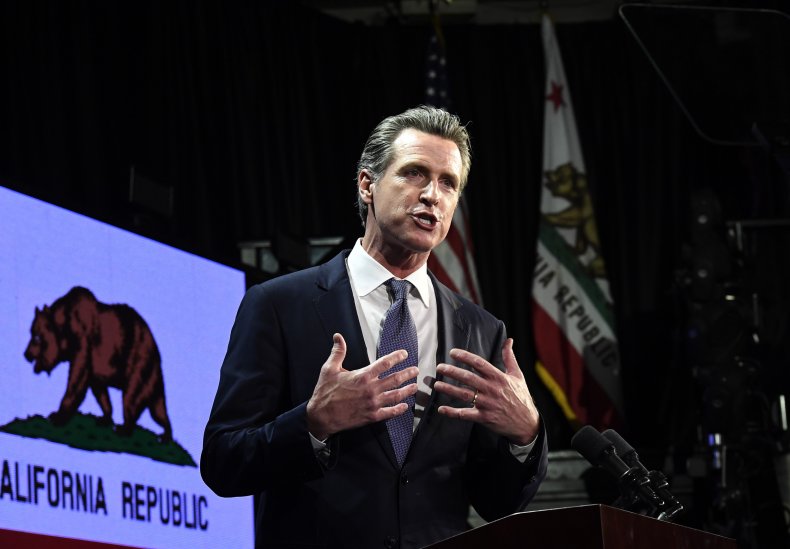 On June 24, California reported 7,149 new COVID-19 diagnoses, topping state's previous single-day high of 5,019 new cases reported on the day prior.
On June 23, Newsome said he believed the state's spike in newly confirmed cases was not merely the result of expanded testing.
At the start of June, most California regions entered Phase 2 of the state's reopening plan, resuming services at a range of businesses with health-safety measures in place.
As the state's COVID-19 numbers have risen, so, too, have its rates of hospitalization. Over the past two weeks, the total number of hospitalized patients increased 29 percent, and admissions to intensive care units increased 18 percent. Newsom said hospitals still have sufficient hospital beds and ventilators to treat an increase in coronavirus patients.
Newsweek reached out to Newsom's office for further information. This story will be updated with any response.