Newt Gingrich Blames 'Deep State' for Robert Mueller's Leaked Letter to William Barr
Former House Speaker Newt Gingrich has dismissed special counsel Robert Mueller's leaked letter to Attorney General William Barr as the work of the "deep state," a conspiracy theory that the Washington bureaucracy works to undermine the White House.
Mueller's letter to Barr on March 27, reported first by The Washington Post, lays out the prosecutor's discomfort with the attorney general's summary of his investigation's main findings, weeks before a redacted version of the special counsel's full report was made public.
According to The Post, Mueller wrote to Barr that his summary "did not fully capture the context, nature, and substance of this office's work and conclusions," which created "public confusion about critical aspects of the results of our investigation."
The Post also reported that during a follow-up call Mueller told Barr that—while he did not believe the context-light summary was inaccurate or misleading—media coverage of Barr's March 24 letter to congressional leaders had misinterpreted the investigation.
Barr will appear before the Senate Judiciary Committee to testify on Wednesday, and before the House Judiciary Committee on Wednesday. But the House hearing might be in doubt because the attorney general does not agree to the proposed format for questioning.
"I assume somebody wanted to leak [Mueller's letter] to maximize the embarrassment to Barr and to set up the questions for the hearings the next two days," Gingrich, a former Republican Georgia congressman, told Fox News host Laura Ingraham on Tuesday night.
"Look, the deep state in Washington has played these games for the whole history of the country. This is not something new. Both Jefferson and Hamilton used to subsidize newspapers to attack each other while they were both serving in President Washington's Cabinet.
"The day that Barr released his letter, Mueller could at any point have decided he wanted to refute it. And as I understand, the actual key sentences—the distortion is by the news media, the distortion is not by Barr.
"The media that Mueller's complaining about are now using Mueller's complaint to try to further distort what's going on. You couldn't make this up."
In previous hearings before the House and Senate during April, after Mueller's letter, Barr testified that he did not know if the special counsel supported his conclusions. Democrats accused Barr of misleading Congress and the public, and have demanded that Mueller testify publicly on Capitol Hill.
"Attorney General Barr misled the public and owes the American people answers," House Speaker Nancy Pelosi, a California Democrat, tweeted after the Mueller letter leaked on Tuesday. "It's time for DOJ to release the full report & all underlying docs—and finally allow Mueller to testify. Americans deserve the facts. Barr must stop standing in the way."
Barr's four-page summary to Congress of Mueller's main findings stated that the special counsel did not find that President Donald Trump or members of his campaign conspired with Russia to undermine the 2016 election.
The attorney general also noted that Mueller, in his 448-page report, did not accuse Trump of any crime relating to obstruction of justice. However, it did not exonerate the president either.
Mueller found evidence that Trump attempted to obstruct justice by seeking to disrupt the special counsel's investigation, including thwarted efforts to fire the former FBI director from the Russia probe.
Citing the Justice Department's guidance that a sitting president could not be indicted, Mueller did not charge Trump. Instead, Mueller laid out the evidence his investigation uncovered without reaching a conclusion.
Barr and Deputy Attorney General Rod Rosenstein declined to prosecute Trump for obstruction of justice, stating that Mueller's evidence was not sufficient to establish that a crime took place. Part of that decision was based on Mueller's finding that the president was not involved in an underlying crime related to Russian election interference.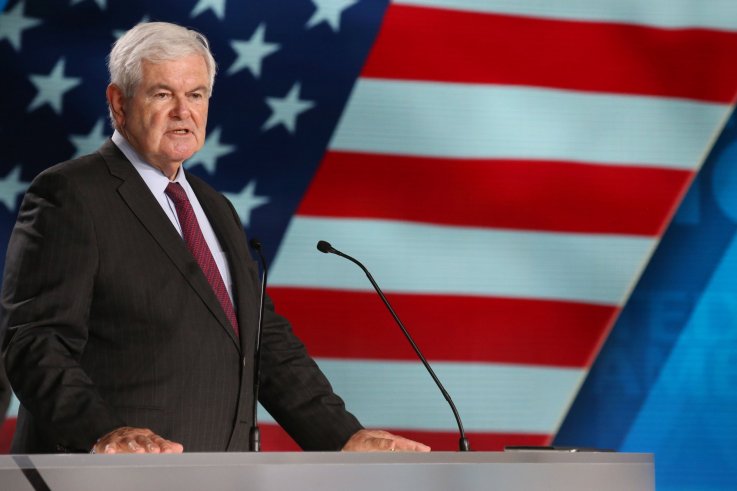 Newt Gingrich Blames 'Deep State' for Robert Mueller's Leaked Letter to William Barr | U.S.