NFL Commissioner Says 'We Were Wrong' to Ban Protests, Encourages 'All to Speak Out and Peacefully Protest'
In a video released on Friday evening, NFL Commissioner Roger Goodell said the National Football League was wrong to not listen to protests from players opposing anti-black policing in America.
Goodell's comment follows widespread criticism he faced after issuing a June 1 statement recognizing an "urgent need for action" following the May 25 death of George Floyd while in the custody of police officers. The NFL, under Goodell, formally banned on-field protests against police brutality in 2018.
"We, the NFL, condemn racism and the systematic oppression of Black People," the NFL wrote in a tweet on Friday evening. "We, the NFL, admit we were wrong for not listening to NFL players earlier and encourage all to speak out and peacefully protest. We, the NFL, believe Black Lives Matter. #InspireChange," the tweet read.
In the attached video, Goodell said, "It has been a difficult time for our country, in particular black people in our country."
After offering his condolences to the families of George Floyd, Breonna Taylor, Ahmaud Arbery and all the families who have endured police brutality, Goodell said the NFL condemns racism and the systematic oppression of black people, admits it was wrong for not listening to NFL players who protested on-field about the issue in past years and encourages others to speak out and peacefully protest.
"We, the National Football League, believe black lives matter," Goodell said. "I personally protest with you and want to be part of the much-needed change in this country. Without black players, there would be no National Football League, and the protests around the country are emblematic of the centuries of silence, inequality and oppression of black players, coaches, fans and staff."
Goodell then said he and the organization are listening, and he pledged to "reach out to players who have raised their voices and others on how we can improve and go forward for a better and more united NFL family."
In response, rapper Ice Cube tweeted an image of former NFL player Colin Kaepernick whose 2017 on-field kneeling protest against police brutality compelled the NFL on May 23, 2018 to announce its intention to fine any players who don't stand on-field or stay in the locker room during the national anthem.
Goodell didn't specifically mention kneeling or Kaepernick's name in his video.
Goodell's video seems to have taken its language directly from a video created by black NFL players demanding the league to apologize for previously silencing of on-field protests by black players.
On October 15, 2017, Kaepernick filed a grievance against the NFL, claiming that NFL owners had colluding by not singing him and keeping him out of the league. The NFL reached an undisclosed settlement over the matter on February 15, 2019. The confidentiality agreement on the settlement required no further comment on it by any party.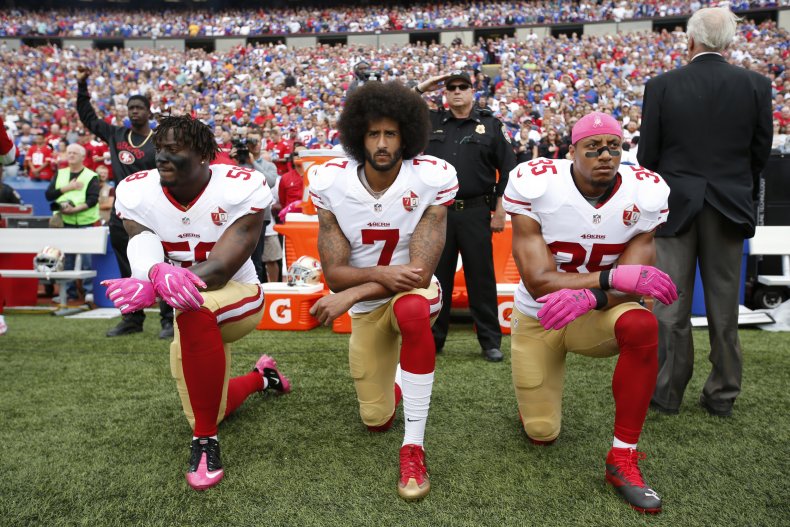 Kaepernick has faced criticism ever since conducting his on-field protests.
On September 22, 2017, President Donald Trump criticized NFL players kneeling during the anthem, writing via Twitter, "Wouldn't you love to see one of these NFL owners - when somebody disrespects our flag - to say, 'Get that son of a b**** off the field right now, out, he's fired.'"
Two days later, a number of NFL teams opposed Trump's comments, calling them "offensive" and "disappointing."
During a December 2019 appearance on Fox & Friends, then current congressional candidate and former NFL player Jeremy Staat said Kaepernick is "essentially extorting the black community" by using his advertising contract with Nike following his protests as a "little shining horse to ride in on to basically exploit and capitalize on his poor choice of trying to disgrace our men and women in uniform."
Kaepernick has long countered that his protests were about police brutality and not intended as a slight to U.S. military members.
Earlier in June, New Orleans Saints quarterback Drew Brees, a player who has long opposed kneeling protests in the NFL, reiterated his opposition to them one week after the death of George Floyd.
"I will never agree with anybody disrespecting the flag of the United States of America or our country," Brees said. His comments drew a backlash from other current NFL players
Referring to the Brees controversy, Trump tweeted on June 5, "We should be standing up straight and tall, ideally with a salute, or a hand on heart. There are other things you can protest, but not our Great American Flag - NO KNEELING!"
Kaepernick has not yet commented on Goodell's recent video, but he is working on a memoir to tell "tell the story of my evolution." The self-published memoir is expected to be released at some stage this year.