NFL Draft 2021 Winners and Losers From Round 1, From Justin Fields to Trey Lance
The first round of the 2021 NFL Draft had the potential to deliver surprises and it lived up to expectations, but the shocks did not come where they were most expected. There were no shocks with the first two picks as the Jacksonville Jaguars and New York Jets selected Clemson quarterback Trevor Lawrence and BYU signal caller Zach Wilson respectively
The plot, however, veered sharply off course with the third pick as the San Francisco 49ers took Trey Lance out of North Dakota State, while Alabama quarterback Mac Jones fell all the way to No. 15.
Even more surprisingly, the Chicago Bears traded up nine spots to land Ohio State quarterback Justin Fields.
Here's a round-up of Thursday night's winners and losers.
Winners
Chicago Bears
The conventional wisdom leading up to Thursday night was that there was little the Bears could do to improve their quarterback situation. Having tried and failed to trade for Seattle Seahawks quarterback Russell Wilson last month despite offering a bountiful number of first-round picks, Chicago looked set to start the season with Andy Dalton as its QB1 and Nick Foles as his backup. That all changed when the Bears traded up from No. 20 to No. 11 and selected Ohio State quarterback Justin Fields.
The trade didn't come cheap—Chicago sent this year's first- and fifth-round picks to the New York Giants, along with next year's first- and fourth-round picks—but could be a franchise-defining moment. Fields was considered a top-three pick last year, before his stock suddenly fell over the last couple of months. While concerns over throwing mechanics will not fade overnight, Fields' stats speak for themselves. In 22 game as a starter in college, the former Buckeye threw for 67 touchdowns and nine picks, completing 68.4 percent of passes and rushing for 1,133 yards and 19 touchdowns.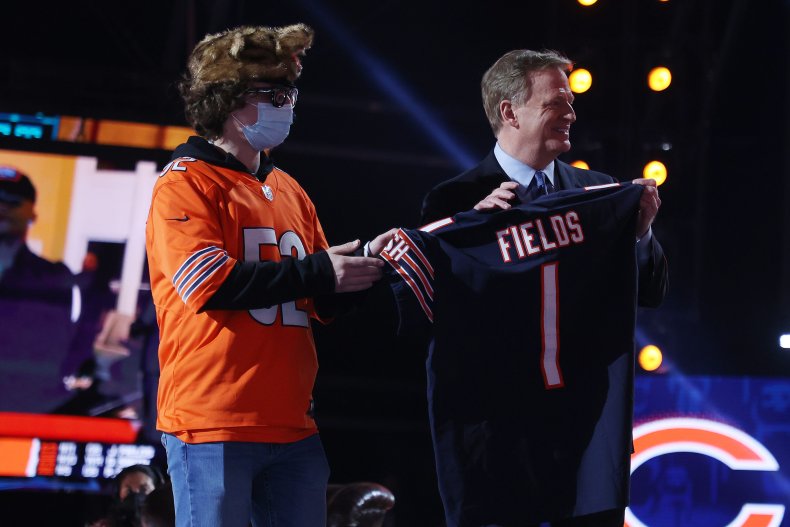 Alabama wide receivers
Last year Alabama became the first college team to have two wideouts selected in the top 15 of the NFL Draft. This year, the Crimson Tide did even better as Jaylen Waddle and DeVonta Smith became the first pair of wideouts from the same college to both be chosen in the top 10.
Waddle was drafted with the No.6 overall pick by the Miami Dolphins, while Smith, the reigning Heisman Trophy winner, went to the Philadelphia Eagles at No.10.
Even more remarkably, both players will be reunited with former Alabama quarterbacks in Tua Tagovailoa and Jalen Hurts.
It was a great night for Alabama, which became the first school in the common-draft era to have a quarterback, running back and two wide receivers selected in the first round of the same NFL Draft. Aside from Smith and Waddle, quarterback Mac Jones and running back Najee Harris were selected by the New England Patriots and Pittsburgh Steelers with the 15th and 24th overall pick respectively.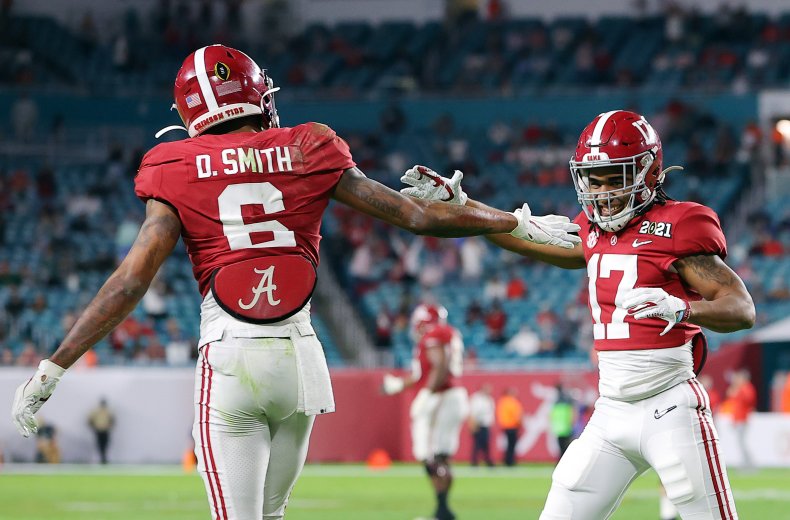 Matt Ryan
The Atlanta Falcons were arguably one of the few teams in a win-win situation on Thursday. They could pick one of the four best quarterbacks in the draft to groom as Matt Ryan's heir apparent or they could select Kyle Pitts to give Ryan an enormously talented weapon to work with. They went with the latter and who can begrudge them? The Florida tight end is a generational talent and should have an immediate impact on the Falcons' offense under new head coach and play caller Arthur Smith. Plans to draft Ryan's successor can wait for now.
Trey Lance
Regardless of their pick, the 49ers' choice would have been heavily scrutinized because of the assets they parted with to trade up—more on that in a second. Lance has enormous upside but remains a risky bet after playing just one game last season following his first year as starter in 2019 and only 17 starts at the collegiate level.
At the same time, he could have hardly wished for a better environment as he now gets to play in Kyle Shanahan's scheme, which resembles the run-oriented, play action-heavy offense that he played in at North Dakota State.
Losers
Criticizing picks that haven't happened
In the lead-up to the draft, several eyebrows were raised over San Francisco's apparent decision to draft Alabama quarterback Mac Jones ahead of Ohio State's Justin Fields and North Dakota State's Trey Lance.
Could 49ers head coach Kyle Shanahan really opt for a pocket passer over a dual-threat quarterback? Will San Francisco regret their choice, particularly after mortgaging a large chunk of its future—they sent a first and third-round selection in this year's draft, along with first-round picks in 2022 and 2023, to Miami in exchange for the third overall pick—to trade up to No. 3?
As it turned out, San Francisco picked Lance instead, rendering all the discussions over the last month academic.
Veteran quarterbacks
Teams looked to the future in the most important position in football, with five quarterbacks selected in the first round for only the fourth time since 1967. In turn, that spells bad news for three veteran quarterbacks, who saw their teams effectively select their successors.
Just over a year since starting in Super Bowl LIV, Jimmy Garoppolo's spell with the 49ers looks to be as good as over after San Francisco tried to orchestrate a blockbuster trade for Aaron Rodgers, before drafting North Dakota State signal caller Trey Lance.
The Chicago Bears may have to delete their "QB1" tweet they posted when they signed Andy Dalton to a one-year deal last month after trading up to draft Ohio State star Justin Fields on Thursday night, while the clock could be ticking for Cam Newton after the New England Patriots drafted Mac Jones with the 15th overall pick—the Alabama signal caller became the first quarterback Bill Belichick has selected in the first round in two decades in New England.
Las Vegas Raiders
Classifying the Raiders as losers may be somewhat premature, but their decision to draft Alabama tackle Alex Leatherwood with the No. 17 pick was definitely a head-scratcher. The Raiders are no strangers to go against the grain on draft night—they picked Clelin Ferrell with the fourth overall selection in 2018 and Damon Arnette at 19th the following year—but selecting a player that was 62nd in both ESPN's and NFL Network's mock drafts still seems to be a reach.
Green Bay Packers
The Packers were set for a disappointing night before the draft had even begun, following news star quarterback Aaron Rodgers wants out of Green Bay. The Packers selected Georgia cornerback Eric Stokes with the 29th overall pick, addressing an area of need but again failing to land a receiver, as most wideouts were already off the board by then.