NFL Free Agents 2018: 10 Best Players Still Available
The NFL season is seven days away and teams are busy fine-tuning the rosters by cutting players they deem surplus to requirements.
The free agent market still boasts a mixture of veterans, players returning from injuries and a few who have probably set the bar of financial expectations too high for their own sake.
Here's 10 free agents who could still find themselves a new team before September 6.
Dez Bryant
Bryant limited his options almost immediately after the Cowboys ended his contract in April, stating he wanted to remain in the NFC East after being released by the Dallas.
That particular plan never got off the ground and Bryant subsequently turned down a potential multi-year deal with the Ravens, hinting he would prefer a one-year contract instead.
The Browns have long been linked with the 29-year-old but are yet to table a concrete offer, and there's no guarantee they will. Bryant has since hinted he might return "later this year".
Eric Reid
The market for safeties has been difficult this season, but it's hard to dispel the feeling the former LSU student is also paying the price for being the first of Colin Kaepernick's teammates to join him in protest during the national anthem.
Still only 26, Reid could easily play at either strong safety or free safety and would be an upgrade in the position for a number of teams.
Jonathan Hankins
Hankins' three-year deal with the Colts was terminated after just 11 months, even though he started 15 games in his sole season in Indianapolis. Despite recording 44 total tackles—the second-highest figure in his five-year career—Hankins looked ill at ease in a 3-4 defense and was a lot more comfortable playing in a four-man defense.
The Browns have shown interest in the former Ohio State man.
Bashaud Breeland
The three-year deal worth $24 million Breeland agreed with the Panthers in March was voided after he failed a physical following a non-football related football injury.
Now fully recovered, the 26-year-old remains without a team, despite the Raiders and the Chiefs both showing interest in July.
Colin Kaepernick
After becoming a free agent in 2017, Kaepernick wasn't given a tryout and has since lodged a collusion suit against the NFL's 32 owners last October.
The Wisconsin native is a better quarterback than a lot of people give him credit for and would be an excellent back-up option. Unfortunately, his decision to kneel rather than stand during the national anthem as an act of silent protest against social and racial injustice continues to have an impact on his career.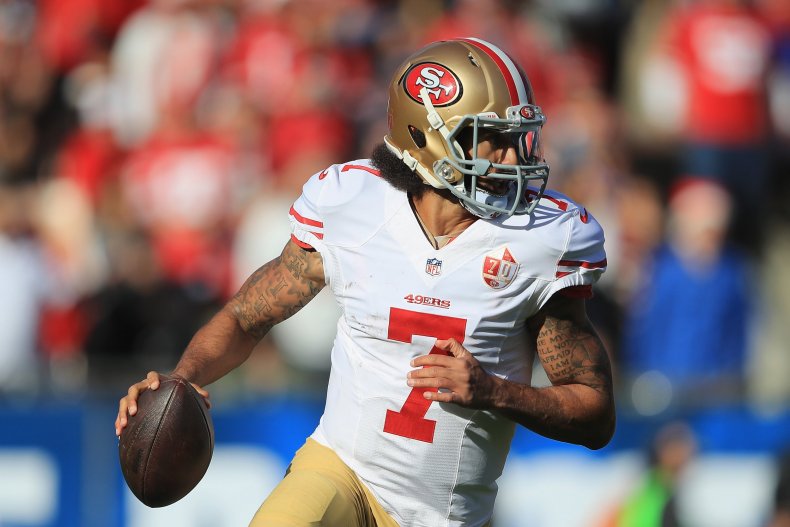 NaVorro Bowman
While there's no doubting Bowman's defensive talents—he led the league in tackles in 2015 and was in the top seven between 2011 and 2013—his fitness record is somewhat less impressive.
Major knee and Achilles injuries in 2014 and 2016 have taken their toll and while Bowman remains a brilliant linebacker, teams might be reluctant to gamble on him.
Tyvon Branch
If the torn ACL he suffered in November wasn't bad enough, Branch will turn 32 in December, making him a major risk for any team in the league. At the same time, he could be a useful strong safety back-up and could be a shrewd addition for teams needing a veteran to add experience to their roster.
Junior Galette
Galette's two-year spell in Washington encompassed a suspension for domestic violence and a serious Achilles injury. The 30-year-old, however, is now fully recovered from the latter and could be a good option for teams looking to add depth to their roster.
The Rams' interest in Galette didn't turn into anything concrete, but the Seahawks could turn to him after Dion Jordan's injury.
Elvis Dumervil
The five-time Pro Bowl selection's production has decreased dramatically over the last two years, largely as he only started three of the 24 games across the two seasons.
The fact the defensive end will turn 35 in January is hardly going to have teams queuing up to sign him but the 49ers are considering bringing him back for another season to add some defensive depth.
Antonio Gates
In April, the Chargers opted against retaining the 38-year-old, but the season-ending injury Hunter Henry has suffered since might force them to reconsider their stance.
Whether Gates chooses to come back remains to be seen, but if he does it will be for the Chargers.