Will Colin Kaepernick Find Another NFL Team After Broncos Snub?
Colin Kaepernick's quest to return to the NFL will continue for a while longer, after the Denver Broncos ruled out signing him.
Case Keenum is the Broncos' undisputed starting quarterback, but Denver is looking for a backup for the 30-year-old after demoting Paxton Lynch to number three in the pecking order behind Chad Kelly earlier this week.
Kaepernick, who has not played in the NFL since becoming a free agent last season, had emerged as a viable option for the franchise before Broncos' general manager John Elway insisted Denver will not consider him.
"You know what, and I said this a while ago: Colin had his chance to be here," he was quoted as saying by ESPN.
"We offered him a contract. He didn't take it," Elway said. "As I said in my deposition [...] he's had his chance to be here. He passed it."
In 2016, Elway twice met with Kaepernick as the Broncos and the San Francisco 49ers looked to engineer a trade, which would have required Kaepernick trimming his salary from $11.9 million to $7 million.
Despite lengthy negotiations the deal never went through and Elway made clear the Broncos will not revive their interest in the quarterback. In the same year, Kaepernick rose to prominence as he opted to kneel rather than stand during the national anthem as an act of silent protest against social and racial injustice.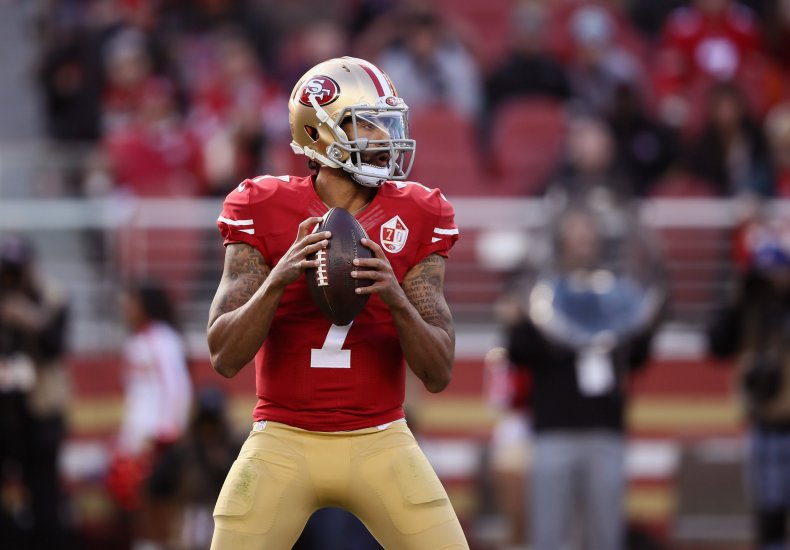 The gesture drew a mixed response within the sport and outside the NFL's sphere, but it also served as an example for a number of other NFL players who chose to emulate their colleague.
After becoming a free agent, the Wisconsin native wasn't given a tryout and has since lodged a collusion suit against the NFL's 32 owners last October.
However, with the Broncos ruling themselves out of the running, his hopes of returning to the NFL this season appear to have decreased even further.
A number of teams in the NFL do not need to bolster their options at quarterback and those that do might not be able to offer him a starting spot. Philadelphia has welcomed back Carson Wentz after a serious injury, while reigning Super Bowl MVP Nick Foles is still waiting in the wings.
The Patriots, the team the Eagles defeated in Super Bowl LII, will again turn to Tom Brady, while Green Bay and Atlanta have plenty of backup options for Aaron Rodgers and Matt Ryan respectively.
The same applies to the Steelers, the Colts and the 49ers, while Seattle and New Orleans are also well stocked in the role.
The Browns, Jets, Bills and Cardinals all have used a top-10 first-round pick on a quarterback, and therefore are unlikely to look to Kaepernick, although Buffalo must hope Josh Allen hits the ground running in his first season in the NFL.
Minnesota went all in on Kirk Cousins and are unlikely to look for a backup any time soon, while Washington and Miami both have solid, if unspectacular, replacements in the shape of Colt McCoy and Brock Osweiler.
The Buccaneers, Baltimore and Cincinnati have more quality than quantity behind their starting quarterbacks but are unlikely to alter their rosters, while Davis Webb and Kyle Lauletta will vie for the role of backup to Eli Manning at the Giants.
Ironically for Kaepernick, his former team could do with adding depth in the role as C.J. Beathard is currently the number two in the pecking order behind Jimmy Garoppolo but the chances of Kaepernick returning to the Bay Area are beyond slim.
Both Los Angeles teams are a viable option, with the Rams' three backups boasting a combined one start between them, while Geno Smith is by far the Chargers' best option in the event of an injury to Philip Rivers.
The NFL is an ever-changing environment and Kaepernick could find himself back in the league this year but with less than a month to go until the beginning of the season, that appears unlikely.