NFL 2019 Thursday Night Football Schedule: How to Watch, Live Stream Games, TV Channel and Dates
A new football season means a new slate of Thursday night games. Since its inception in 2006, Thursday Night Football has developed into a staple of the NFL weekend and this year it will feature the usual mix of divisional rivalries and Super Bowl contenders.
The 2019 NFL regular season will feature 13 games played on Thursday night, beginning from Week 2 when the Carolina Panthers host the Tampa Bay Buccaneers in an all-NFC South affair.
Week 3 sees an AFC South rivalry take center stage, as the Jacksonville Jaguars welcome the Tennessee Titans, while the Philadelphia Eagles travel to Wisconsin to play the Green Bay Packers a week later.
The Los Angeles Rams travel to Seattle to play the Seahawks hoping to make it four consecutive wins against their NFC West rivals in Week 5, while the New England Patriots host the New York Giants a week later.
The defending Super Bowl champions will be on prime time TV five times during the regular season, more than any of the other 32 franchises with the exception of the Rams, Seahawks, Kansas City Chiefs, Dallas Cowboys and Pittsburgh Steelers.
The Chiefs will be on prime time TV in Week 7 when they play the Broncos in Denver, before the Minnesota Vikings host the Washington Redskins a week later.
Things could turn spooky in the NFC West when the Arizona Cardinals welcome the San Francisco 49ers on Halloween night. Two teams who will move to a different stadium next season, the Los Angeles Chargers and the Oakland Raiders, meet in Oakland in Week 10, before the AFC's oldest rivalry takes center stage in Week 11 as the Cleveland Browns welcome the Steelers.
The Steelers lead the all-time series 75-58-1 but have lost Antonio Brown and Le'Veon Bell during the offseason which, coupled with the Browns' impressive recruitment, hints at a potential change in the dynamic between the two.
In Week 13, the Indianapolis Colts travel to Houston to play the Texans in a rematch of last season's wild card playoff round, before the Chicago Bears host the Cowboys in Week 14 and the New York Jets take on the Ravens in Baltimore in the final Thursday Night Football game of the season.
TV coverage
Thursday Night Football games are split between FOX Sports, Amazon Prime Video and NFL Network, with the latter exclusively broadcasting the first two Thursday Night Football games of the week.
All Thursday night games kick off at 8:20 p.m. ET.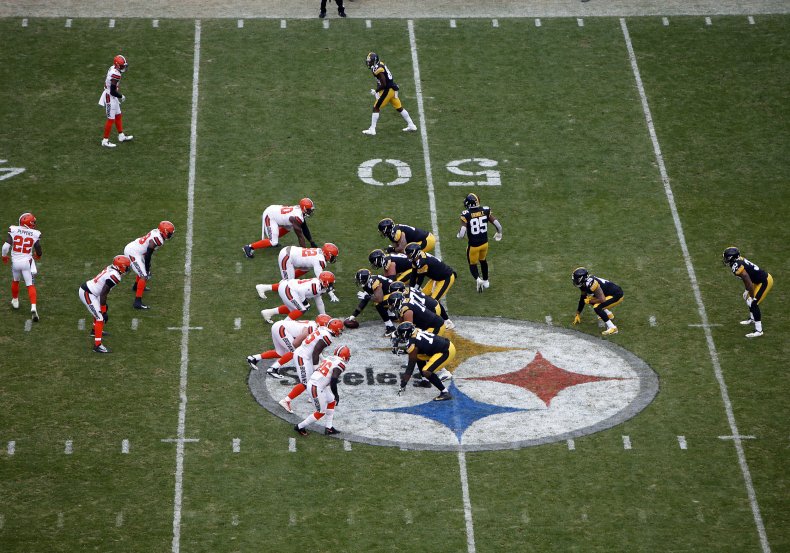 Here's the complete Thursday Night Football schedule for the upcoming season (all times ET).
Week 2—Tampa Bay Buccaneers @ Carolina Panthers, 8:20 p.m., NFL Network
Week 3—Tennessee Titans @ Jacksonville Jaguars, 8:20 p.m., NFL Network
Week 4—Philadelphia Eagles @ Green Bay Packers, 8:20 p.m., FOX Sports, NFL Network, Amazon Prime Video
Week 5—Los Angeles Rams @ Seattle Seahawks, 8:20 p.m., FOX Sports, NFL Network, Amazon Prime Video
Week 6—New York Giants @ New England Patriots, 8:20 p.m., FOX Sports, NFL Network, Amazon Prime Video
Week 7—Kansas City Chiefs @ Denver Broncos 8:20 p.m., FOX Sports, NFL Network, Amazon Prime Video
Week 8—Washington Redskins @ Minnesota Vikings, 8:20 p.m., FOX Sports, NFL Network, Amazon Prime Video
Week 9—San Francisco 49ers @ Arizona Cardinals, 8:20 p.m., FOX Sports, NFL Network, Amazon Prime Video
Week 10—Los Angeles Chargers @ Oakland Raiders, 8:20 p.m., FOX Sports, NFL Network, Amazon Prime Video
Week 11—Pittsburgh Steelers @ Cleveland Browns, 8:20 p.m., FOX Sports, NFL Network, Amazon Prime Video
Week 12—Indianapolis Colts @ Houston Texans, 8:20 p.m., FOX Sports, NFL Network, Amazon Prime Video
Week 14—Dallas Cowboys @ Chicago Bears, 8:20 p.m., FOX Sports, NFL Network, Amazon Prime Video
Week 15—New York Jets @ Baltimore Ravens, 8:20 p.m., FOX Sports, NFL Network, Amazon Prime Video