Nick Jonas on Being the Antithesis of Justin Bieber and Getting Shirtless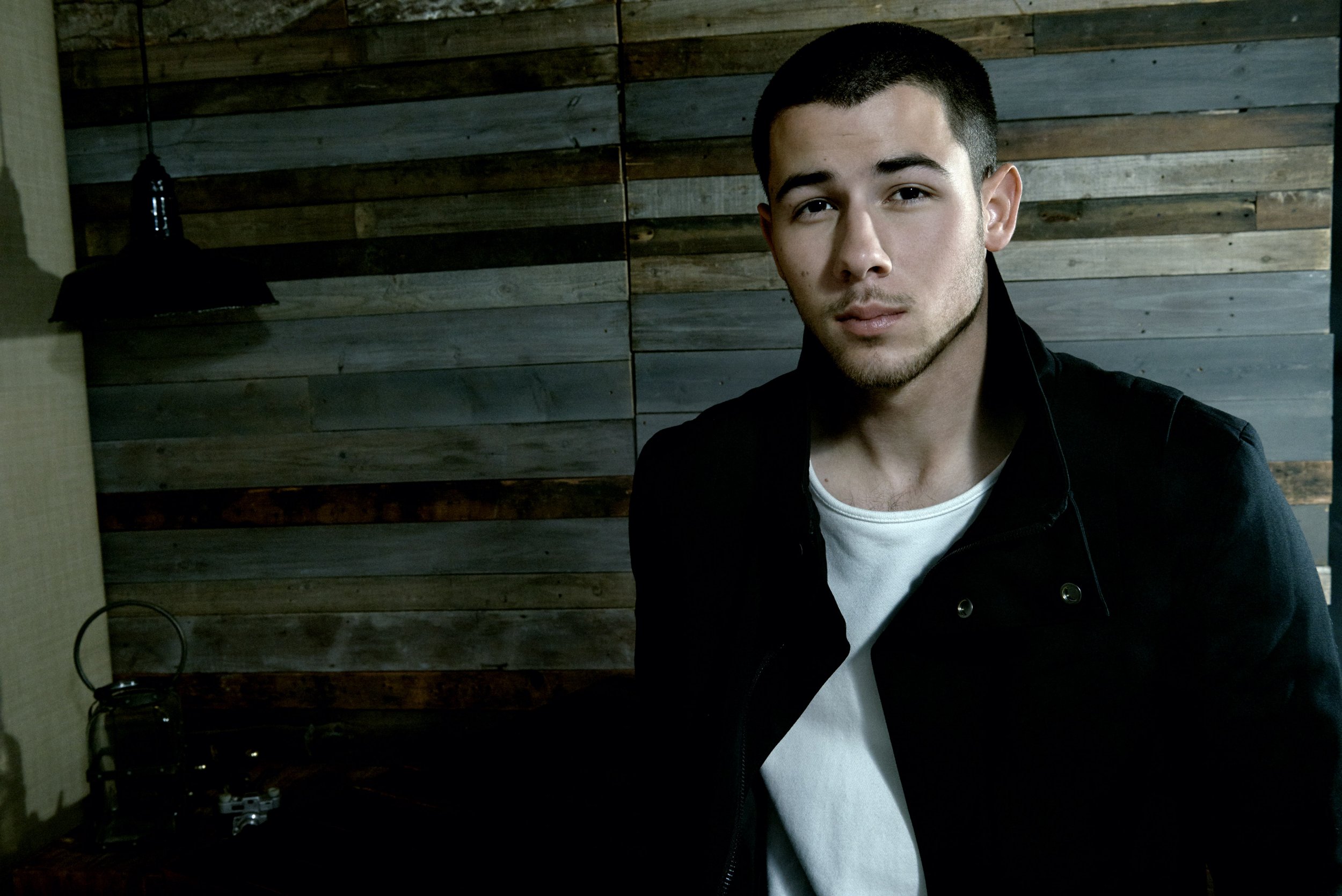 Nick Jonas shifts in his chair a little. "We don't speak anymore," he says, a little pained. The singer is talking about his strained relationship with model ex-girlfriend Olivia Culpo, whom he split up with after two years in the summer of 2015 and who inspired much of his new second studio album Last Year Was Complicated.
It's difficult to think that much in life can be so complicated for the teen heartthrob. Jonas is, after all, only 23. He's successfully turned Disney child stardom into a music and acting career. And he is one of the most desirable men in young Hollywood. But here he is, sitting opposite Newsweek in a London recording studio, introspective, perhaps even sullen.
With Complicated , Jonas strives for the same reflective tone struck by Justin Bieber on his 2015 opus Purpose—the record doubled as public reparations for his lurid reputation as pop's biggest brat—yet a similar age and sound may be all they have in common. Where Bieber embraces his unruly public persona with pouty, moody Instagram posts, Jonas, despite his fame from a young age, says being in the public eye "doesn't come naturally for me." So speaking out, or rather singing, about his failed relationship can't be easy.
Here, Jonas speaks to Newsweek about his new record, his reputation as one of pop's "good guys," and accusations that he "queer baits" his gay fan base.
So Nick, why was last year so complicated?
I had a breakup last year that became what a lot of the record was about—along with getting used to being a solo artist, traveling alone. It was an adjustment.
The title came from a meeting with Jay Z, who is partners with my manager Phil McIntyre at Roc Nation. He listened to the record and said: "After listening to the music and getting to know you better I think we can come up with something that embodies the work more." He's like, "Tell me what this year of your life was like?" and I said, "Last year was complicated." He was like: "That's the title."
Was it therapeutic to pour the breakup into your music?
The thing that was important to me in the creative process was acknowledging my own faults. I'm not perfect by any means. I had to be willing to get vulnerable and open up; at times that can be uncomfortable but it creates the best work in my experience.
Has Olivia heard the music? What did she think?
I don't know. We don't speak. I've heard from a mutual friend that she's heard it and liked it, at least on some level. That's a thought you have while you're writing: the person will hear it, but you have to be willing to go there with it.
Some young artists fit archetypes of "pop bad boy" or "pop bad girl," like Justin Bieber, whereas you're generally considered a "good boy." Do young artists need scandal to be successful?
I've tried to toe the line of being authentic to who I am and letting the art speak for itself. I'm less inclined, at times, to use the machine of the media to sell things. I think it's something you can choose to do, or play into, but I don't do it that much. If people want to use that, fuel the fire, that's what works for them.
I'm not perfect. Perhaps I'm just more low-key than some of my other contemporaries.
Does the record label ever suggest, "Hey, it might be good to be seen with this person," or, "Get photographed coming out of this club"?
Believe it or not, the label has no input or interest in my dating life. Thankfully.
You've become pretty well known for taking your shirt off in photo shoots and TV roles. Do you worry about being typecast as a "shirtless wonder"?
There's a bit of an association with that, which is fine—it's part of some of the acting projects I've been involved in. Physicality in general doesn't make me uncomfortable. I don't think of it as using it to promote stuff, it's just what the project requires.
But I also have fun with it. I think in some of my storytelling [in music] it's important to embrace the sexual vibe to it.
You've played gay characters on Kingdom and Scream Queens, as well as posed for gay magazines. That has, in turn, led to some claims of "gay-baiting". Is that hurtful?
I think there's ignorance everywhere, right? It's about acknowledging how much of it you really want to hear. You have control over that. I'm confident and comfortable with who I am, my intentions are pure... I see no difference in any of my fans, no matter who they are.
I think it's a beautiful thing when you can embrace everybody. I wish more of my peers in a similar position—as a heterosexual male pop singer—would embrace that and be more willing to be more comfortable and open about it.
Last Year Was Complicated is released Friday.