'I Had Every Right' to Stand There: MAGA Hat-wearing Teen Nick Sandmann Says His Actions Were Not Disrespectful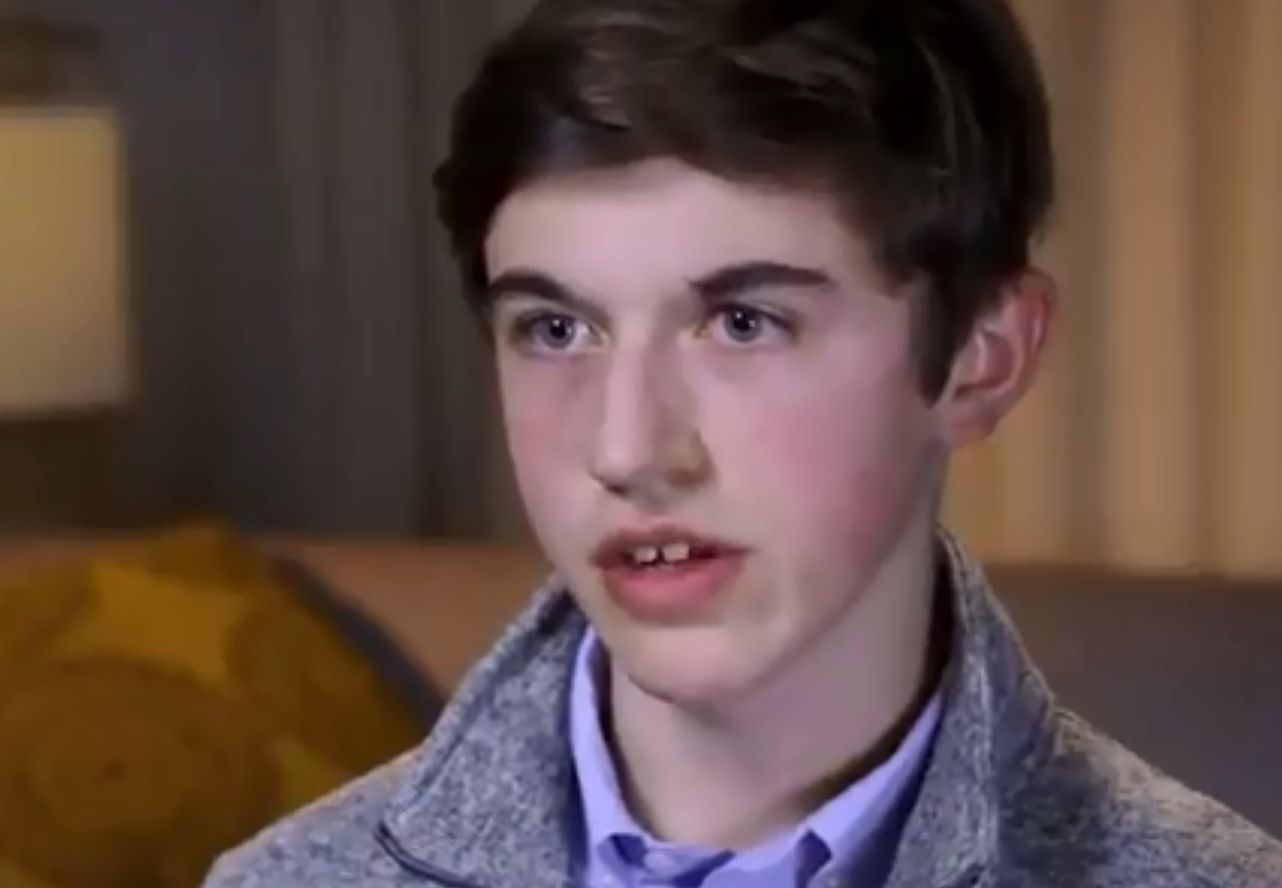 The MAGA hat-wearing high school teen seen in a viral video facing down with a Native American drummer on the steps of the Lincoln Memorial said he had "every right" to stand there and that he was "not disrespectful."
Students from Kentucky's private Covington Catholic High School were in Washington D.C. for a pro-life rally when they were filmed in a three-way confrontation with members of fringe black religious group, who were shouting racist and homophobic abuse at the boys, and a Native American group.
Exactly what happened is open to interpretation based on multiple videos of the incident. But the students, who became rowdy and were chanting, faced a severe backlash on social media, accused of racially mocking Nathan Phillips, 64, a veteran and Native American elder.
Phillips, who is drumming, is seen in one video face-to-face with Nick Sandmann, a Covington student, who smiles silently as they stare at each other. Phillips was part of an Indigenous Peoples March in Washington that day.
Sandmann, who was wearing one of Donald Trump's infamous "Make America Great Again" red hats, became the focus of sharp criticism on social media, a chorus of anger joined by celebrities, journalists and politicians. He and the students were accused of racism and hatred.
"As far as standing there, I had every right to do so," Sandmann told NBC's Today show in an interview set to air on Wednesday morning. "My position is that I was not disrespectful to Mr. Phillips. I respect him, I would like to talk to him. In hindsight, I wish we could have walked away and avoided the whole thing."
Despite initial claims the students surrounded Phillips, footage shows him approaching the group and moving into the middle where he meets Sandmann before eventually moving on. The students dance and shout along with the drumming.
Though it cannot be heard on the video, Phillips claimed some students chanted the Trump campaign slogan "build the wall" at him. He also told The Washington Post that he felt intimidated by the students.
Another lengthy video shows protesters from the Black Hebrew Israelites, a fringe religious group with eccentric and extreme views, referring to "faggots" and calling the students "future school shooters" and "a bunch of incest babies."
Sandmann told Today that the chaperone on the trip gave the students permission to do the school's chant to drown out the Black Hebrew Israelites.
"In hindsight I just wish we'd found another spot to wait for our buses, but at the time being positive seemed better than letting them slander us with all of these things," he said.
Asked if he heard any racism from his fellow students, Sandmann said: "We're a Catholic school, and it's not tolerated. They don't tolerate racism, and none of my classmates are racist people."
Prior to his interview with Today, Sandmann released a statement about the incident and revealed he had received "physical and death threats" after the video was shared on social media.
"I never understood why either of the two groups of protestors were engaging with us, or exactly what they were protesting at the Lincoln Memorial," Sandmann said, Reason reported.
"We were simply there to meet a bus, not become central players in a media spectacle. This is the first time in my life I've ever encountered any sort of public protest, let alone this kind of confrontation or demonstration.
"I was not intentionally making faces at the protestor. I did smile at one point because I wanted him to know that I was not going to become angry, intimidated or be provoked into a larger confrontation.
"I am a faithful Christian and practicing Catholic, and I always try to live up to the ideals my faith teaches me—to remain respectful of others, and to take no action that would lead to conflict or violence."
Disclaimer: This 1 hour and 46 minute-long clip of the incident contains offensive language.
This article was updated with more comments to Today by Sandmann.