Nicki Minaj Has More to Say to Miley Cyrus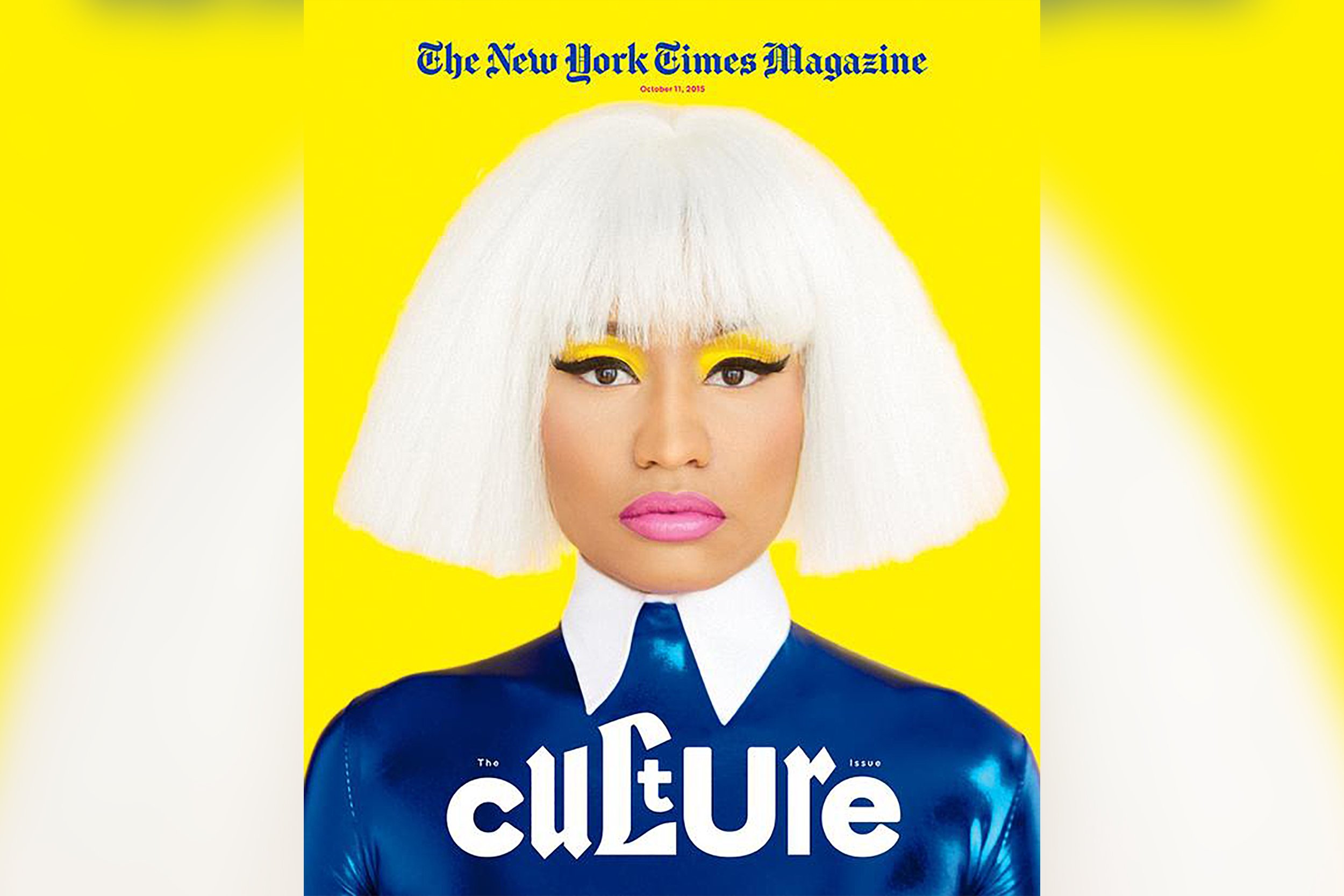 The pop-star feud in which Nicki Minaj tangled with Taylor Swift on Twitter and subsequently with Miley Cyrus at the MTV Video Music Awards got an epilogue today in a New York Times Magazine cover profile of Minaj. The interview the story is based on went sour and the piece itself is getting some serious flack.
Related: How to Get Nicki Minaj to Perform at Your Kid's Bar Mitzvah: A Guide
First, a recap of how this beef got started:
1. The VMA nominations were announced on July 21.
2. That same day, Minaj tweeted her reaction to the fact that she was left off the nomination list for Video of the Year:
3. Taylor Swift then responded:
4. Taylor Swift apologized for misunderstanding Minaj's comments and Minaj accepted her apology:
5. The New York Times asked Miley Cyrus, who was getting ready to host the VMAs, what she thought about the whole thing in an article published just before the awards show. "If you do things with an open heart and you come at things with love, you would be heard and I would respect your statement," Cyrus said. "But I don't respect your statement because of the anger that came with it. What I read sounded very Nicki Minaj, which, if you know Nicki Minaj is not too kind. It's not very polite."
6. At the VMAs, the reconciled Swift and Minaj opened the show by performing together. But when Minaj won the award for Best Hip-Hop Video, she ended her acceptance speech by saying: "And now back to this bitch that had a lot to say about me the other day in the press—Miley, what's good?" Cyrus responded, "We're all in the industry, we all do interviews, and we all know how they manipulate shit."
OK, all caught up.
More than a month later, Minaj talked about Cyrus to Vanessa Grigoriadis, who was writing a cover story about the star, published Wednesday, for the Times Magazine's culture issue:
The fact that you feel upset about me speaking on something that affects black women makes me feel like you have some big balls. You're in videos with black men, and you're bringing out black women on your stages, but you don't want to know how black women feel about something that's so important? Come on, you can't want the good without the bad. If you want to enjoy our culture and our lifestyle, bond with us, dance with us, have fun with us, twerk with us, rap with us, then you should also want to know what affects us, what is bothering us, what we feel is unfair to us. You shouldn't not want to know that.
In the course of the interview for the Culture Issue cover story, Minaj had a new source of frustration: the reporter herself, who phrased her question about some discord between Minaj's boyfriend Meek Mill and frequent Minaj collaborator Drake, "Is there a part of you that thrives on drama, or is it no, just pain and unpleasantness—"
Minaj had several responses:
"That's disrespectful. Why would a grown-ass woman thrive off drama?"
"What do the four men you just named have to do with me thriving off drama? Why would you even say that? That's so peculiar. Four grown-ass men are having issues between themselves, and you're asking me do I thrive off drama?"
Related: Tidal Announces Brooklyn Concert With Beyoncé, Prince, Nicki Minaj
And the interview ended thus, Grigoriadis wrote:
"That's the typical thing that women do. What did you putting me down right there do for you?'' she asked. ''Women blame women for things that have nothing to do with them. I really want to know why—as a matter of fact, I don't. Can we move on, do you have anything else to ask?'' she continued. ''To put down a woman for something that men do, as if they're children and I'm responsible, has nothing to do with you asking stupid questions, because you know that's not just a stupid question. That's a premeditated thing you just did.'' She called me ''rude'' and ''a troublemaker,'' said ''Do not speak to me like I'm stupid or beneath you in any way'' and, at last, declared, ''I don't care to speak to you anymore.''
Minaj isn't the only one upset with the reporter. A blog post on Noisey called the article "questionable, to say the least." A Mother Jones editorial fellow posted a series of tweets, including the following:
He wasn't the only one:
But not everyone agreed:
What do you think? Read the full cover story.