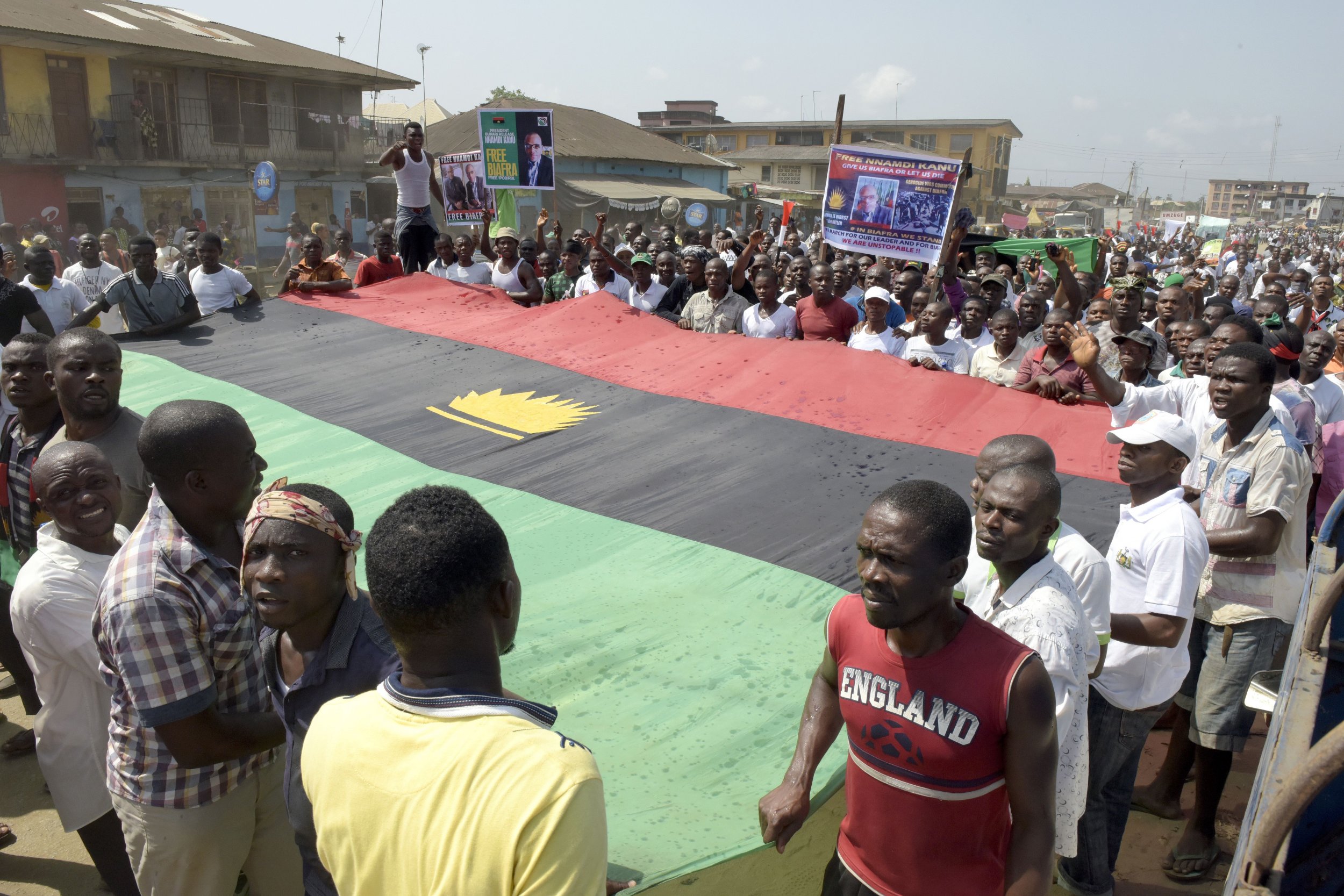 A secessionist movement in Nigeria is celebrating the victory of Donald Trump in the U.S. presidential election, believing they have found a kindred spirit who can help their cause.
Supporters of the restoration of Biafra—a region of southeast Nigeria that existed as an independent republic between 1967 and 1970—have hailed Trump's defeat of Democratic rival Hillary Clinton, suggesting it may portend their secession from the rest of Nigeria.
Pro-Biafra activists have come into conflict with the Nigerian authorities since October 2015, when the leader of a prominent activist group, the Indigenous People of Biafra (IPOB), was arrested in the West African country.
Amnesty International has called on the government of Nigerian President Muhammadu Buhari to investigate clashes that occurred in southern Nigeria in May, when scores of pro-Biafra activists were killed after Nigerian soldiers allegedly used "unnecessary and excessive force" in breaking up demonstrations. The Nigerian army has accused activists of undertaking violent demonstrations.
IPOB leader Nnamdi Kanu appeared in court Tuesday, where he was re-arraigned on amended charges including treasonable felony and publication of defamatory matter, Nigeria's Guardian newspaper reported. Kanu is due back in court for his bail hearing on November 17.
Activists used the hashtag #BiafraForTrump to celebrate the Republican's unexpected victory, which they claim has given them renewed hope in their bid to secede from Nigeria.
Kanu's wife tells Newsweek that she believes Trump will assist their cause. "With Trump coming into power, even though not everyone is happy about it, we are [happy] because hopefully Trump will uphold the self-determination rights of the indigenous people of Biafra," says Uchechi Okwu-Kanu, who is based in London. She adds that, having spoken to Kanu's lawyer Wednesday, the IPOB leader is pleased with Trump's election.
Trump compared his anti-establishment campaign to the U.K.'s vote to leave the European Union, saying that a victory for him would be "Brexit plus plus plus." Pro-Biafra activists have cited a tweet sent by Trump in the wake of the Brexit vote as evidence that he is a champion of freedom. Activists for an independent Biafra also celebrated the EU referendum result, according to IBTimes U.K.
Clifford Iroanya, a leading figure in IPOB who is based in Texas and voted for the Republican, said it is in Trump's interest to support the Biafran cause. The oil output of U.S. companies based in Nigeria—such as Chevron and Exxon Mobil—has been slashed in recent months by militants in the Niger Delta, an oil-rich basin in southern Nigeria.
Parts of the Delta were part of the territory of Biafra declared in 1967 to be an independent republic by ex-Nigerian military officer Odumegwu Ojukwu. The declaration sparked a civil war between Nigerian and Biafran forces, in which more than 1 million people died.
Iroanya maintains that the present agitations in the Niger Delta are connected to the demands of pro-Biafra groups for secession: "The economic interest of the United States is going to be affected in a very significant, immediate way if these things are not addressed."
For his part, Trump made little to no mention of sub-Saharan Africa during his presidential campaign and has not publicly spoken on the issue of Biafran self-determination. President Buhari congratulated Trump on his election on Wednesday, saying that he looked forward to working with the president-elect "to build on and strengthen relations between Nigeria and the U.S."