Biafra: Nigerian Soldiers Used 'Excessive Force' in Killing Protesters, Says Amnesty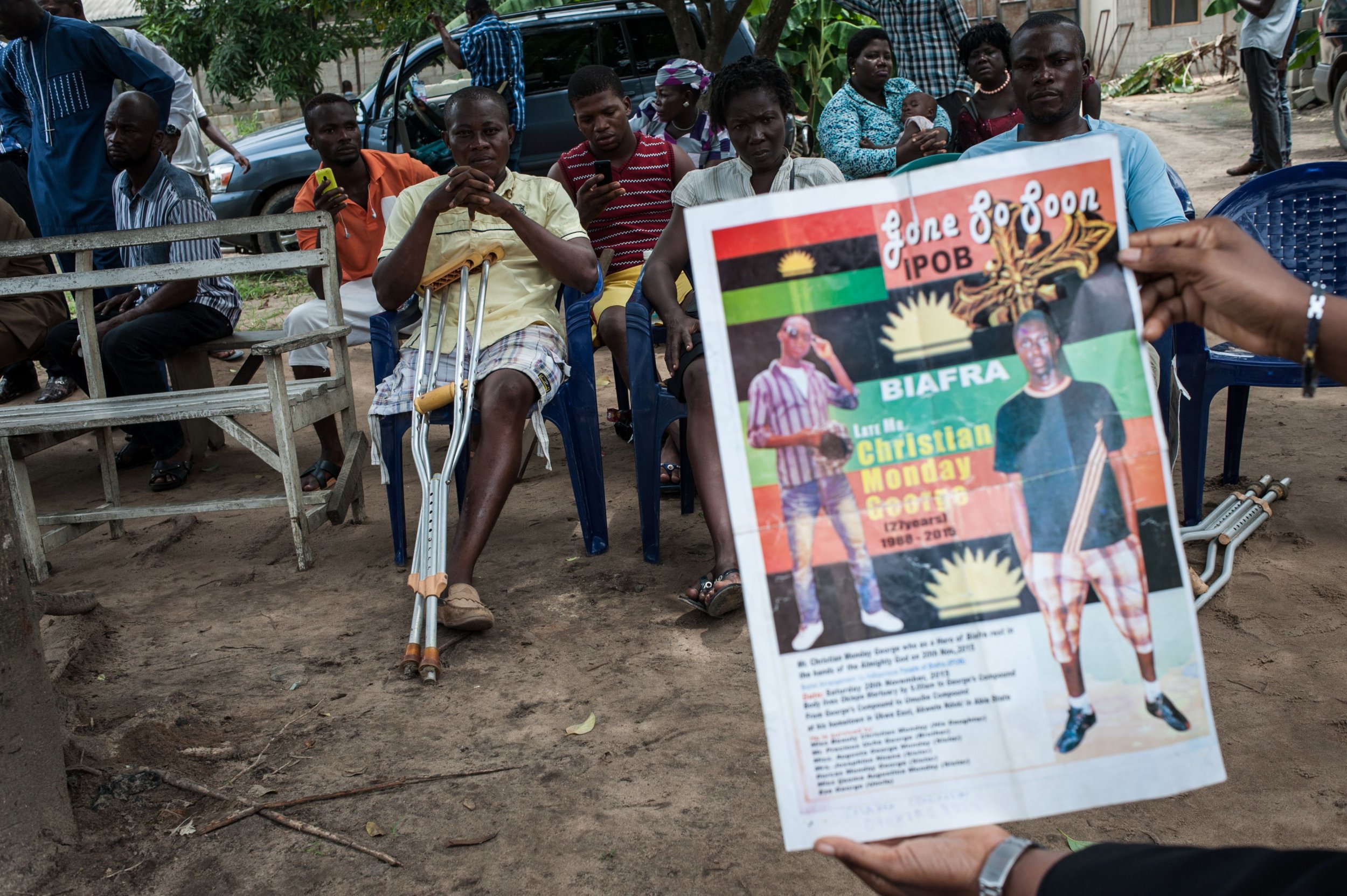 Nigerian soldiers were guilty of using "unnecessary and excessive force" in shooting dead scores of pro-Biafra protesters in southern Nigeria, Amnesty International has said.
The military clashed with members of the Indigenous People of Biafra (IPOB)—a group calling for independence of the region of Biafra from Nigeria—on May 29-30 in Onitsha in Nigeria's southern Anambra state. IPOB members have carried out regular demonstrations across southern Nigeria since the group's leader Nnamdi Kanu, a dual British-Nigerian national, was arrested in October 2015 in Lagos. Kanu remains in detention and is facing charges of treasonable felony, which he denies.
Witnesses told Amnesty that at least 40 people were killed in the clashes, and the human rights organization said it was able to confirm at least 17 deaths and 50 people wounded. "Opening fire on peaceful IPOB supporters and bystanders who clearly posed no threat to anyone is an outrageous use of unnecessary and excessive force and resulted in multiple deaths and injuries," said M.K. Ibrahim, Amnesty's country director in Nigeria.
The Nigerian Army hit back with their own claims about the incidents, describing Amnesty's report as part of a "campaign of calumny" against its soldiers. In a statement issued on Friday, the Nigerian Army said that pro-Biafra protesters engaged in "violent protests which led to the outright breakdown of law and order." The army claimed that two soldiers were killed in the clashes and that it had exercised "maximum restraints against the odds of provocative and inexplicable violence that were employed against them by the pro-Biafra protesters."
Ex-Nigerian military officer Odumegwu Ojukwu declared the independence of Biafra in 1967, sparking a three-year civil war in which more than 1 million people died. The region encompassed a large swathe of southeast Nigeria and was mainly populated by the Igbo ethnic group. Biafra was reintegrated into Nigeria in 1970.
The clashes in Onitsha came as pro-Biafra activists marked the anniversary of the one-time republic's independence, which was announced on May 30, 1967. Following the violence—with clashes also reported in Asaba, the capital of Nigeria's Delta state—the Nigerian inspector-general of police, Solomon Arase, issued an order for all IPOB protesters to be disarmed. A senior official in IPOB told Newsweek that the protesters were not carrying weapons, and Amnesty said all the people it interviewed claimed that the activists were not armed and that the evidence pointed to the military having opened fire on them first.
The Biafran cause has gathered momentum in recent months. A team of Dutch lawyers filed a complaint at the International Criminal Court in The Hague against Nigerian President Muhammadu Buhari, whom they say has overseen a campaign of violence against pro-Biafra activists since coming to power in May 2015. Buhari, an ex-military ruler who fought for Nigeria in the civil war, has warned protesters that Nigeria remains indivisible and that the government "will not tolerate" agitation for an independent Biafra if it interfered with the stability and security of the country.
Witnesses told Amnesty that tens of protesters were still being held by the Nigerian military in their barracks, though the organization could not confirm this. Amnesty called for any IPOB members being held in detention to be immediately charged or released.