Nigeria Must Close Boko Haram Barracks Where Babies Are Dying: Amnesty International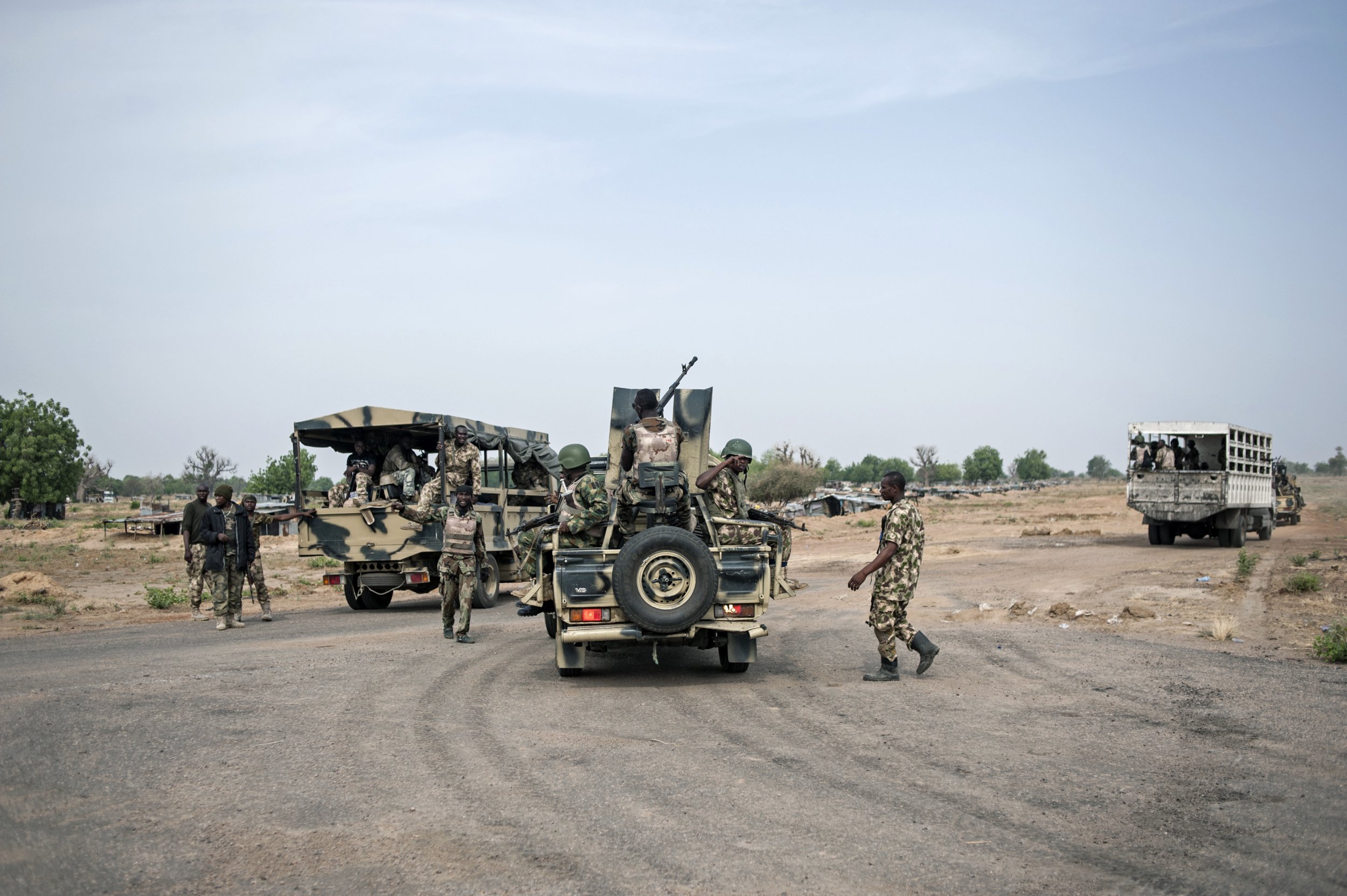 Updated | Children and babies are dying in squalid conditions in a military detention center used to hold suspected Boko Haram members in northeast Nigeria, Amnesty International alleges.
The human rights group said that 149 people—including at least 12 children and babies since February 2016 alone—have died in detention at the Giwa military barracks in Maiduguri, the birthplace of Boko Haram, in a report published on Wednesday. The barracks is holding an estimated 1,200 people, including 250 women and girls, in cramped cells with one communal bucket provided for faeces and one for urine, according to Amnesty.
The Giwa barracks has been a site of much controversy during Boko Haram's seven-year armed insurgency, which began in 2009 and has killed tens of thousands of people and displaced millions, particularly in northeast Nigeria. In an attack filmed by the militants, Boko Haram besieged the barracks in March 2014, liberating hundreds of detainees being held by the military. Following the attack, Nigerian soldiers rounded up and executed more than 600 of the detainees who had been recaptured, according to a report released by Amnesty on March 31, 2014. In a June 2015 report, Amnesty alleged that the Nigerian military had arbitrarily arrested at least 20,000 people and that some 7,000 had died in the course of anti-Boko Haram operations. The highest death rates were recorded at Giwa, with up to 180 deaths per day recorded on occasions between May and July 2013.
"We've been ringing the alarm bell on Giwa barracks since at least 2013," says Daniel Eyre, Nigeria researcher at Amnesty and one of the current report's authors. "The increase in deaths in 2016 show that the [Nigerian] military isn't able to detain people in a way that meets the basic requirements of human survival."
Nigerian Army spokesman Colonel Sani Usman told Newsweek: "The allegations from Amnesty International are very far from the truth." Usman did not comment on whether any investigation was being conducted into conditions at Giwa barracks.
Deaths among children and babies may have been due to communicable diseases such as measles, which passed quickly in the cramped and unsanitary conditions in the cells. A 40-year-old woman detained at Giwa barracks for four months told Amnesty that soldiers ignored pleas for medical attention until several children died, after which a doctor would visit every two days and treat children through a door. Bodies of dead detainees were reportedly brought to a mortuary in Maiduguri and from there transported in rubbish trucks for burial in mass graves in the Gwange cemetery in the city.
Responding to Amnesty's 2015 report, Nigerian President Muhammadu Buhari tweeted that the claims would be investigated and that his administration would "not tolerate or condone impunity and reckless disregard for human rights." The military also released 275 people from Giwa in February who had been held on suspicion of joining the armed group, which pledged allegiance to the Islamic State militant group (ISIS) in March 2015.
According to Eyre, however, the deaths in 2016 highlight the "urgency" of closing the facility. "It's quite clear that the conditions in these detention facilities have for many years been terrible. People have been held there without any kind of legal protection, they're not brought to court, they're not allowed access to their families, they have no contact with the outside world whatsoever," says Eyre.
Boko Haram took up arms against the Nigerian government in 2009, following the death of the group's founder Mohammed Yusuf. It is seeking to create an Islamic caliphate in northern Nigeria and has also launched attacks in neighboring Cameroon, Chad and Niger. In December 2015, President Buhari said that the Nigerian military had "technically" defeated Boko Haram, but the group has still managed to kill more than 250 people in 2016, according to the Council on Foreign Relations' Nigeria Security Tracker.
This article originally stated that at least 11 children and babies have died at Giwa barracks in 2016. Amnesty International said that at least 12 children and babies have died at the barracks in 2016.