'Patriots' Boycotting Nike Are Mocked After Betsy Ross Sneakers Pulled: 'More Clowns Triggered'
The fallout over Nike's withdrawal of a series of sneakers due for release on Independence Day continues to be felt on social media. Nike pulled its "Air Max 1" shoes after pressure from the former NFL player Colin Kaepernick who said he was unhappy with the 13-star American flag on its heel, the Wall Street Journal reported.
Often referred to as the "Betsy Ross" flag, he said it was a symbol of a time of slavery and racism in the U.S.
The apparel company's action has sparked a strong response, with Senator Ted Cruz among the first critics. Then Arizona Governor Doug Ducey ordered his state to withdraw all financial incentives for the company to set up there.
"It is a shameful retreat for the company. American businesses should be proud of our country's history, not abandoning it," he tweeted to his 67,000 followers. "Words cannot express my disappointment at this terrible decision. I am embarrassed for Nike."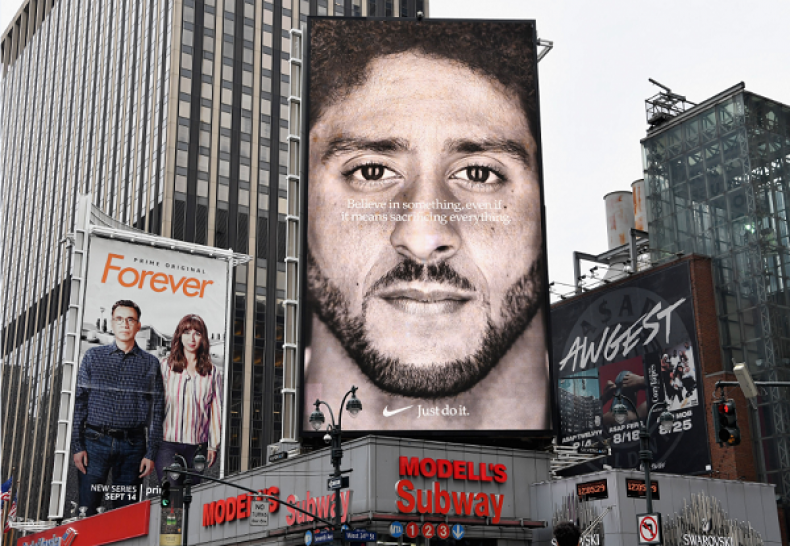 His stance has been praised by the campaign manager for President Donald Trump, Brad Parscale, who tweeted: "I applaud @DougDucey's decision and hope other states that give subsidies to @Nike follow suit."
Those boycotting Nike have been called "patriots" by conservative commentator Wayne Allyn Root, who tweeted: "Time for 63 million patriots Trump voters 2 drive Nike stock to 0."
However, some are saying that Nike could benefit from the outcry.
The comedian brothers known on Twitter as Hodgetwins, who are pro-Republican, tweeted to their 332,000 followers that it was all part of an elaborate marketing move and a way for Kaepernick "to stay relevant."
"Nike can look like they (are) woke and they can continue to sell their brand to a bunch of people that hate America," adding that Nike "orchestrated it."
Another Twitter user tweeted: "So Another Nike Boycott is happening. It didn't work the last time. It ain't going to work now. In fact the last "boycott" Actually blew up Nike's stock. LMAO More Clowns triggered. #WalkAwayFromNike."
This referred to the furor last September when people threatened to boycott Nike after Kaepernick, an outspoken voice against police violence affecting black communities, was unveiled as the face of the 30th anniversary of the "Just Do It" marketing campaign.
Nike said sales went up almost a third following the campaign, The Guardian reported.
Meanwhile Sasha Strachan tweeted that the people who boycotted Nike "would have had to purchase more Nike products in order to do this again. Also, the value of Nike skyrocketed after their last boycott."
Another tweeted: "The last time y'all burned your socks and Nikes, their sales ROCKETED."
Matt Powell, senior industry adviser at the research and consultancy group NPD, said Nike would still have considerable support among many of its customers.
"I think it's important to understand who Nike's core demographic is here. They're really focused on teens and looking at the commentary on Twitter and so forth, I don't see a lot of teens coming out with a negative attitude here," he told the BBC.
However, U.S-.based marketing expert Charles Taylor said that "Kaepernick's opinion will offend a significant segment of Nike's target audience, even among those sympathetic to his views on racism.
"Companies should avoid alienating substantial segments of consumers in their target market by taking stands on controversial social or political issues. Nike should know this and going forward should avoid crossing over into political territory as it has done here, whether intentionally or unintentionally," he wrote in Forbes.