Nike Stock Hits All-Time High, and LeBron Loves It
Nike's decision to make Colin Kaepernick the face of its new campaign has been controversial, but it has also proved to be a shrewd move from a financial point of view.
Shares of the sporting apparel giant closed at $83.47 on Thursday, registering an all-time high and pleasing LeBron James, who is arguably the biggest star on Nike's payroll.
"Well I mean I guess WE'RE on fire," the four-time MVP tweeted after news emerged of Nike shares hitting a record high.
Last week, the company unveiled Kaepernick as the newest face of its "Just Do It" 30th-anniversary campaign.
"Believe in something. Even if it means sacrificing everything," reads the slogan under a black-and-white picture of the former San Francisco 49ers quarterback.
The decision was criticized by a number of political commentators and Nike customers who accused Kaepernick of showing disrespect to the U.S. flag after he chose to kneel during the national anthem in 2016.
A campaign to boycott the swoosh brand was quickly launched online, with disgruntled Nike customers posting videos on Twitter of them burning their Nike sneakers.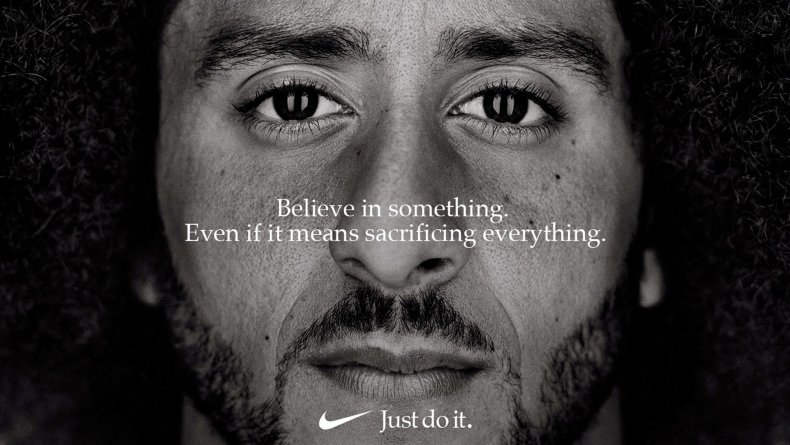 President Donald Trump also weighed in on the issue, boldly proclaiming Nike's choice of Kaepernick as the leading face of its campaign would have a negative impact on its bottom line.
"Just like the NFL, whose ratings have gone WAY DOWN, Nike is getting absolutely killed with anger and boycotts," Trump tweeted on September 5.
"I wonder if they had any idea that it would be this way? As far as the NFL is concerned, I just find it hard to watch, and always will, until they stand for the FLAG!"
Two days later, Trump aimed another thinly veiled barb at the company.
James, who features in the anniversary campaign alongside Serena Williams, New York Giants wide receiver Odell Beckham Jr. and Seattle Seahawks linebacker Shaquem Griffin, was firmly in the camp of those supporting the multinational.
"I stand with Nike, all day, every day," the three-time NBA champion said during his acceptance speech for an award at Harlem's Fashion Row last week.
Surveys monitoring the commercial impact of Nike's campaign provided mixed responses.
A report released earlier this week by YouGov found that Nike's Purchase Consideration score—which gauges the percentage of U.S. consumers age 18 and up who are open to purchasing goods from a specific brand—had dropped from 43 percent to 31 percent since Kaepernick was unveiled as its newest campaign face.
At the same time, Nike's exposure doubled, with 46 percent of shoppers talking about the company, as opposed to 23 percent on September 3, a day before the campaign was unveiled.
Conversely, CNN Money reported a SSRS Omnibus poll, provided exclusively to the broadcaster, that found Nike's move had proved popular among young people. In the age bracket between 18 and 34, 44 percent of those surveyed supported the company's decision to use Kaepernick, while 32 percent opposed it. Meanwhile, 52 percent of people between 35 and 44 years old supported it, and 37 percent opposed it.