LeBron 'Stands with Nike' in Support of Colin Kaepernick's Campaign
LeBron James has thrown his support behind Nike's decision to make Colin Kaepernick the face of its latest commercial campaign .
Earlier this week, the sports apparel giant unveiled the former San Francisco 49er as the main testimonial of a campaign to celebrate three decades of the company's "Just Do It" motto.
"Believe in something. Even if it means sacrificing everything," reads the caption under a black-and-white picture of Kaepernick.
The decision was criticized by a number of political commentators and Nike customers alike, who have accused Kaepernick of disrespecting the flag since he chose to kneel during the national anthem in 2016.
LeBron, who also features in the campaign alongside Serena Williams, New York Giants wide receiver Odell Beckham Jr. and Seattle Seahawks linebacker Shaquem Griffin, was firmly in the camp of those supporting the multinational.
"I stand with Nike, all day, every day," the four-time MVP said during his acceptance speech for an award at Harlem's Fashion Row, as reported by Associated Press.
Since Nike unveiled the campaign, it has been subject of a fervent backlash on social media, with Twitter users posting videos of them burning their Nike sneakers to protest against the choice of Kaepernick as lead testimonial.
According to a research conducted by YouGov, whose findings were compiled by Statista, almost half of recent Nike customers have a positive view of Colin Kaepernick, a percentage which falls to 34 among the general public.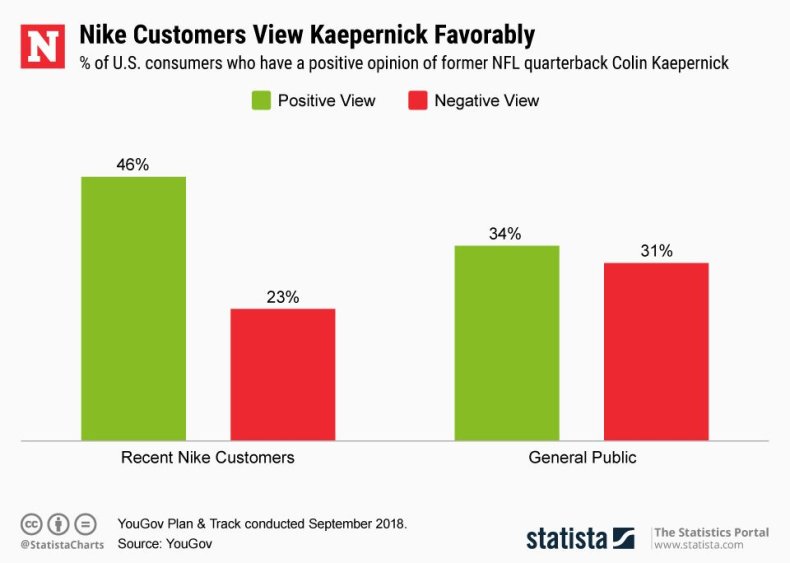 President Donald Trump also touched on the #BoycottNike campaign, warning the sporting apparel giant would suffer a sharp decline in sales as a result of its actions.
"Just like the NFL, whose ratings have gone WAY DOWN, Nike is getting absolutely killed with anger and boycotts," Trump tweeted on September 5.
"I wonder if they had any idea that it would be this way? As far as the NFL is concerned, I just find it hard to watch, and always will, until they stand for the FLAG!
Earlier in the day, Trump had criticized the campaign for sending a terrible message but refrained from being too critical of Nike, explaining it was a tenant of his, and "they pay a lot of rent."
"I think it's a terrible message and a message that shouldn't be sent," he told The Daily Caller when asked about the campaign.
Nike's flagship store was located on a site owned by Trump next to Trump Tower in New York City. But the location has since closed, and in 2017 Nike, which is based in Oregon, announced it would open a new shop on Fifth Avenue by the end of this year.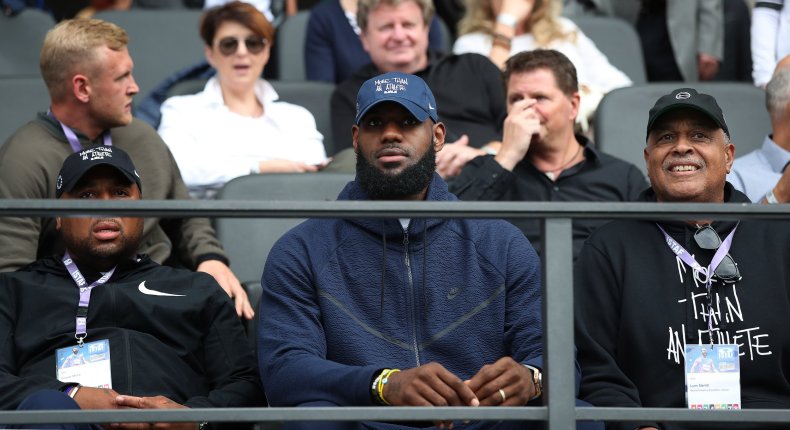 Since becoming a free agent in 2017, Kaepernick has not been given a tryout by an NFL team and has since filed a lawsuit alleging the 32 NFL franchises have colluded to prevent him from returning to the league.
Despite the lawsuit, however, the NFL issued a statement praising the former 49ers quarterback for raising awareness of social issues.
"The National Football League believes in dialogue, understanding and unity," Jocelyn Moore, the league's executive vice president of communications and public affairs said, per NFL Network's Ian Rapoport.
"We embrace the role and responsibility of everyone involved with this game to promote meaningful, positive change in our communities. The social justice issues that Colin and other professional athletes have raised deserve our attention and action."
This article was updated to include an infographic.