Trump Transition: Betsy DeVos Tapped for Education Secretary, Nikki Haley for U.N. Ambassador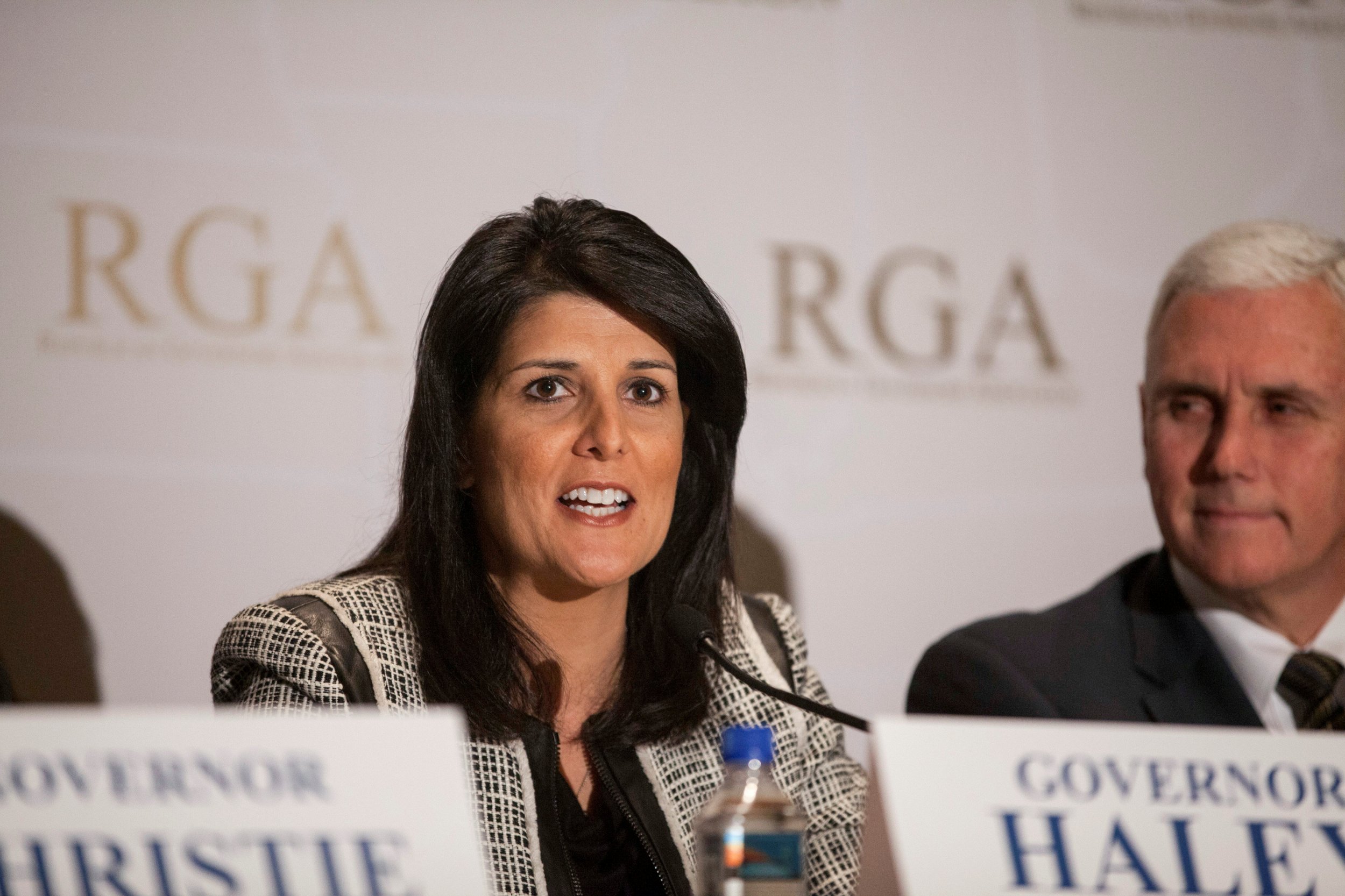 Welcome to Newsweek's daily rundown of President-elect Donald Trump's transition process. There are about 4,000 positions to fill, and we'll be keeping track of appointees through the January 20 inauguration.
Updated | Hours after naming South Carolina Governor Nikki Haley as his choice for U.S. ambassador to the United Nations on Wednesday, Trump announced an additional nominee: Betsy DeVos for education secretary.
DeVos, an advocate of charter schools and education vouchers, met with Trump at his Bedminister, New Jersey golf course on Saturday. A billionnaire philanthropist, she is head of the American Federation for Children, an organization that promotes charter schools. While she's described by Trump as "a brilliant and passionate education advocate," the National Education Association (NEA) said in a statement that DeVos's "efforts over the years have done more to undermine public education than support students."
The largest U.S. labor union, the NEA represents public school teachers and other educational staff. It said in its statement that DeVos "has consistently pushed a corporate agenda to privatize, de-professionalize and impose cookie-cutter solutions to public education."
Haley, the first woman and person of color nominated to the cabinet, met with the president-elect at Trump Tower last week. She was reportedly also being considered for secretary of state. Samantha Power is the current U.S. ambassador to the U.N.
Related: Who will Donald Trump pick for his cabinet?
Trump, currently at his Mar-a-Lago resort in Palm Beach, Florida, was also scheduled to release a Thanksgiving message on Wednesday.
In a statement released on Wednesday morning, Trump's transition team pointed to Haley's seven overseas trade missions as governor and her travel abroad, which "successfully attracted jobs and investment" to South Carolina. Haley, at 44 the youngest U.S. governor, has little other international experience, but will be tasked with dealing with a number of ongoing, protracted global crises, including the Syrian conflict, tensions between Israel and the Palestinians, the threat from armed militant groups including the Islamic State (ISIS), ongoing human rights abuses and nuclear testing in North Korea.
Cabinet nominee tally: 4
Attorney General: Jeff Sessions
CIA Director: Mike Pompeo
U.N. Ambassador: Nikki Haley
Education Secretary: Betsy DeVos
White House staff tally: 3
Chief of Staff: Reince Priebus
National Security Advisor: Michael Flynn
Senior Counselor: Stephen Bannon
Haley, the daughter of Indian immigrants, has reportedly accepted the nomination to the cabinet-level position. She was an outspoken critic of Trump during the campaign and supported Florida Senator Marco Rubio for president. In turn, Trump has criticized her on Twitter.
Farhan Haq, spokesperson for U.N. Secretary-General Ban Ki-moon, said during the U.N.'s daily press briefing on Wednesday that while Haley's nomination still needs to be confirmed by the Senate, many U.N. officials are aware of her position "on many issues." He did not specify which issues. Haq also highlighted Haley's "laudable comments" after the 2015 shooting at Emanuel African Methodist Episcopal Church in Charleston, South Carolina that left nine people dead.
Matthew Rycroft, U.K. ambassador to the U.N., congratulated Haley on her nomination, but declined to comment when asked about her lack of diplomatic experience.
"She's done a fantastic job with the state of South Carolina and helping to improve the economy, including a number of overseas trade and business recruitment missions," Jason Miller, communications direction for the Trump transition team, said during Wednesday's press call.
Miller added that there was a "natural chemistry" between Trump and Haley when they met, and that the governor was "a pretty easy pick" for the president-elect.
On Tuesday, Trump tweeted that he's "seriously considering" Dr. Ben Carson to lead the Department of Housing and Urban Development. It is not yet clear if the position has been formally offered to Carson, a frequent presence beside Trump during the campaign, or if Carson has accepted an offer. Carson did confirm to Neil Cavuto on his Fox News program on Tuesday that the position "was one of the offers on the table."
On Wednesday morning, Carson posted a cryptic message on Facebook, stating: "An announcement is forthcoming about my role in helping to make America great again." Last week, Carson