Twitter Destroyed Nikki Haley for Whining About Working on Independence Day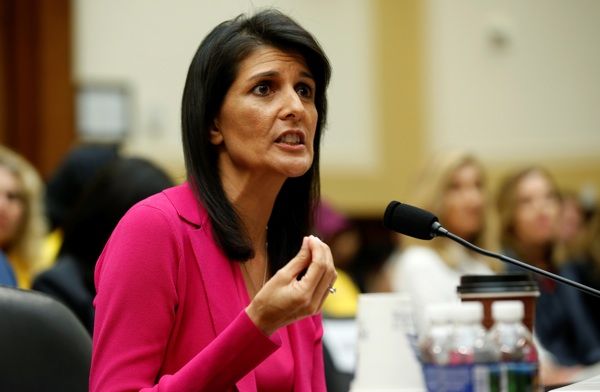 Nikki Haley's Fourth of July celebrations were ruined, and it was all North Korea's fault.
Instead of filling up on barbecue and reciting the Declaration of Independence with her loved ones on Independence Day, the U.S. ambassador to the United Nations was held up in meetings, most likely discussing plans of action in response to a missile test carried out by North Korea. Haley made sure to let her hundreds and thousands of Twitter followers know just annoyed she was having to actually work on her day off.
In a tweet on Tuesday, the former South Carolina governor complained about spending her holiday stuck in meetings all day, which she sarcastically followed up with the hashtag #ThanksNorthKorea.
Haley's followers weren't all that empathetic toward her missed celebration though, and shortly after posting the message the 45-year-old was met with a swarm of angry critics blasting her for complaining about having to do her job. Folks seemed to be particularly ticked off that Haley would gripe over working on the Fourth of July when the meetings she had to attend were related to national security concerns.
Haley's tweet came just a day after North Korea officials claimed that the pariah state had conducted an intercontinental ballistic missile test. Although data is still under review, two experts in the U.S. later confirmed to Reuters Tuesday that a missile test more than likely did take place, marking North Korea's 11th missiles demonstration so far this year.
Some experts warned that the missiles could reach as far as Alaska, positioning North Korea to become a potentially even bigger threat to the U.S.
News of the test resulted in China warning the United Nations of the "disastrous consequences" that could arise if a solution to handling North Korea wasn't determined soon.
Meanwhile, North Korea's leader Kim Jong Un said the missile test was "a gift for the American bastards," according to North Korean state news agency KNCA. Conducting the missile tests on Independence Day was in retaliation at the U.S.' "arrogant" decisions, "hostile policies" and "nuclear threats," Kim reportedly said.
In a series of tweets, President Donald Trump called on South Korea, Japan and China to put a stop to Kim's nuclear efforts once and for all.
"North Korea has just launched another missile," he wrote. "Does this guy have anything better to do with his life? Hard to believe that South Korea and Japan will put up with this much longer. Perhaps China will put a heavy move on North Korea and end this nonsense once and for all!"
Check out a few more responses to Haley's tweet below:
Twitter Destroyed Nikki Haley for Whining About Working on Independence Day | U.S.