Progressive Democrat Nina Turner teased a 2024 presidential bid during a concession speech on Tuesday after she was defeated in her bid to challenge Democratic Representative Shontel Brown.
Brown defeated Turner with 66.3 percent of the vote to 33.7 percent in Ohio's 11th congressional district.
Turner had read most of her concession speech from her phone but toward the end of her remarks, she said she would speak "extemporaneously" and stopped reading.
"Sister Turner ain't going nowhere," Turner said and the crowed applauded and cheered.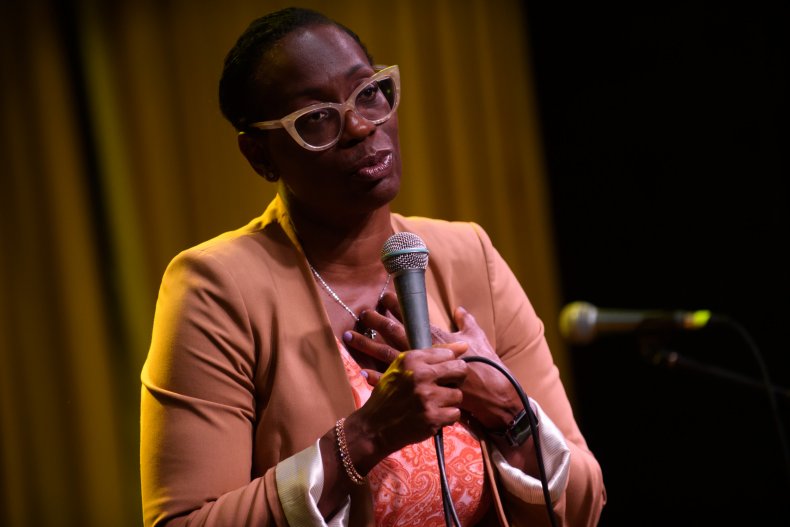 Turner made reference to the late former Representative Shirley Chisholm, the first Black woman ever elected to Congress.
Turner said that the money spent against her came in "because they know in the halls of Congress that I was gonna shake that sucker on behalf of the poor—the working poor—and the barely middle class."
"They can't contain this Black girl magic," Turner said. "'Cause what I am gonna do is I'mma take this magic all over this country and shake it that way. And baby, 2024 is coming."
"And I think the great state of California got something to say about what Sister Turner should do," she said. "The great state of Iowa got something to say about what Sister Turner should do. The great state of Nevada got something to say about what Sister Turner should do."
"We ain't going nowhere," she said. "They just reinforced my resolve and that just like King James—LeBron James decided to take his skills to South Beach—well what Sister Turner is gonna do is to continue taking my skills all over this nation I'mma see some folks in 2024."
Earlier in her prepared remarks, Turner said: "They want us to believe that the future that all of us dream about for ourselves and for our children and our grandchildren is just not possible."
"But we know in this room—we know that that is wrong and that better days are ahead," she said. "We know that there are so many fights that need to be fought and to be won. We know that we must and we will and we can raise the minimum wage."
"We know that we must and we will have universal healthcare for all in these United States," Turner went on. "We know that we will and that we must have an energy future that does not destroy Mother Earth."
Turner had been endorsed by Senator Bernie Sanders (I-VT) in her rematch with Brown after Turner lost to her in a special election in 2021.
Representative Alexandria Ocasio-Cortez of New York's 14th district endorsed Turner on the eve of the primary, while President Joe Biden endorsed Brown on Friday. The contest appeared to pitch progressives against the Democratic establishment.
Turner had faced opposition from several political action committees (PACs), including the Democratic Majority for Israel PAC and the Protect Our Future PAC. Last year, Turner famously blamed "evil money" for her loss to Brown.
Newsweek has asked the Nina Turner campaign for comment.