Supreme Court Roe v. Wade Leak Sparks Fight Between Democrats, Progressives
While many are blaming former President Donald Trump and his voters for the Supreme Court's reported vote to overturn Roe v. Wade, some Democrats and Progressives are clashing over whether they bear any of the blame for the potential roll back on abortion rights.
Trump appointed three Supreme Court justices during his presidency, a third of the high court's current lifetime appointments to the bench. The three justices, Neil Gorsuch, Brett Kavanaugh and Amy Coney Barrett, are widely seen as tipping the court toward a conservative majority, a shift that Democrats feared would pave the way for a potential reckoning with Roe v. Wade nearly 50 years after the historic ruling.
Those fears are not unfounded. A leaked draft opinion, authored by Associate Justice Samuel Alito and obtained by Politico, showed that a majority of the high court's justices have voted to overturn the ruling, though the court itself has yet to confirm the move or announce a final decision on the matter.
The possibility that the landmark Roe v. Wade decision may soon be overturned has sparked fear and outrage among abortion rights advocates and others, while some on the left are taking aim at those on their side of the political spectrum for allegedly laying the groundwork for such a move to take place.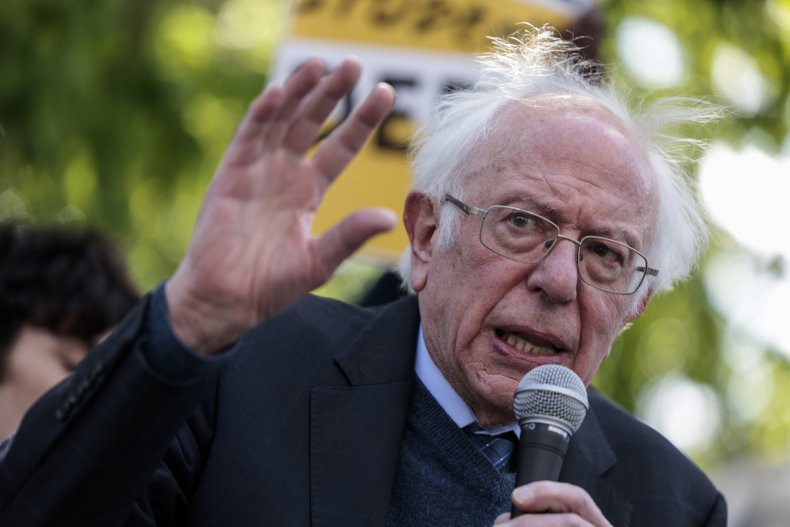 Some of the clashes have centered around progressive voters who chose to back Dr. Jill Stein, the presidential candidate for the Green Party, instead of Democratic candidate Hillary Clinton in the 2016 presidential election.
Producer and writer Bryan Behar tweeted Tuesday: "The next time you choose to throw away your vote by voting for Jill Stein or Gary Johnson or sitting on your hands because you think all parties are the same, remember you've already cost the women of America their reproductive liberties."
Johnson, as referenced in Behar's tweet, ran as the Libertarian Party's presidential nominee in 2016.
In a response to Behar's tweet, Stein said: "Next time you blame progressives & 3rd parties for your loses (sic), remember Dems had decades to codify Roe into law. Biden's pledge to do that disappeared like his promises of a $15 min wage, student debt relief, climate action."
"Dems have to earn our votes. You don't own them," she added.
Stein received 1.07 percent of the total vote in 2016 and won no electoral college votes, Newsweek previously reported.
Behar is far from the only figure to target the third party candidate and her voters in the wake of the Roe v. Wade reports. Political commentator and writer Jennifer Rubin cited Stein as one of several figures or developments in a tweet Tuesday that read: "On such things the lives of hundreds of millions will change dramatically."
Others have criticized progressives who chose in 2016 to back Senator Bernie Sanders, either through voiced support, endorsements or votes, rather than focusing on Clinton.
One Twitter user tweeted that people who voted for Stein, Johnson or wrote in Sanders' name "deserve to be remembered for this too."
Sanders has called for quick action to codify Roe v. Wade into law since the leak of the Supreme Court's draft opinion.
"Congress must pass legislation that codifies Roe v. Wade as the law of the land in this country NOW. And if there aren't 60 votes in the Senate to do it, and there are not, we must end the filibuster to pass it with 50 votes," he tweeted Tuesday.
Some figures have discouraged others from blaming Stein's or Sanders' supporters.
"I will say this about the leaked Roe decision. Folks. This was the long game. The long con. Don't blame not voting for Hillary, Bernie, etc. This is about a history and strategy that linked the political with the religious and conservatives. If you don't get that... #dontspeak," professor of religion Anthea Butler tweeted.
The Democratic National Committee, meanwhile, is trying to focus the party's criticism on Republicans ahead of the upcoming midterm elections.
"For decades, the Supreme Court has upheld precedent and protected access to safe, legal abortions, as well as the privacy of a decision made between women and their doctor. Now, due to extremist Republicans and conservative justices on the Supreme Court, women could lose access to the health care they need and that the overwhelming majority of Americans support," the committee said in a statement Tuesday.
"Make no mistake: reproductive rights will be on the ballot and this midterm election is more important now than ever before. Voters will make their voices heard, we will fight back with everything we have, and Republicans will have to answer for their party's relentless attacks on Americans' rights," the statement added.
Newsweek reached out to Stein and Sanders for comment.
Update 5/3/22, 12:50 p.m. ET: This story was updated with additional information and background.