Who is Jill Stein? Nina Turner Attacked for Historic Support of Green Party Candidate
Dr. Jill Stein, the activist, doctor and Green Party Presidential candidate for 2012 and 2016 was trending on Twitter on Tuesday.
Her name was among the top Twitter political discussion trends along with Nina Turner, the former Democratic Ohio state senator, who on Tuesday goes head-to-head with Shontel Brown in an election in Ohio's 11th congressional district.
Turner has long-been accused by critics of supporting Stein and undermining Hillary Clinton in the 2016 election. Brown, meanwhile, is facing a corruption probe after The Intercept reported in April that she had voted to award millions worth of contracts to companies connected to her romantic partner and campaign donors when she was a Cuyahoga County Council member.
Some critics of Stein believe she cost Hillary Clinton the 2016 election against Republican challenger Donald Trump by taking some of the blue vote, despite the Green candidate only achieving 1.07 percent of the total vote and winning no electoral college delegates.
Turner, an ally of Bernie Sanders (I-VT.), herself led protests against Clinton at the 2016 Democratic National Convention in Cleveland and even stopped by an event with Stein. Turner was also offered the Green Party's vice-presidential nomination that summer but declined.
In the run up to the Tuesday primary, a video of Nina Turner on the Mehdhi Hasan Show on Peacock TV in December 2020 has been doing the rounds again on social media.
In the video, Hassan asks Turner: "Did you vote for Hilary Clinton in 2016"?
Turner said, "Voting is private, so I'm not even about to give them the satisfaction one way or the other, but they don't know."
"So you don't want to tell us?" Hasan says.
"Voting is private," Turner replies.
Many Twitter users have been commenting on that video, accusing Turner of voting for Stein during the 2016 election. However, this claim is unsubstantiated.
Commenting on the allegations, Stein told Newsweek: "The myth that Stein voters elected Trump is a voter shaming strategy used to suppress growing political discontent both inside and outside of the Democratic Party. It shouldn't be used against Nina Turner—however she voted—or anyone else. In fact, polls showed that Green voters in 2016 would overwhelmingly have stayed home if there was no Green in the race."
"Applying the results of a CBS exit poll show HRC would not have gained enough net votes to change the outcome even in tight swing states. What was significant for Trump's 2016 victory were the 7 million former Obama voters who abandoned the Democrats to vote for Trump, and the 100 million eligible voters who chose not to vote at all.
"Add to that the 4.4 million Libertarian votes, which—by the Democrats' logic for claiming votes—would have given Trump an even bigger victory. These actual facts speak volumes about growing distrust of the bipartisan establishment that's thrown working people under the bus for decades while serving the billionaires, bankers and big corporate donors."
Jill Stein's Family
Stein, a 71-year-old physician, is married to physician Richard Rohrer. They live in Lexington, Massachusetts, and have two sons in their 30s. Like Clinton, Stein was born in Chicago and had an Ivy League education.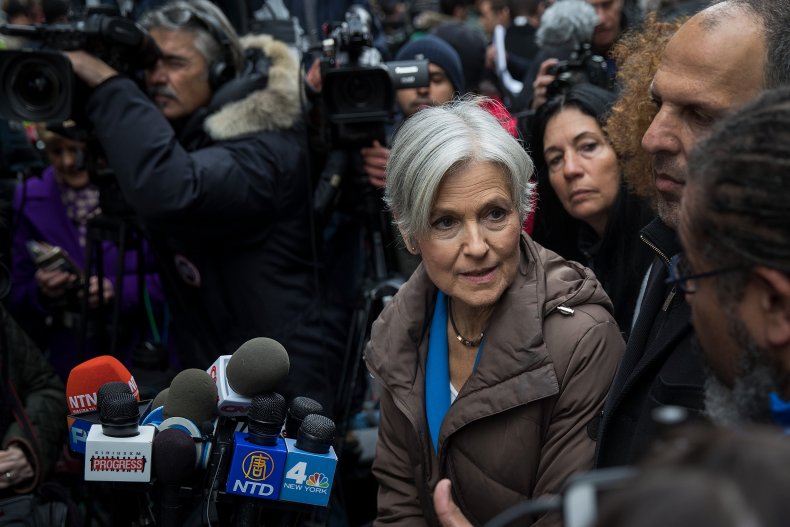 Jill Stein's Activism
Stein began her political career in environmental activism. She was an undergraduate at Harvard in the late 1960s and 1970s. The Vietnam War was going on and she was at the university during the 1969 Harvard student strike, when students occupied Massachusetts Hall to protest the university's relationship with the military until police forcibly removed them.
After she graduated with her second Harvard degree from the Medical school in 1979, she noticed many of her patients' illnesses were related to environmental pollution. From there, she developed a passion for green activism.
In 1998, she began protesting the "Filthy Five" coal plants in her home state of Massachusetts. She also campaigned for companies to reduce mercury exposure in food supply and testified before legislative panels on the damage the substance and other pollutants could do to children's brains.
Jill Stein's Politics
Stein first entered party politics when the Green-Rainbow Party recruited her to run for Governor of Massachusetts in the 2002 election. She later ran again for governor in 2010 but did not win.
Between 2005 and 2010, she was a member of the Lexington Town Meeting for the 2nd Precinct.
Stein is an advocate of the Green New Deal, which has been supported by Sanders and the Alessandria Ocasio-Cortez (D-NY). However, she told The Havard Crimson in 2015 that Democrats can be "especially dangerous when they support a corporate agenda."
Stein garnered only 0.35 percent of the vote in the 2012 presidential election, but did better in 2016, when she got 1.07 percent of the vote. However, she did not win any electoral college delegates.
In 2016, she also campaigned to completely wipe out student debt and make the United States entirely dependent on renewable energy by 2030.
The former Green party candidate was a target of Russian meddling in the 2016 President Election, according to a report commissioned by the Senate that was released in December 2018. The report found that Russian internet trolls focused on boosting Stein's candidacy through social media posts, especially targeting African-American voters.
Stein told Newsweek that recent surveys show "unprecedented demand" for parties outside the big two.
"At a time Democratic representatives have hurried home to summer vacation leaving millions of Americans to face imminent evictions and ongoing crises of health care, student debt, and climate collapse, (while funding the biggest war budget in modern history), we need to be expanding political choices, not shutting down voters through bullying and intimidation," she said.
Update 08/04/21, 3:30 a.m. ET: This article was updated with comment from Stein.