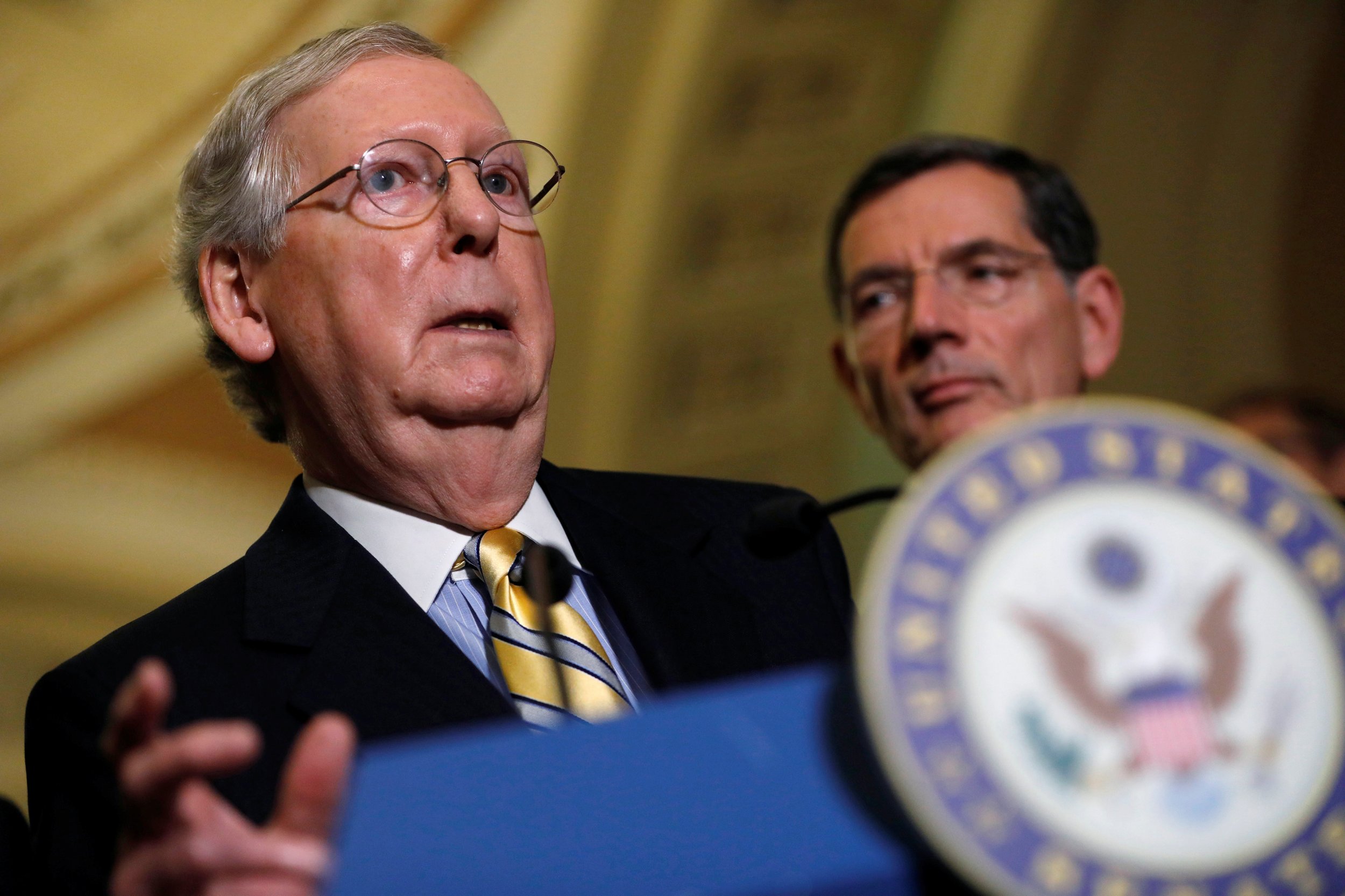 Polls in the last week show the Republican plan to replace Obamacare is deeply unpopular among Americans. Yet its unpopularity among Republican Senators is the real obstacle the GOP needs to mount to pass its new health care bill, and it will prove difficult, because there is no simple reason behind the opposition.
No less than nine Republican Senators said they oppose the bill Tuesday, and Senate Majority Leader Mitch McConnell delayed a vote on the newly minted bill until after the July 4 recess to see if he can get the votes to ensure it passes. The GOP could only afford to lose two votes on the bill to reach the 50 votes needed to pass it with a tie breaker cast by Vice President Mike Pence.
As McConnell geared up to trigger the vote this week, six Republican Senators said they oppose the bill. Three more Senators came out of the woodwork after McConnell said he would call off the vote Tuesday afternoon, bringing the total opposition to nine Republican Senators.
They are: Senators Jerry Moran of Kansas, Rob Portman of Ohio, Shelley Moore Capito of West Virginia, Susan Collins of Maine, Ted Cruz from Texas, Dean Heller of Nevada, Ron Johnson of Wisconsin, Mike Lee from Utah, and Rand Paul from Kentucky.
Read more: The resistance resists too often Paul Ryan says in defending GOP's health care plan
An NPR and PBS NewsHour Marist poll released early Wednesday shows just 17 percent of Americans approve of the Senate's health care plan. The numbers show only 21 percent approve of the GOP's handling of health care overall.
The Senate released its draft of the bill last Friday after rewriting parts of the House American Health Care Act passed in May.
An audit of the bill by the Congressional Budget Office released Monday said the bill would strip about $770 billion from American Medicaid—a state health insurance plan mainly for low-income and elderly Americans—over the next 10 years. The audit also showed about 15 million Americans would lose health insurance by next year, and millions more by 2026.
President Donald Trump called the original House bill "mean" in a closed-door lunch at the White House with 15 Republican senators earlier this month. And virtually every patient advocacy group opposed the latest Senate bill.
But why did the nine Republican Senators say they would vote against it? Reasons vary and show a deep divide among Republicans.
"I continue to have real concerns about the Medicaid policies in this bill, especially those that impact drug treatment at a time when Ohio is facing an opioid epidemic," said Ohio Senator Rob Portman in a statement Tuesday. He and other Senators had been fighting to get more federal dollars to combat drug addiction in their states.
In its current form the bill would offer $2 billion for addiction treatment in 2018 alone. Experts say that $183 billion is needed for addiction treatment over the next decade to help stem the drug overdoses that killed 60,000 Americans in 2016.
Portman made his joint statement with West Virginia Senator Shelley Moore Capito, whose state also faces an opioid addiction crisis.
Others opposed the Senate bill for different reasons.
Senator Susan Collins of Maine wrote on Twitter that she is open to fixing parts of the Obama administration's 2010 Affordable Care Act—popularly known as Obamacare—alongside her Senate Democrat colleagues. She wrote the current cuts to Medicaid in the bill "hurt [the] most vulnerable Americans" and that "access to healthcare in rural areas [is] threatened."
However, in an interview with Fox News Tuesday, Libertarian Senator Rand Paul argued the opposite, that the current bill keeps "too many of the Obamacare regulations."
Paul met earlier in the day with President Trump about his opposition to the bill. He said the president was "open-minded towards trying to make the bill a better bill" and repeated his criticism of retaining many of the subsidies in Obamacare.
"We have to ask the people who elected us on repealing Obamacare," he said, "if this bill is really repeal."