Republicans Won't Utter the Vulgar Phrase Trump Used to Describe Their Health Care Bill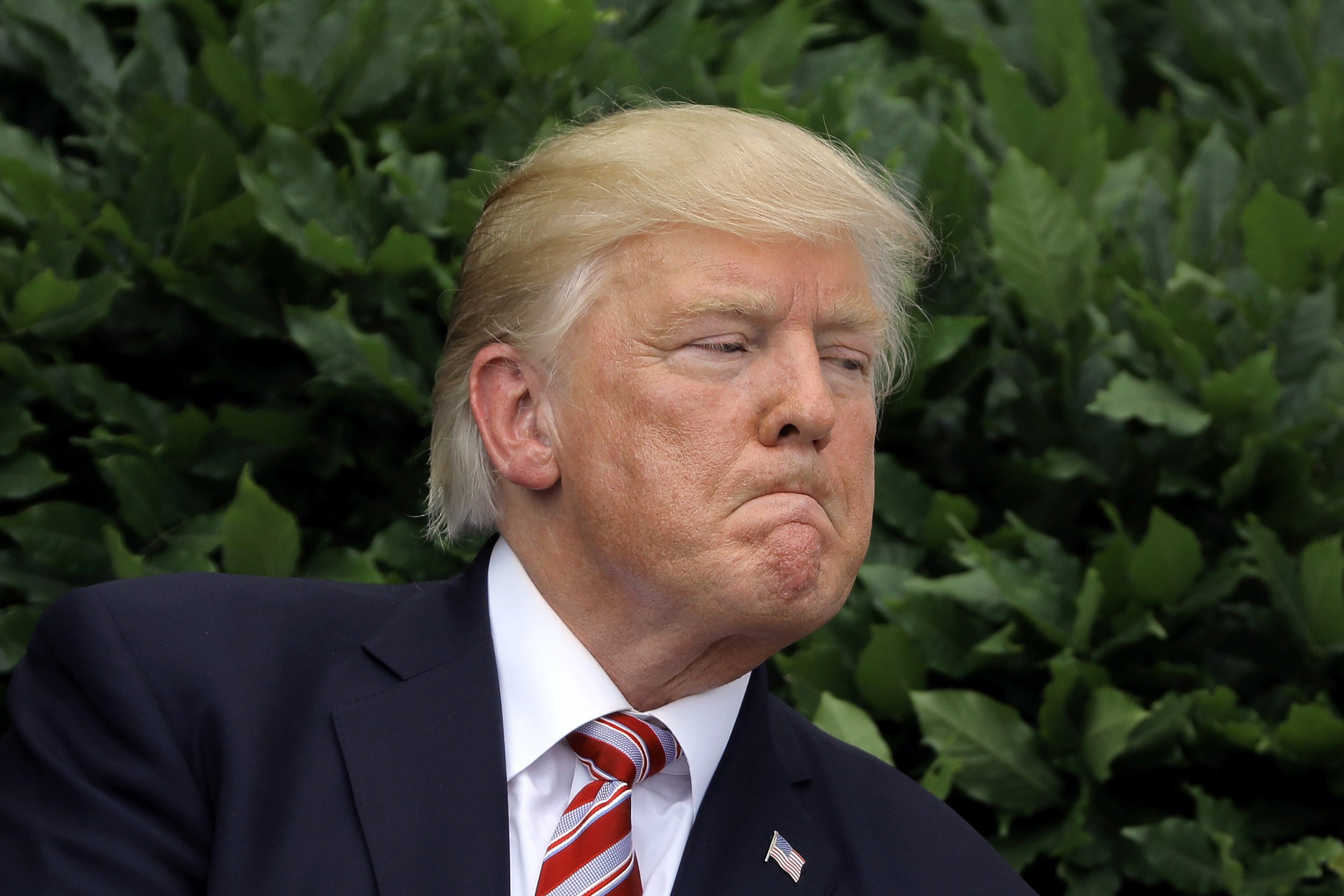 U.S. President Donald Trump called the Republican health care bill "mean" on Tuesday and used vulgar language to describe it during a closed-door lunch at the White House with 15 Republican senators.
Trump called the House bill "mean, mean, mean," a congressional source told the Associated Press. Another congressional source said Trump used a vulgar phrase to describe the bill and urged the senators to make it "more generous."
Trump praised the bill when it passed the House in early May. He called it "a great plan" at a celebration he held in the White House Rose Garden to mark its passage through one branch of Congress May 4. Trump opened the speech by saying the American Health Care Act (AHCA) was "for the people."
"We want to brag about the plan," Trump said. "This is a great plan, I actually think it will get even better." In all, 20 Republicans voted against the AHCA and it squeaked through the House by a vote of 217-213.
A recurring line of opposition was that it doesn't fully cover Americans with pre-existing conditions. At the time Trump said he was "so confident" the bill would get through the Senate.
Trump's criticism of a bill he once praised came as Senate Republican leaders attempt to redraft it. They have faced similar internal disagreements between the party's conservatives and moderates like their House colleagues.
House Republicans failed to pass the bill in March after internal disagreements and it came to a vote in May after multiple amendments.
Read more: Auditors worked to make Trump health care bill 'look bad,' says Trump's budget chief Mick Mulvaney
"We are still in discussions about what will be in the final product so it is premature to release any draft absent further member conversations and consensus," a senior Senate GOP aide told Axios Monday.
Senate Republicans are unlikely to release the draft text of the bill before it goes to the Congressional Budget Office (CBO) for scoring.
The CBO's evaluation of the House bill after it was passed proved controversial because it showed it would leave millions of Americans without health insurance.
The most recent audit of the House bill on May 24 found it would leave 23 million Americans uninsured by 2026.
It calculated the bill's approximately $834 billion in cuts to Medicaid, a federal program that provides health insurance for low income and elderly Americans, would leave 14 million fewer people without access to the program over the next ten years. Considering a number of offsets and spending, over the next decade the bill would save the government a total of $119 billion.
Americans deeply disapprove of the AHCA. A Quinnipiac University poll released last week shows that 62 percent of Americans disapprove of the House bill. Just 17 percent of Americans approve it.
Trump's White House budget officer Mick Mulvaney argued in a recent interview that it was as if the CBO "went into it and said, 'Okay, we need this score to look bad. How do we do it?'"
Democrats have slammed the Senate Republicans' refusal to accept Democrat amendments to their newly-drafted bill and a lack of transparency as it's being drawn up.
"Dozens of Republican amendments were offered and accepted in that hearing process" around the Affordable Care Act (ACA), said Senator Claire McCaskill during a hearing with Health and Human Services Secretary Tom Price last week. The 2010 ACA bill known as Obamacare sought to get all Americans on some form of health insurance.
Senate Republican are looking to hold a vote on the new health care bill before the July 4 recess.
"We have no idea what is being proposed. There's a group of guys in a backroom somewhere making these decisions," McCaskill said. "You couldn't have a more partisan process than what you're engaged in right now."