Nintendo Direct Indie World Showcase: Start Time & How to Watch Online
While Nintendo fans anxiously await a new Direct, the video game company is putting out a different form of its popular online presentation.
Nintendo's Indie World Showcase returns Tuesday to outline the latest news and information on independent games coming to Nintendo Switch in 2020. Nintendo announced the presentation on Monday, featuring roughly 20 minutes of news and trailers to keep fans satiated until another proper Direct arrives.
If you want to know when and how to watch the upcoming Nintendo Indie World Showcase online, here are the full details.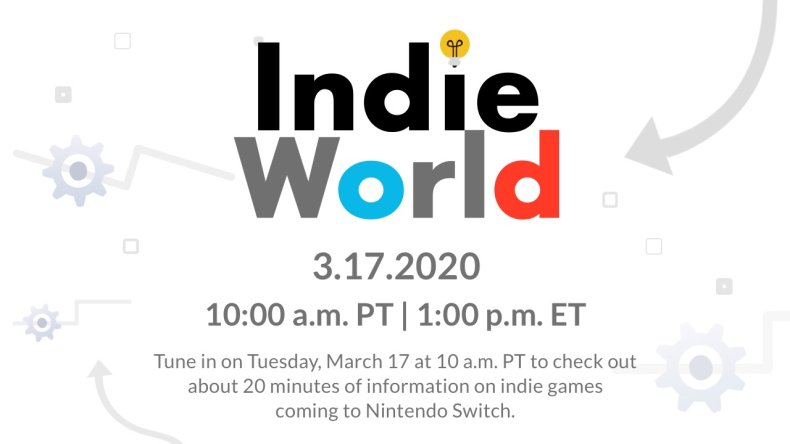 NINTENDO INDIE WORLD SHOWCASE START TIME
The March 2020 Nintendo Indie World Showcase begins Tuesday, March 17 at 1 p.m. EDT.
Nintendo has announced there will be about 20 minutes of information during the presentation, so fans can expect the next Direct to end around 1:30 p.m. EDT. If the presentation doesn't start on time, it will likely begin a few minutes later.
HOW TO WATCH NINTENDO INDIE WORLD ONLINE
The official Nintendo Direct site will stream the March 2020 Indie World Showcase online presentation. It will also be the place to re-watch the Direct once it's over.
Nintendo's official YouTube channel will broadcast the latest Direct live as well. The YouTube app is available on mobile devices as well as all gaming consoles. PS4, Xbox One and even the Nintendo Switch can stream from the video platform. The channel will upload the Nintendo Direct in its entirety after the presentation is done.
Nintendo social media accounts will deliver information as it happens from the Direct. Clips, details and official images will be shared during and after the online presentation.
If Twitch is your platform of choice, the official Nintendo channel will stream this Tuesday's Direct too. The Twitch app is available on mobile devices as well as PS4 and Xbox One consoles but not the Switch. You can also watch the stream below.
WHAT TO EXPECT
Nintendo put on another Indie World Showcase in December 2019 with a nice lineup of independent games releasing in 2020.
While most of the games haven't been released yet, if we look at the list from the previous showcase, we may get a clue as to what we'll see on Tuesday. Streets of Rage 4 and Skate Bird have been featured in multiple Indie World Showcases before, so it's possible they'll pop up again with significant release information.
Here's a list of games shown during that presentation:
Axiom Verge 2
Sports Story
Streets of Rage 4
Gleamlight
Bake 'n' Switch
SuperMash
The Talos Principle
Sail Forth
Dauntless
Murder by Numbers
Oddword: Stranger's Wrath
SkateBird
Liberated
Boyfriend Dungeon
Dreamscaper
The Survivalists
What do you think will be shown on Tuesday's Nintendo Direct? Let us know in the comments section.