Next Nintendo Direct Will Focus on 'Super Mario Maker 2'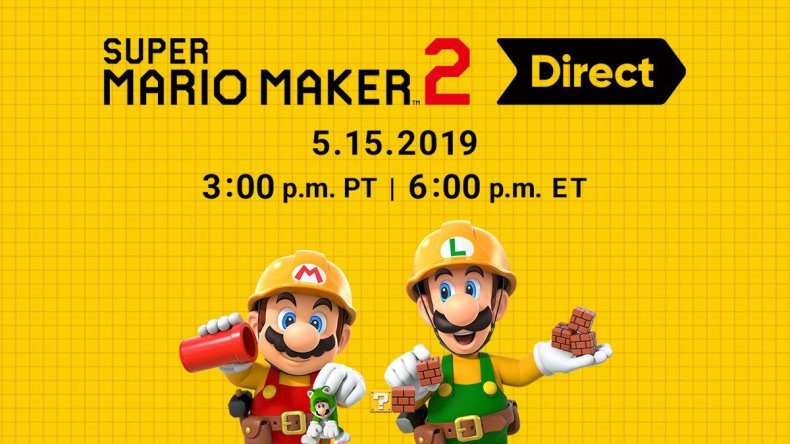 Nintendo is having one more Direct online presentation before E3 2019, and this time it'll focus on the upcoming Super Mario Maker 2 for the Switch.
The announcement of the next Nintendo Direct came via the company's official Twitter account, and will take place Wednesday, May 15 at 6 p.m. EDT. The presentation will be 15 minutes long and provide further details on the highly-anticipated sequel.
Super Mario Maker 2 is the follow-up to the successful level-builder that launched for Nintendo Wii U in 2015 and released on the 3DS later that year. With a treasure trove of assets spanning the history of the Super Mario franchise, players could create their own custom stages and share them with others around the world. The original Super Mario Maker also included levels built by Nintendo.
Not much is known about Super Mario Maker 2, but fans can expect new tools, items and features to take their stage-building abilities to the next level and on-the-go. When Nintendo announced the game during a February Direct, it revealed levels from Mario Bros. games on the Wii U and Switch would also be included.
Nintendo is also planning a Nintendo Direct for its E3 2019 presentation on June 8. While no hardware announcements are expected, we'll likey see some updates to popular games like Super Smash Bros. Ultimate. Fans of Super Mario Maker should also expect more information on the sequel, as the title doesn't come out until the end of June. Fire Emblem: Three Houses, and Pokémon Sword and Shield are also expected to be highlights of this year's E3 presentation.
Super Mario Maker 2 is set to release on Nintendo Switch June 28.
Are you excited for the upcoming Nintendo Direct? What do you expect to be shown? Let us know in the comments section below.