Nintendo Switch Lite Save Transfers And Downloads Explained
With the announcement of the Nintendo Switch Lite, gamers who are planning to pick up a second console wonder if it'll be easy to play a particular title on both devices.
Nintendo confirmed that players would be able to play save files and games between both devices, alleviating any fears that they'd need to choose between consoles to play certain titles. Thursday, the company detailed exactly how gamers will be able to swap between their original Switch and the Switch Lite.
The Japanese Nintendo Twitter page posted a message for its followers saying, "For those who are considering purchasing the second Nintendo Switch console from now on, we have posted information about the use of download software and save data."
The tweet links to the Japanese Nintendo support page with crucial details and step-by-step instructions so you'll need to translate the page for exact instructions, but it seems the process is the same as if you had multiple Nintendo Switch consoles in your household.
Fans will need to swap between primary consoles and backup save files in the cloud, but the process is similar. Here's how players will be able to play between the original Switch and Switch Lite.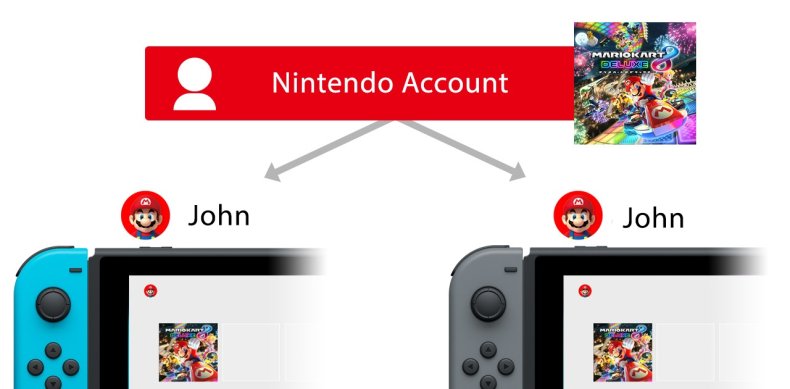 HOW TO PLAY GAMES ON BOTH NINTENDO SWITCH AND NINTENDO SWITCH LITE
According to the support page, "software purchased for download can be played on either console as long as the console is linked to the same Nintendo account."
However, players can't play downloaded software simultaneously across multiple devices. A non-primary device can play downloaded software if its linked to a Nintendo Account, but players won't be able to use it unless they have an internet connection.
Only a primary console will be able to play downloaded software without an internet connection. The first account you use to log into the Nintendo eShop is usually the primary console.
Those looking to purchase the Switch Lite may want to make the handheld the primary console to play games without needing an internet connection since it's built for on-the-go activity. Leave the one at home as the non-primary because you'll always have the internet there.
To change the primary console and register another as the primary, follow these steps:
Log in to your Nintendo Account and deregister the console.
On the second Nintendo Switch console, link your Nintendo Account to a new or existing user account.
Use your Nintendo Account to access the Nintendo eShop on the second console. The system will automatically be set as the primary console for your Nintendo Account.
To verify, check that the "Primary Console" setting in your Nintendo eShop Account Information.

All Nintendo Accounts on your primary console will be able to play any games that you've purchased.
. If you want to change your primary console again, complete steps 1-4 again to deregister this console and register a different one.
MOVING SAVED DATA BETWEEN CONSOLES
To move your saved data between consoles, you'll need to have a Nintendo Switch Online membership to allow for Cloud Saves. As long as your Nintendo Switch is updated to version 6.0, you'll be able to backup your save data. This is especially useful if you play with physical versions of the game.
Here's how to backup your save files into the Nintendo Cloud:
Press the Plus button over the game you want to back up.
Scroll down to the "Save Data Cloud Backup" option.
Select the account that has the save data.
The next screen will have options to "Automatically Back Up Save Data" for that title, but below that a "Back Up Save Data" option is available. Select this to start backing up your data.
Once you've backed up your save files on your first console and then moved to the second console you can re-download your save files to continue playing by following these steps:
From the Home Menu, select "System Settings" > "Data Management" > "Save Data Cloud Backup."
Select the desired user, then choose the backup file you wish to download.
Select "Download Save Data."
Nintendo Switch Lite is set to release September 20.
Are you going to pick up a second Switch console? Let us know your thoughts in the comments section below.